Wellness Fair Offered Screenings, Demonstrations
April 25, 2019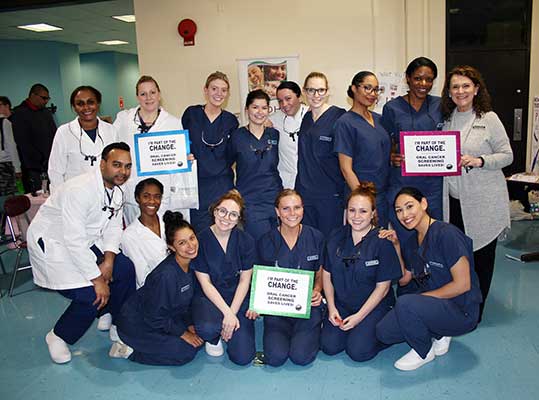 MIDDLETOWN, N.Y. – More than 200 visitors took advantage of free healthcare screenings, healthy living presentations and informational sessions during SUNY Orange's recent Wellness Fair, held in the Shepard Student Center on the College's Middletown campus.
More than 40 healthcare companies and agencies attended. The College's Wellness Center offered free back massages, Orange Regional Medical Center provided blood, cholesterol and sugar screenings and several SUNY Orange student clubs held screenings and demonstrations for visitors of all ages.
For more information about the Wellness Center's full array of services, call (845) 341-4870.
Caption information: SUNY Orange's Dental Hygiene students provided dental screenings and promoted the long-term health benefits of oral cancer screenings during the College's annual Wellness Fair, held recently in the Shepard Student Center on the Middletown campus.