More Than 300 Attend Job Fair
April 25, 2019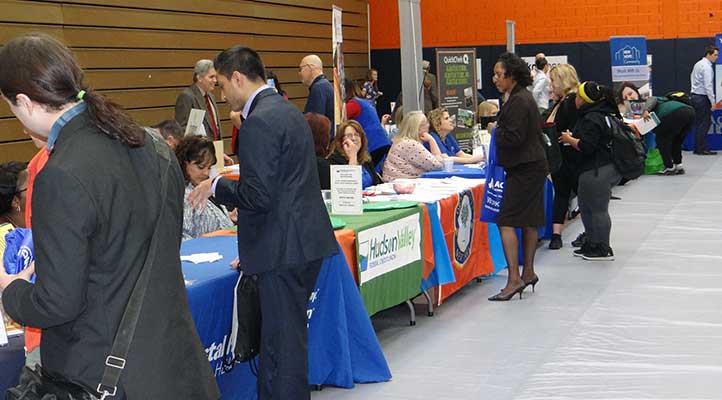 MIDDLETOWN, N.Y. – Approximately 320 job seekers mingled with 85 local employers during the recent SUNY Orange Job Fair, held in the Diana Center for Physical Education on the College's Middletown campus.
The businesses on hand represented the fields of healthcare, information technology, retail, manufacturing, engineering, corrections and service industries were on-hand to meet job seekers. Public sector employers attended as well. Job seekers were able to submit resumes, complete applications and otherwise discuss career opportunities with the business representatives.
The College's annual Job Fair traditionally draws a sizeable crowd of students, alumni and community members. For more information on the Job Fair or other career services offered by the College, please contact the SUNY Orange Office of Career & Internship Services at (845) 341-4444 or online at www.sunyorange.edu/careers.
Caption information: Job seekers and business representatives alike flocked to the Diana Center for Physical Education on SUNY Orange's Middletown campus for the College's recent job fair.