Ninety Students Inducted into PTK
April 29, 2019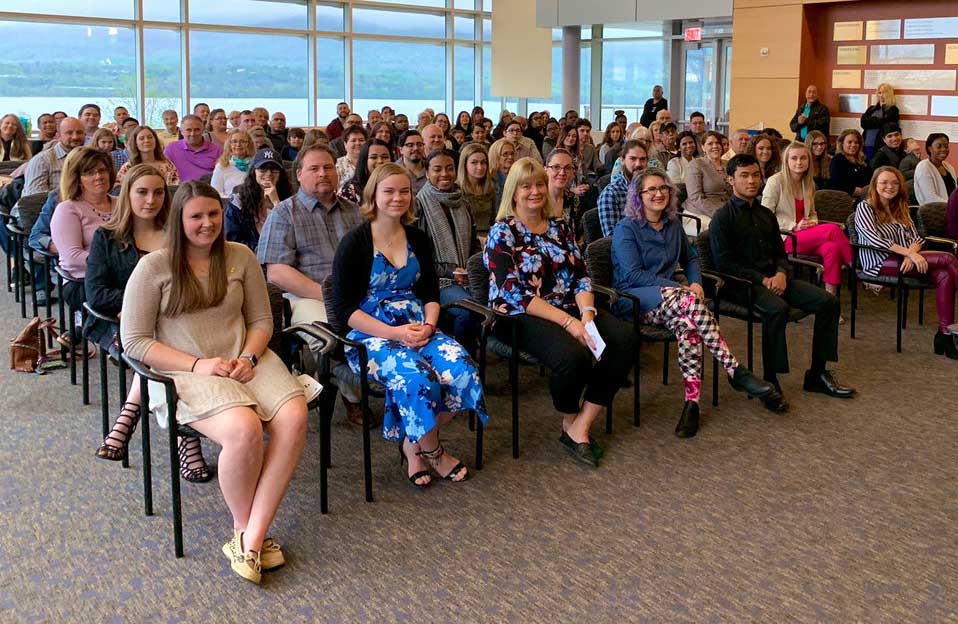 MIDDLETOWN, N.Y. – SUNY Orange's Alpha Nu Chi chapter of Phi Theta Kappa National Honor Society inducted 90 new members during a ceremony held Friday (April 26) at the College's Newburgh campus.
To receive a membership invitation, students must: be currently enrolled at SUNY Orange; have completed at least 12 hours of coursework that may be applied toward an associate degree; have attained a grade point average of 3.5; and adhere to the moral standards of the society.
The list of inducted students includes: Katrina Alonso, Jose Alvarado, Steffani Alvarez Rivera, Sukari Ames, Adam Ballard, Alexis Beaner, Dawn Bellew-Herndon, Lauren Boland, Anthony Bonizzi, Kelly Boss, Ann Brown, Ashley Brown, Tina Brown, Giovanna Cala, Madison Capo, Robert Cervone Richards, Maritza Cesani, Wei Chen, Eric Chuang, Kyle DeLaRosa, Zachary Devine, Felecia Dillon, John Kyle Dizon, Monet Dolson, James Donato, Amber Dudley, Sara Eichelberger, Brianna Einhorn, Giuliana Fedele, Jason Fullerton, Nikaiva Godlevsky, Jessica Gottshall, Brian Gransden, Michael Guardino, Maggie Hayes, Cassidy Hazard, Pauline Healy, Paige M. Heller, Natalia Hernandez, Jason Iorio, Shavone Johnson, Alyssa Lamica, Maria Lopez, Victoria Ludwig, Dean MacWilliams, Jeffrey Manapat, John Marro, Matthew McDermott, Julianna McGuinness, Janahira Meraz, Sonya Mezzina, Nicole Monda, Brenda Mongelli, Juan Monroy, Corinne Motter, Eric Noll, Julianna Gabrielle Noone, Cailah O'Brien, Emma Onwuanumkpe, Alfred Ortiz Jr., Colleen Otto, Jessica Ortega, Sydney Parkin, Laura Marie Perez, Janet Pirog, Jessica Pullar, Dawn Quinto, Catherine Ramirez, Katarina Ramirez, Christy Rooney, Nathanael Ruppert, Joie Salazar, Dana Schmidt, Kirsten Scott, Amy Senkiew, Zariah Seunarine, Elisheva Slomiuc, Cassidy Smith, Erica Soto, Daniel Stephen, Fady Twal, Lynn Vanadio, Jessica Vargetto, Antonio Velez, Jasmine Vera, Catherine Vickery, Isabella Voelker, Noah Webb, Sarah Witte, August Yeomans.
For more information about SUNY Orange's Phi Theta Kappa chapter, contact Andrea Laurencell Sheridan at andrealaurencell@sunyorange.edu.