Dr. Young Elected to AACC Board
May 2, 2019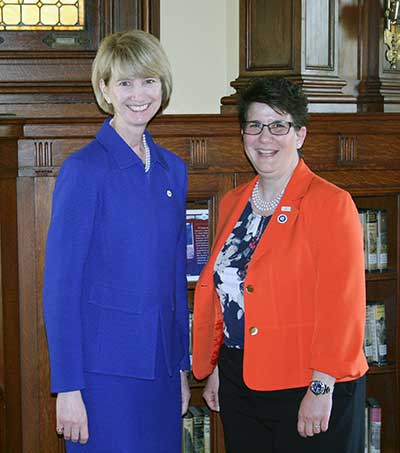 MIDDLETOWN, N.Y. – SUNY Orange President Dr. Kristine Young has been elected to serve a three-year term on the American Association of Community College Board of Directors, the AACC announced recently. Her term begins on July 1.
Young is among 10 new members voted to the AACC's 32-member board. The AACC represents the nation's 1,051 community colleges by supporting institutions as they provide educational and economic opportunity for 12 million diverse students nationally. Located in Washington, D.C., AACC advocates for these not-for-profit, public-serving institutions to ensure they have the resources and support they need to deliver on the mission of increasing economic mobility for all.
"SUNY Orange has written a remarkable history over the past 69 years, and I am proud to have the opportunity to carry our stellar reputation, innovative history, student-centric achievements and alumni successes to a significantly broader audience," Young said. "Additionally, I look forward to bringing many creative ideas back to the College to further enhance the great work of our faculty and staff.
"Throughout my career, I've found that during most any opportunity I've had to spend time with my peers or leaders from other institutions, I've gained valuable insight into the issues they face, and the creative ways they are supporting and educating students," Young added. "We all face unique challenges on our respective campuses, but collectively our shared resolve to ensure student success is strong. AACC is a respected advocate for our community colleges, and I look forward to helping shape AACC's voice nationally, while giving additional voice to the SUNY Orange community. I also appreciate the confidence that the National Council of Instructional Administrators (NCIA) has shown in me by nominating me for AACC Board consideration."
Young's name was forwarded for AACC Board ballot consideration by the NCIA.
"The NCIA is elated that our nominee, Dr. Kristine Young, was selected to serve on the AACC Board of Directors," said Dr. Katherine Wesley, NCIA executive director and assistant professor of practice at the University of Nebraska-Lincoln. "Dr. Young has a long history of service to the NCIA and its work in support of instructional administrators and community colleges. Her considerable experience, knowledge, passionate support and energy will provide a valuable perspective to the AACC Board, one that will greatly benefit community college administrators, faculty, staff and students nationally."
Joining Young as newly elected board members are: Joy Gates Black, President, Delaware County Community College; Brent Knight, President, Lansing Community College (Mich.); Anne Kress, President, Monroe Community College (N.Y.); Sandra Massey, Chancellor, Arkansas State University–Newport; Gerald Napoles, President, Lone Star College–North Harris (Texas); Phil Neal, President, Southcentral Kentucky Community and Technical College; Joseph Schaffer, President, Laramie County Community College (Wyo.); Sheree Utash, President, WSU Tech (Kansas); and Charlotte Warren, President, Lincoln Land Community College (Ill.).
"The AACC board of directors acts on behalf of our member colleges to create and maintain a vision for AACC and to advocate on behalf of the community colleges we serve," said Walter G. Bumphus, president and CEO. "We are thrilled to have these esteemed colleagues join the board and know they will bring their unique talents and leadership to advance the nation's community colleges in Washington, D.C. and throughout the country."
Nearing the conclusion of her fourth year as president of SUNY Orange, Young has begun to significantly reshape the student experience, while at the same time expanding access to the College and halting enrollment declines that had plagued the College for nearly a decade.
Seeking to better retain and graduate students, the College is in the second year of a "SUNY Orange Experience" initiative that will overhaul how the College ushers students through their academic career. SOEX will revamp student onboarding, advising, course scheduling and curriculum mapping. This expansive undertaking involves participation from all sectors of the College community and is bolstered by SUNY Orange's selection as one of only eight community college participants in SUNY's first-ever Guided Pathways Institute.
The College witnessed substantial growth in online enrollment during the 2018-19 academic year while overall enrollment leveled out. In June 2018, SUNY Orange opened and dedicated its Sarfatti Education Center in Port Jervis, providing access to a selection of general education and non-credit classes for residents in western Orange County, as well as prospective students in nearby towns in Pennsylvania and New Jersey.
In order to support an increasingly diverse student population, the College has initiated during Young's tenure a TRIO Student Support Services (SSS) program (established via a $1.1 million grant from the United States Department of Education) to help increase the persistence, retention, graduation and transfer rates of low-income first generation students and students with disabilities. Additionally, a State University of New York grant has allowed the College to develop an Educational Opportunity Program (EOP) that provides access, academic support and financial aid counseling to low-income and academically underprepared students.
SUNY Orange is recognized as a Hispanic-Serving Institution and has been named a "Veteran Friendly" college for four of the past six years. Grants have also helped the College increase peer-mentoring opportunities for students returning after having been separated for academic reasons.
Young came to SUNY Orange following a 17-year tenure at Parkland College in Champaign, Ill. She first arrived at Parkland as a chemistry instructor in 1998 and steadily rose through the faculty and administrative ranks.
For more information on the NCIA, visit https://cehs.unl.edu/ncia/.