Commencement Set for May 23
May 16, 2019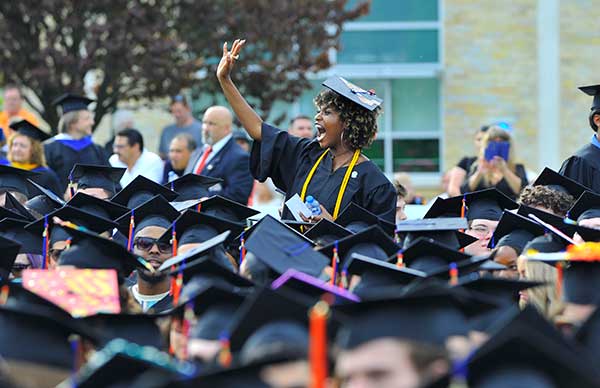 MIDDLETOWN, N.Y. – Nearly 550 graduates have registered to participate in SUNY Orange's 69th Commencement ceremony, slated to begin at 5 p.m., Thursday, May 23 on the Alumni Green at the College's Middletown campus.
Education Department chairperson Dr. Katherine Sinsabaugh and May 2019 graduate Stephanie Ann Carter will be the featured speakers. In all, more than 800 students will have completed their associate's degree or certificate requirements during August, December or May of this current academic year. That total is pending final review of all May graduate candidates' transcripts.
Any student who completed the necessary academic requirements during the 2018-19 academic year, or is slated to conclude a program of study this summer, is eligible to participate in Commencement. SUNY Orange awards diplomas to students who earn Associate in Arts, Associate in Science and Associate in Applied Science degrees, as well as graduation certificates to those who complete the College's various certificate programs.
Fred Watson, chair of the SUNY Orange Board of Trustees, and SUNY Orange President Dr. Kristine Young will host the ceremony. Additional remarks will be offered by Harry Porr, interim Orange County Executive, and Derrik Wynkoop, chairman of the SUNY Orange Foundation's Board of Directors. Graduate Desiree La'Verne Griffin will serve as the student marshal and will lead the graduate processional and recessional.
Sinsabaugh is a recipient of this year's SUNY Chancellor's Award for Excellence in Teaching and a SUNY Orange President's Award for Teaching Excellence. She began her SUNY Orange tenure as an adjunct instructor in the Education Department during the 2008-09 academic year before being hired full-time in 2009. She was named chair of the department in 2017. As chair, she initiated visits by her department to the Orange/Ulster BOCES C-TEC Early Childhood Program and has also actively explored relationships between SUNY Orange and local high schools. She streamlined the transfer process for students of the College's Jointly Registered Teacher Education Program with SUNY New Paltz. Prior to arriving at SUNY Orange, Sinsabaugh was a first-grade teacher at Scotchtown Avenue Elementary School in Goshen from 2005 to 2009.
Carter, a resident of Warwick, will graduate with an associate's degree from the College's Jointly Registered Teacher Education Program with SUNY New Paltz. Her concentration is in adolescent English education. Carter, who will receive the English Department's Parkhurst Creative Writing Award at next week's Convocation ceremony, enrolled at SUNY Orange full-time while simultaneously raising her 7-year-old daughter. Carter volunteers for addiction awareness groups and has been actively involved in the Break the Stigma march in Warwick. She also coordinates groups for siblings of addiction victims.
Griffin, of Middletown, completed dual programs this past December, earning degrees in Early Childhood Education and Public Health. She was a member of the College's Phi Theta Kappa chapter, the two-year honor society for students at two-year colleges and universities.
In the event of inclement weather, Commencement would be moved indoors to the Edward A. Diana Physical Education Center.