End-of-Year Scholarships & Awards Presented
May 22, 2019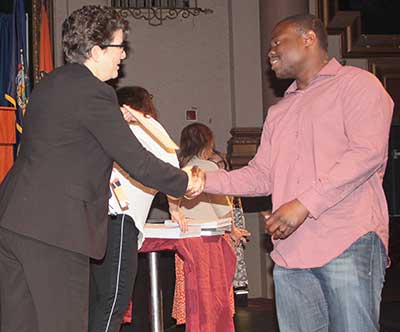 MIDDLETOWN, N.Y. – SUNY Orange embarked upon its Commencement-week festivities on Tuesday evening (May 21) by distributing its most prized academic achievement awards, scholarships to graduating students, and club and organizational awards during its 60th annual Awards Convocation at Middletown's Paramount Theatre.
More than 400 students, family members, friends, College employees and community members were on hand. Under the supervision of President Dr. Kristine Young, the College presented 36 scholarships to graduating students while issuing 160 academic and co-curricular awards.
Before issuing its own awards, the College recognized three winners of the SUNY Chancellor's Award for Student Excellence: Kevin Corvino (Newburgh), Harrie Mule' (Newburgh), and David O'Keefe (Washingtonville). Earlier this Spring, Mule' also was named as a member of the USA Today Phi Theta Kappa All-New York Academic Team First Team.
In addition to being honored for her Chancellor's and PTK awards, Mule' received a pair of scholarships, the Colonel John T. Westermeier Award and the Elizabeth Parkhurst Memorial Scholarship, as well as academic citation from the English Department. Several other students accepted two scholarships, including Danika Ferola (Port Jervis), Jewel Sanchez (Middletown) and Wilfredo Soto (Beacon). Soto was also this year's student representative to the SUNY Orange Board of Trustees. Cassidy Smith was recognized for having been named SUNY's 2018-19 Scholar-Athlete in the sport of volleyball.
SUNY Orange will conduct its 69th annual Commencement Ceremony at 5 p.m. Thursday, May 23 on the Alumni Green at the Middletown campus. Stephanie Ann Carter of Warwick will serve as the student speaker and Desiree La'Verne Griffin of Middletown will be the student marshal. In the event of inclement weather, the ceremony would be moved indoors to the Edward A. Diana Physical Education Center. For those who are unable to attend the ceremony in person, the event will be streamed live online via the College web site at www.sunyorange.edu.
Scholarships
Amy Bull Crist Scholarship: Dildora Fayzullaeva
Charles J. Reilly Memorial Business Scholarship: Aidan Curley
Chris G. Chachis Alumni Scholarship: Travis Grogan
Christine M. Morrison Scholarship: David O'Keefe
Christopher J. Basta Memorial Scholarship: Jonatan Richardson
Colonel John T. Westermeier Award: Harrie Mule
David Kotler Memorial Scholarship: Christina Scourlas
Dean Robert Greenman Award in American Studies: Anthony Abbatine
Dr. Cortland Mapes Scholarship: Tyswayne Stewart
Dr. Hannah K. Vuolo Memorial Scholarship: Dominic Mandile
Dr. Manuel Rosenblum Theater Scholarship: Jewel Sanchez
Dr. Marvin Feman Music Award: Anthony Aprile
Elizabeth Parkhurst Memorial Scholarship: Harrie Mule
Evening Nursing Graduate Award: Tatiana Morales
Excellence in Architecture Scholarship: Justin Ryshkewitch
Faculty/Staff Graduating Scholarship: Carley Lyons, Violet Rattray
George F. Large Scholarship: Austin West
Helen K. and George R. "Bucky" Bartlett, Jr. Memorial Scholarship: Christa White
Herbert M. Sussman Scholarship: Diana Kapciova
H. Seeley McClure Memorial Scholarship: Cassidy Smith
John B. Parkhurst Creative Writing Award: Stephanie Welch
June M. Simpson Nursing Award: Olivia Spadaro
Mary B. Diana Scholarship: Danika Ferola
Max H. Golub Memorial Scholarship: Wilfredo Soto
Minden Architecture Faculty Award: Anthony Russo
New York State United Teachers (NYSUT) Scholarship: Brittany Kirk
Odell S. Hathaway Scholarship: Nicole Loperfido
Orange County Society of New York Scholarship: Lilbeth Mendoza
Patrick B. Sweeney Annual Scholarship: Kelly Anne Boss
Physical Education & Recreation Club: The Ed Heitler Award: Danika Ferola
Ruth Pollack Memorial Scholarship: Jewel Sanchez
Trustee Edward P. Dougherty Memorial Scholarship: Wilfredo Soto
Walter Albrecht Memorial Scholarship: Jaime Kowalski
William F. Ehlers Jr. Memorial Scholarship: Lillie Penney
William O. Bell Memorial Scholarship: Dylan Czubak

Student Club Awards
Apprentice Players: Joseph Fox, Rachel Radler
Architecture Club: Sabrina Innamorato, Anthony Russo, Trey Smith
Biology Club: Ryan Adler, Rishi Patel
Board of Activities: Thomas Hernandez
Chemistry Club: Adam Ballard, Krystal Carhart, Nathanael Ruppert
COTA Club (Changing Outlooks Through Activities): Brittany Dreyhaupt, Catherine Schouten, Catherine Volpe
Future Teacher's Association: Deanna Villegas
Med Lab Tech Society: Patrina Belfiglio, Noel Coonce, Kaylia Batzel
Newburgh Business Club: Dildora Fayzullaeva, Martha Serrano, Darsh Shah
Newburgh Criminal Justice Club: Elizabeth Kimber, Maria Lopez, Gianna Medora
Newburgh Board of Activities: Diana Giron, Jaime Kowalski
Nursing Club: Ashley Murphy, Joseph Sepulveda, Olivia Spadaro
Physical Therapy Assistant Club: Vanessa Santos, Sara Struble
Sexuality and Gender Alliance: Will Blake, Kazuhiko Okasaki, Randy Santana-Hidalgo
Sociology Club: Haley Carlisle, Robert Garcia, Jason Nocera
S.A.D.H.A. (Student American Dental Hygiene Association): Molly Hurlburt, Kaily Ostlund, Erica Resek
Student Senate: Liam Farrell
Wrestling Club: Michael Ilejay, Ricky Scott
Eleanor Roosevelt Community College Emerging Leaders (ECCEL) Program: Giovanna Cala, Vince Giuga, Thomas Hernandez, Amanda Hulse, Layla Megna, Joseph Metz, Nicole Monda, Julianna Sloat,
I Am A Leader Program: Darius Beckford, Haide Cabrera, Brianna Einhorn, Rachel Flanagan, Dildora Fayzullaeva, Pauline Healy, Jaime Kowalski, Dennis Lohr, Matthew Lohr, Jason Nocera, Sydney Parkin, Gloria Sanchez
 
Departmental Awards (Certificate of Merit, Outstanding Scholastic Achievement)
Honors Program: Alyssa Lamica, Anthony Russell, Sara Tyrell
Phi Theta Kappa: Norma Brickner, Sydney Parkin, Vanessa Randazzo
Arts and Communication Department
Art: Marybeth DeFazio, Seth Jones
Music: Anthony Aprile, Darius Beckford, Marco Salazar
Theater: Joseph Fox, Autumn Kimble, Rachel Radler

Behavioral Sciences Department
Anthropology: Anthony Gonzalez, Lillie Penney, Andrew Wlodarczyk
Human Services: Emilia Norat, Colleen Otto, James Radoncic
Sociology: Ashlyn Deegan, Christa White
Biology Department
Biology: Mikayla Higgins, Robert Luther
Business Department
A.A.S. Accounting: Joseph Dowling, Mary Mattinson, Martina Regenauer
A.S. Accounting: Lorenzo Alverio, Amy Bennett, Jordan Evans
A.S. Business Administration: Aidan Curley, Stephanie Lewis, Amy DeStefano
A.S. Business Management: Suzanne Ardolino, Caitlin Diaz, Shenoy Lillard
A.S. Marketing: Monica Cirelli, Colin Kavanagh, Dorothy Sanchez

Clinical Laboratory Science Department
Medical Laboratory Technology: Patrina Belfiglio, Kristen Churcher, Sherri Soules
Computer Science & Technology Department
Computer Science: John D'Amato, Wiley Matthews
Computer Information Technology – Networking: Charles Fox, Isabel Laracuente, Maximilian Negulici
Cyber Security: Martin Petticco, Matthew Stridiron, Kiera Walsh
Criminal Justice Department
A.A.S. Criminal Justice: Joshua Munkelt, Roman Planka, JayMichael Smith
A.S. Criminal Justice: Lauren Biel, Dominic Mandile, William Rondon
Dental Hygiene Department
Dental Hygiene: Michelle Damewood, Kaily Ostlund, Erica Resek
Education Department
Early Childhood Development and Care: Roxanne Kern, Adriana Reyes
Teacher Preparation: Annmarie Chiappone, Ileen Florez, Deanna Villegas
English Department
English: Hope Ebert, Harrie Mule, Christy Rooney
Philosophy: Steven Ruffin, Anthony Russell
Mathematics Department
Mathematics: Adrianna Ciccarelli, Tristan Himalaloan, Liang Ouyang
Movement Sciences Department
Exercise Studies: Danika Ferola, Monica Reyes, Alexander Rykowski
Physical Education: Kaitlyn Blanchette, Travis Grogan
Nursing Department
Nursing: Nina Cerdas, Stephanie Lambros, Christina Scourlas
Occupational Therapy Assistant Department
Occupational Therapy Assistant: Jennifer Marchesa, Judith O'Neill, Shayna Rosado
Physical Therapist Assistant Department
Physical Therapist Assistant: Michael Ilejay, Vanessa Santos, Sara Struble
Science, Engineering & Architecture Department
Architectural Technology: Julianne Decicco, Samuel Levine
Chemistry: Daeyla Boyd, Mikayla Dieterle, Sarina Hamling
Engineering: Martin Memmelaar, Robert Cervone Richards, John Schneider
Physics: Michael Guardino, David Soto, Jarod Zupetz
Are you ready to write your story?