BSW Open House Will be June 12
May 30, 2019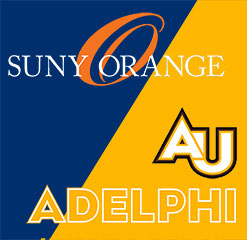 MIDDLETOWN, N.Y. – SUNY Orange and Adelphi University will co-host a Bachelor of Social Work (BSW) degree Open House from 4:30 to 7:30 p.m., Wednesday, June 12 in Room 212 of the Rowley Center for Science and Engineering on SUNY Orange's Middletown campus.
In February, the two schools announced a partnership that will allow current SUNY Orange students who are on track to graduate with a human services degree, as well as alumni who may wish to return to the classroom, to acquire a BSW degree from Adelphi University through classwork to be completed online and at the SUNY Orange Middletown campus.
Attendees at the Open House will be able to apply for the program, meet with representatives from the School of Social Work, and learn about flexible scheduling, academic advising and personalized support. The BSW program offers full-time and part-time options for completing the innovative classroom curriculum that is augmented by hands-on learning opportunities through placements with professional agencies and organizations.
The BSW courses will be taught by Adelphi instructors visiting the SUNY Orange Middletown campus. Students must apply and enroll in courses by contacting Adelphi and, once enrolled, will have access to Adelphi student support services.
The Adelphi BSW program has been accredited by the Council on Social Work Education (CSWE) for more than 65 years. Graduates are prepared to enter direct practice in an array of areas, including case manager, community activist, family services worker, hospital social worker, human trafficking counselor, psychotherapist or school social worker.
To register for the Open House, visit www.adelphi.edu/BSWatSUNY, or call Adelphi's Office of University Admissions at (516) 877-3050.
Community members who have previously acquired a two-year degree in human services from another institution may contact Dr. Cheryl McAuliffe, director of undergraduate studies for the Adelphi School of Social Work, to inquire about potential eligibility. McAuliffe can be reached at (516) 877-4362 or at cmcauliffe@adelphi.edu. Students may also contact Ohiro Oni-Eseleh, director of the Adelphi School of Social Work at the University's Hudson Valley Center in Poughkeepsie. He can be reached at (845) 471-3348, ext. 8101. Information is also available at https://socialwork.adelphi.edu/academics/undergraduate-degree/.
Students who are interested in SUNY Orange's human services program can contact Christine Henderson, coordinator of human services, at (845) 341-9586 or at christine.henderson@sunyorange.edu.