Spring 2019 Dean's List Announced
June 11, 2019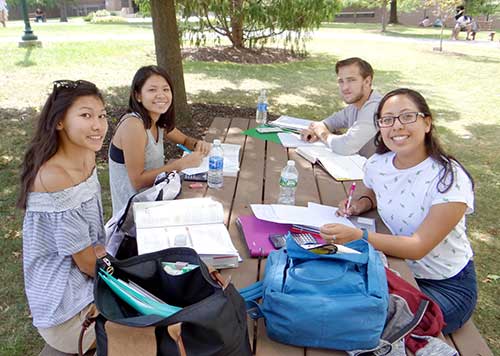 MIDDLETOWN, N.Y. – SUNY Orange's Dean's List for the 2019 Spring semester, as announced recently by College president Dr. Kristine Young, includes 708 full- and part-time students hailing from all parts of the Hudson Valley, as well as New Jersey and Pennsylvania, who demonstrated outstanding performance in the classroom this past Spring.
The Dean's List is comprised of those full-time students not on academic probation who achieved at least a 3.33 grade point average (GPA) over the course of the semester, as well as all part-time students who maintained at least a 3.33 GPA while completing their most recent full-time equivalent semester (considered to be 12 combined credits over the course of two or more semesters) during the Spring.
Following is the list of Dean's List students, broken down by county and city for New York State residents and separated by state and city for out-of-state residents.
SUNY Orange Dean's List (2019 Spring Semester)
NEW YORK STATE
ORANGE COUNTY
Blooming Grove: Shannon M. McCann
Campbell Hall: Brenda R. Botens, Hailey Brown, Jared M. Chain, Austin T. Davis, Milica Gasparevic, Treasa I. Moscato, Alyssa N. Pecovic, Martina Regenauer, Monty Velez Jr., Sandra L. Vives, Kiera T. Walsh
Central Valley: Christina Scourlas, Nicholas Torres
Chester: Catherine M. Battiato, Mikayla M. Dieterle, Caitlin M. Eldred, Cristian B. Espada, Joe J. Farago, Timothy E. Farrelly, Charles Fox, Olivia Goehring, Emily A. Johnson, Seth M. Jones, Michael E. Linarello, Nicholas C. Lukan, Danielle S. Lyons, Casey H. Markowitz, Katelyn A. McCarthy, Marissa B. O'Keefe, Entela Pupi, Ardell L. Roan, Brandon J. Santoro, Sydney S. Traverso, Alexander K. Upeslacis
Circleville: Joseph T. Fox, Andrew Gonzalez
Cornwall: Victoria A. Crozier, Maria M. Dominguez, Cassidy C. Hazard, Annette Lopez, Alfred E. Mann III, Jasmine M. McGreen, Siobhan A. Neavin, Kazuhiko Okasaki, MR Isaiah Quattlebaum, Philip Z. Seymour
Cornwall-on-Hudson: Ryan Trieste
Florida: Ryan M. Aguas, Charlotte S. Diefenbach, Alessandro L. Evans-Busnelli, Deanna R. Gaglio, Adriana R. Reyes, Nathanael Ruppert, Alexander C. Rykowski
Godeffroy: Jerry M. Hendershot Jr.
Goshen: Moira Aitchison, Aldair J. Aldave, Darius Bertolino, Lauren Biel, Anthony J. Bonizzi, Anna Bosco, Kelly A. Boss, Annmarie R. Chiappone, Jaclyn R. Clark, Anthe Constanti, Giorgos Constanti, Miriam A. Dowling, Elijah George, Jessica S. Glancey, Sabrina R. Innamorato, Abigail E. Lewis, Alexandria Mertens, Dennis P. O'Brien, Rishi M. Patel, Cara A. Petrizzo, Violet J. Rattray, Kaitlyn M. Rodriguez, Veronica Romero, Kenneth N. Torres, Tasha White, Olivia K. Zaphiris
Greenwood Lake: Brittany A. Dreyhaupt, Emily S. Ferencevych, Alanis L. Lopez Machuca
Harriman: Alexis M. Beaner, Keith Karen
Highland Mills: Mark E. Frascello, Patrick J. Frascello, Anthony E. Mickolajczyk, Ari Nazar, Salena M. Ross, Elizabeth A. Scioletti, Erika L. Steinhauer, Sarah N. Stevens, Catherine G. Volpe, Jack B. Wyman
Howells: Ashley N. Brucato
Johnson: Olivia N. Pogozelski, Justin C. Ryshkewitch, Miguel Zapata Lopez
Maybrook: Claire G. Beebe, Alex D. Carroll, Makalyn A. Decker, Angelique Figueroa, Domonique Figueroa, Jocelyn M. Guerra, Shavone Johnson, Alexa N. Kelly, Kevin J. Lacina, Katherine N. Munoz, Caitlin Padilla, Christopher D. Reilly, Rozanna Sasa, Kayci L. Winnie
Middletown: Jorge L. Acevedo, Brittney L. Aillet Vizzari, Lorenzo R. Alverio, Akua Andoh, Saige Antoniades, Areeba Aslam, Christopher M. Baisley, Demetrius X. Barnes, Andres Barragan, Sean J. Beairsto, Melissa A. Blair, Justin G. Blochwitz, Kristy L. Blume, Eric Boateng, Brooke A. Bogert, Andrea M. Borrero, Daeyla C. Boyd, Katrina D. Brown, Christian T. Butler, Madison T. Capo, Zakary T. Capote, Angie Cardona, Jayda M. Cardona, Matthew D. Cardwell, Kristen M. Cashman, Devon A. Cesca, Bryan E. Char, Adrianna Ciccarelli, Christopher S. Clark, Aidan M. Curley, Marybeth J. Defazio, Melissa DelGrosso, Lisette A. Deloatch, Clare M. DeMarco, Brandon R. Diaz, Diana M. Dickel, Fozia Din, Brianna R. Einhorn, Myrannette Estevez, Jordan D. Evans, Melissa T. Farmer, Camerin Figueroa, Zebadiah Francis, Kerline Galette-Auguste, Gina Giordano, Abigail Gonzalez, Travis F. Grogan, Erika Guevara, Lizbeth Guevara, Grace B. Guh, Franceli Hernandez, Korie Hilsmann, Tristan J. Himalaloan, Daniel C. Howard, Joseph A. Howard, John P. Hower, Michael A. Imbrogno, Breanna N. Jackson, Jazmyn Johnson, Brendan L. Kennedy, Autumn Kimble, Jack A. Kimelman, Brittany T. Kirk, Samuel Levin, Nicole M. Loperfido, Steven Lopez, Yakira M. Lovera, Corrin N. Lumbrazo, Dean MacWilliams, Wiley Matthews, Mary E. Mattinson, Kyle A. McCarey, Layla B. Megna, Martin D. Memmelaar, Madeline K. Mendez, Juan Monroy, Daijah M. Montes, Daniel R. Nash, Rooham Nazir, Desiree Nesbitt, Alexis M. Newman, Jessica G. Nohavicka, Kevin P. O'Brien, Andres E. Ochoa, J Jesus E. Ochoa Chavez, Larry Odoms Jr., Ashley M. O'Heir, Adalia Olson, Liang Ouyang, Angela B. Perez, Dylan R. Perry, Ophelia Pierre, Porphyria C. Pierre, Nicholas Porpora, Paul A. Puglisi, Salvatore V. Pupo, Liana K. Ramirez, Dana M. Reeves, Victoria Reyes, Naysha E. Rivera, Bryan Rodriguez, William N. Rondon, Steven A. Ruffin, Bianca M. Sabogal, Joshua Salcedo, Dorothy Sanchez, Mariano Santiago III, Vanessa M. Santos, John Schneider, Paul V. Schroder, Jean M. Schultz, Britney N. Schumacher, Anibal G. Scuadroni, Trish-Anne Sewell, Jacqueline Shebly, Abigail J. Siegel, Cassidy Smith, Maxen Souffrant, Briana T. Spina, Andrew J. Squitieri, Nahomy Tellez, Gabrielle G. Thompson, Nicole Tondreau, Jessica M. Valencia, Jessica Vicente, Deanna J. Villegas, Jessica L. Wall, Ethan R. Walters, Christa White, Katy Williams, Devyn P. Windle, Raymond M. Wronka, Melanny Y. Zenteno-Columba
Monroe: Ari T. Barak, Zhanna Benson, Haley Carlisle, Tabatha M. Castro, Brianna A. Chimento, Kristen Churcher, Cuce Cosovic, Ariana Crespo, Michael A. DeAquino, Maryna B. Earley Spivak, Gerardo Flores, Samantha K. Garcia, Keith Grover, Erin M. Hawthorne, Miguel Hernandez Jr., Kenya M. Jean, William E. Jones, Stephanie D. Lewis, Natalie Lysiak, Jeffrey D. Manapat, Kaytlin S. Matthews, Justin Mellion Solomon, Tatiana V. Morales, Kristina M. Nickel, Hugh M. Rhoden, Anthony M. Russell, Alexa R. Russo, Sean E. Schojan, Jenna L. Sorrentino, Dylan J. Villano, Isabella M. Voelker
Montgomery: Hailey E. Boelens, Jessica E. Bonilla, Nina Cerdas, Jesse Coberly, Emilee V. Coleman, Noel J. Coonce, Ashlyn S. Deegan, Olivia M. Demaris, Ashlynne M. Demshick, Frank C. Iovino, Elizabeth A. Labinsky, Tyler M. Lucey, Kevin P. Matthews, Taylor N. McKnight, Marie Guerly T. Michel, Lauren E. Miller, Devin A. Moore, Corinne L. Motter, Joshua Munkelt, Nicole L. Naclerio, Eric M. Owens, Khalil Saleh, Pasquale Satriano, Joseph M. Stein, Kiersten Webster
New Hampton: Justin Galarza, Misty C. Jackson, Jennifer E. Marchesa, Samantha C. Oaks, Alyssa M. O'Dougherty, Mark D. Pavlik, Jessica L. Thomas, Jessica C. Tortorelli, Curtis C. Vanfleet
New Windsor: Emily I. Berean, Daniel R. Beri, Amanda L. Bienish, Kari A. Blakesley, Gillian A. Brodmerkel, Kimberly S. Coddington, Jessica D'Alo, Ariel L. Diaz, John Kyle Dizon, William C. Dratch Jr., Jailene Espinoza, George T. Figueroa, Ileen Florez, Markee T. Glover Jr., Sofia I. Haughey, Khadija K. Heyward, Nicole M. Kelly, David H. Kim, Danielle K. Laiso, Gayle Lemus, Amanda C. Mancini, Keely McTigue, Dominick Morales, Walter T. Moran, Ariadne G. Munoz, Michael J. Murphy, Kateri Muscarello, Eric J. Noll, Ruben E. Ortega, Enrique L. Perez III, Martin Peticco, Katarina Ramirez, Natasha Ricks, Manuel Rivera Jr., Chelsea Rothstein, Gursharn Singh, Lorraine Taylor, Christina Tsatsaron, Nadia N. Tuzo, Juliette L. Vallet, Nathan A. Vermillion, Kayla Young
Newburgh: Jose G. Alvarado, Froilan L. Arias, Bryanna O. Arroyo, Samantha R. Ascione, Bernadette E. Babcock, Charles R. Betcher, Justen Betcher, Janiele E. Billings, Owen K. Bramble, Norma E. Brickner, Karina Calixto, Mikayla G. Cardoza, Jennifer A. Castillo, Anthony L. Collazo, Cassidy H. Conroy, Nereida L. Cortez, Jasmine Crisostomo, Margaret M. Darker, Nicholas B. DeCara, Eliana DeLeon, William Espinoza, Namiko B. Evans, Chantal F. Fairclough, Jessica R. Ferguson, Morgan E. Fracasse, Taylor Gabriel, Morgan B. Gaetano, Tatiana G. Guerra, Melissa Guevara, Ryan B. Guidry, Monserrat C. Herrera, Debrena L. Johns, Tara M. Kinsley, Isabel Laracuente, Gabrielle G. Levy, Abigail M. Lezama, Shenoy C. Lilliard, Anai Lopez, Lizsandra M. Lopez, Maria F. Lopez, Craig E. Maitner, Rudy Martinez, Joel R. Mendez, Lilibeth Mendoza, Janahira Meraz, Sandra B. Miller, Tyra C. Monroe, Cherokee M. Morning, Timothy G. O'Connell, Amanda E. Ortega, Jessica T. Ortega, Alfred Ortiz Jr., Charles R. Paden, Regiane D. Padilha-Kelley, Sussy L. Paulino, Bailey A. Peabody, Allison R. Pospisil, Axel Quiroz, Chris A. Ramirez, Estefani Y. Ramos, Liana M. Riglioni, Maria D. Rodriguez, Steven Q. Rodriguez, Ta'Shae D. Rodriguez, Ashley A. Rojas, Victor I. Romero, Joseph M. Roy, Yamileth Ruiz, Steven P. Ryder, Stephen G. Ryther, Guerric S. Saint-Prix, Joie B. Salazar, Gloria M. Sanchez, Candy R. Santana, Angela L. Sasko, Anna E. Schorno, Marcy L. Selsey, Andrew M. Solicito, Steven M. Sosa, Casey Starr, Tashawna B. Stewart, Matthew Stridiron, Tammy S. Tarantino, Jessica L. Vargetto, Michael J. Ward, Matthew T. Weill
Otisville: Steven J. Dooley, Erin M. Grogan, Kyle P. Hahne, Nakia Y. Hickman, Kaitey M. McGuire, Zachary D. Perry, Nicholas J. Schofield
Pine Bush: Alexis Barber, Darius Beckford, Laura L. Blaney, Angela R. Clark, Susan J. Drossell, Victoria R. Finochiaro, Jacob S. Hoadley, Rosa I. Hoffman, Ashlynn E. Kelly, Rachel R. Kelly, James A. Keshecki, Miranda L. Levine, Dominic A. Mandile, Zach Millett, Harold C. Osmer IV, Ellen L. Quimby
Pine Island: Racheal A. Freemyer, Jaden A. Gavers-Kolasa, Jack T. Pinkham
Port Jervis: Julian P. Adriano, Patrina M. Belfiglio, Robert A. Booth, Giovanna J. Cala, Molley V. Campbell, Melody C. Delgado, Kyle M. Dembeck, Joseph J. Dowling, Amber R. Dudley, Katelin E. Fitzpatrick, Yaveth Gonzalez, Jude E. Habert Jr., Summer G. Heckman, Tiffany M. Hromek, D'Anna S. Johnson, Kaila E. Jones, Roxanne E. Kern, Michelle Levant, Joy N. Miladinovich, Alyssa D. Myruski, Derek J. Nawrocki, Cassandra L. Newman, Haley E. Parker, Riddhi H. Patel, Michael D. Piscitelli, Carson J. Sauschuck, Catherine T. Schouten, Amy M. Senkiew, Sherri L. Soules, Jenna E. Spiezio, Casey Trone, Noah P. Webb, Alexis R. Worden, Izabella Zambrzycki
Rock Tavern: Michael Eaton, Kaitlyn M. Metichecchia, Stephen Richert, Alexis S. Rodriguez, Sara E. Tyrrell
Salisbury Mills: Amanda G. Beccalori, Tristan S. Katzmann, Katherine A. Monroe, Breyalyn Spinning, Angela C. Yorke
Slate Hill: Gabriella Depolito, Cynthia M. Glavan, Michael A. Guardino, Alissa-Marie K. Rafferty, Rick C. Sanchez
Sparrowbush: Kaylia J. Batzel, Kaitlyn A. Yennie
Thompson Ridge: Giulianna Rojas
Walden: Alejandra V. Avila Torres, Mackenzie M. Burakowski, Nelson F. Cortes, Rebecca Cummings, Britney R. Demshick, Clint A. Enright, Skyla D. Fabiano, Sebastian C. Farias, Courtney R. Fisher, Tiffany Hernandez, Elizabeth J. Kimber, Ciara M. Kirnan, Kyla M. Lastowski, Matthew Mazurowski, Megan McKeon, Gabriella Z. Mendelowski, Brianna C. Neusch, James J. Orourke, Lillie F. Penney, Jessica C. Pullar, James M. Reilly, Ricky A. Scott, Meghan E. Suchy, Amber R. Taegder, Evan M. Toscano, Kaitlyn M. Vargas, Trisha I. Vazquez, Amy Wlodarczyk, Jennifer M. Zimmerman
Warwick: Anthony M. Abbatine, Erin E. Ackerly, Adrian A. Badillo, John B. Benson, Matthew Brack, Robert J. Burghardt, Alyssa E. Byalick, Robert M. Cervone Richards, Steven A. Cianci, Corey J. DeLucia, Sara H. Eichelberger, Justin J. Giannino, Anthony V. Gonzalez, Summer E. Green, Matthew M. Guy, Maggie A. Hayes, Martino Lasalandra, Daniel E. Lilly, Raymond LoPresti, James McGill, Gabriella A. Mignone, Brenda Mongelli, Sophie M. Morgiewicz, Julianna G. Noone, Judith A. O'Neill, Myles T. Ottens, Dylan M. Parkinson, Jason Pedone, Alexandra E. Rogers, Dana T. Schmidt, Alesha N. Slocum, David J. Soto, Pattieann Tegan, Stephanie A. Welch, Lauren Whittemore, Emily Zaferiou
Washingtonville: Kaitlyn M. Blanchette, Ryan Geraghty, Maryellen Guyt, Natasha LaVolpe, James J. McErlean, Gianna Z. Medora, Michele N. Monroe, David H. O'Keefe, Timothy P. Pietrobono, James A. Radoncic, Ellen G. Shea, Amya N. Taylor
West Point: Emma K. Onwuanumkpe, Elisheva M. Slomiuc
Westtown: Giuseppina L. Curto, Oneica N. Denny, Vince G. Giuga, Mikayla E. Higgins, Amanda N. Hulse, Kimberly B. Lafemina, Samantha E. Mattera, Lilah N. McNeil, Heather L. Molander, Haley A. Pepe, Anthony Pitasi, Jessica M. Spears
BRONX COUNTY
Bronx: Mylynda S. Ortiz
DELAWARE COUNTY
Delhi: Michelle T. Jetter
DUTCHESS COUNTY
Beacon: William Dambra, Laura A. Delaney, Megan M. Enson, Carley D. Lyons, Emilia B. Norat, Kiana L. Padilla, Isabel C. Robles
Fishkill: Michael P. Kohler
Hopewell Junction: Danielle M. DeFeo, Yasmin A. Rivera, Deanna M. Wegner
Poughkeepsie: Fady Twal
Rhinebeck: Antonio V. Velez
Wappingers Falls: Jasmine A. Pagan
PUTNAM COUNTY
Cold Spring: Albert J. Rebote
Lake Carmel: Mekedes E. Cleary
Mahopac: Mary K. Colabattista
ROCKLAND COUNTY
Chestnut Ridge: Brielle A. Pereira
Garnerville: Sandie Casseus
Spring Valley: Ashley Youyoute
SULLIVAN COUNTY
Barryville: Steffany L. Soto
Bloomingburg: Myles P. Bennett, Nicholas M. Cesca, Courtney N. Gebhardt, Daniel X. Gonzalez, Nicole Irwin, Marilyn M. Lopez, Tanner J. Rodvansky, Taylor Schulz, Gillian F. Zambrano
Burlingham: Gonzalo Galvan
Eldred: Tyler J. Starke
Glen Spey: Otto N. Banghart IV, Breanna T. Brucher
Harris: Frances Rivera
Liberty: Madison B. Johnstone, Ted-Elijah Q. Torres
Monticello: Alexander J. Bisland, Andre L. Frontis, John-Paul T. Mauer, Cristal M. Ortiz-Rosario, Claire E. Pavlak
Parksville: Joel C. Dasch, Kirsten E. Scott
Pond Eddy: Kristen A. Adams
Rock Hill: Joseph Balotti, Anna Patergin
Smallwood: Alexandra Tagliamonti
Summitville: Durin Kim
Westbrookville: Margaret K. Hill, Karen McLaughlin
Wurtsboro: Tammie J. Fredell, Priscilla Khaladj, Catherine M. Vickery
ULSTER COUNTY
Ellenville: Breana N. Brubaker, Kayla M. Gonzalez, Anthony A. Parrelli, Tyler F. Senkbeil, Anthony K. Smodis Ramos
Gardiner: Jeffrey R. Martin Jr.
Greenfield Park: Jarelis Ventura
Highland: Mahassin I. Simmons-El
Marlboro: Teresa E. Ayala, Ricardo Martinez, Nichole K. Rosen, Abigail H. Stuempert
Milton: Jessica A. Alberg
Modena: Marvin Acevedo, Shayna L. Rosado
Olivebridge: Kasey M. McCormick
Walker Valley: Adam Teigland
Wallkill: Samantha N. Ahern, Ann Brown, Kiera R. Cotter Flanagan, Erin L. Fanning, Jason N. Fullerton, Alyssa M. Hilgenfeldt, Alyssa Kane, Jonathan A. Klepeis, Nigel L. Lyons, Adriana M. Marvulli, Jessica L. Massimilla, Kathleen A. Olley, Anabel Romero, Sydney L. Walz, Sammianne J. Wenz
WESTCHESTER COUNTY
Peekskill: Brianna M. Romano
Sleepy Hollow: Sarah M. Brockhausen
OUT OF STATE
NEW JERSEY
Hamburg: Sara E. Struble
Montague: Sarah M. Blackburn
Pomona: Jacqueline M. Trujillo
Vernon: Dawn B. Quinto
PENNSYLVANIA
Matamoras: Isabella Bucher
Milford: Christina M. Boonyam, Julian D. Diaz, Arnold T. Lindaas
Total Dean's List Students for 2019 Spring Semester: 708