Charlie Cawein, First OCCC Student, Has Passed Away
July 1, 2019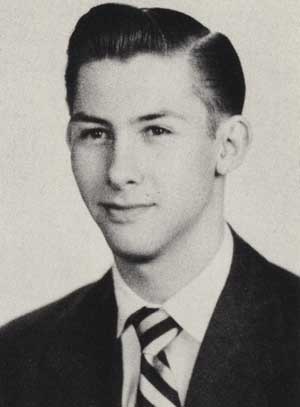 The community at SUNY Orange was saddened to learn of the passing of Charlie Cawein on June 25, 2019. Charlie was a Class of 1952 graduate and the first student to register for classes at the College when it was initially formed in 1950.
"I am very fortunate to have met Charlie on several occasions. His memorable pride in being @SUNY_Orange's first registered student was only exceeded by his pride in the other @SUNY_Orange grads in his family. I will miss Charlie." Dr. Kristine Young tweeted upon learning the news.
Following is Charlie's biography from his induction as a member of the inaugural induction class to the Colt Athletic Hall of Fame in 2012:
Charles Cawein will always hold a unique spot in the history of Orange County Community College. He was the first student to apply for admission to the College upon its founding in 1950, and soon after set forth on a sterling athletic career during the formative days of the Colts' competitive sports program. As captain and leading scorer of the men's basketball squad, Cawein was named the College's first Athlete of the Year in 1951. He averaged a team-high 19 points per game and set a single-game scoring record of 30 points versus Albany that stood for several years after his graduation. His 15 points-per-game scoring average in 1951-52 also led the Colts' hardwood efforts. Cawein was named captain of the College's first soccer team in 1951. Away from the competitive environment, Cawein served as a member of the Student Council for two years and was appointed as a special assistant to athletic director Chris Chachis. Cawein instructed selected physical education classes in order to free up Chachis for his expanded duties as athletic director. Cawein has remained an ardent supporter of the College over the years. In 1977, at his 25th class reunion, he donated the inaugural 1951 "Athlete of the Year" cup for display in the Physical Education Building. He also delivered the 50th Anniversary Commencement address, on behalf of the College's alumni, in May 2000. Cawein, who was chief financial officer of Horton Hospital from 1966 to 1995, was honored by Orange County Executive Mary M. McPhillips when she proclaimed May 18, 1990, as "Charlie Cawein Day" in the county.
A celebration of his life will be scheduled at a date yet to be determined. His obituary can be viewed at https://www.griffithcline.com/notices/Charles-Cawein
In lieu of flowers, contributions can be made to "The Charles J. And Ruth C. Cawein First Student Scholarship Fund for Healthcare" at SUNY Orange.
Donations may be made to:
The Charles J. And Ruth C. Cawein First Student Scholarship Fund for Healthcare, SUNY Orange
115 South St., Middletown NY 10940
Tel: 1-845-341-4337
Email: dawn.ansbro@sunyorange.edu
Web: https://www.sunyorangefoundation.org/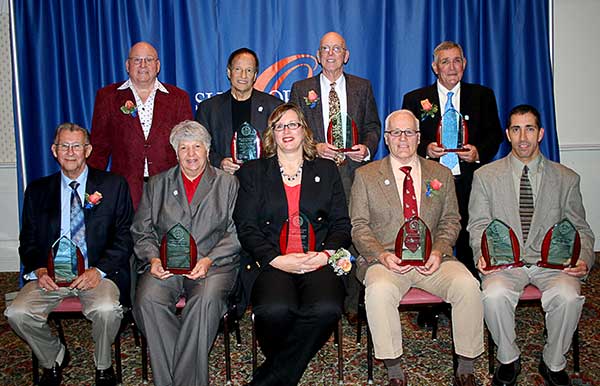 Charlie Cawein, at left in the front row, is pictured with members (and representatives of deceased members) of the inaugural induction class of the Colt Athletic Hall of Fame.