May 2019 Graduates Announced
July 11, 2019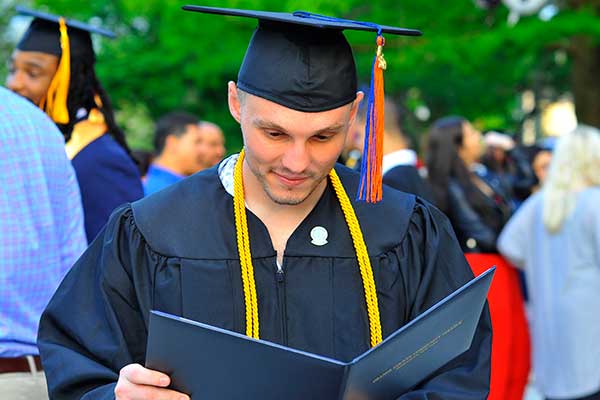 MIDDLETOWN, N.Y. -- Dr. Kristine Young, president of SUNY Orange, has announced that the College awarded a total of 526 associate's degrees and academic certificates to 481 students who completed their courses of study during the recently concluded Spring semester.
The College's May 2019 graduates hailed from seven counties in New York (Orange, Bronx, Dutchess, Putnam, Rockland, Sullivan and Ulster) as well as New Jersey and Pennsylvania.
SUNY Orange Graduates List (May 2019)
NEW YORK STATE
ORANGE COUNTY
Blooming Grove: Joseph Micheal Abate
Bullville: Tyler Andrew Souchet
Campbell Hall: Carlos A. Lassalle Jr., Jennifer Claire Michalski, Treasa Irene Moscato, Nicholas Scparta, Olivia Leigh Spadaro, Monty Velez Jr., Kiera Therese Walsh
Central Valley: Christina Scourlas, Stephon Daniel Tomlinson
Chester: Kelly Lynne Baldwin, Sean Anthony Campbell, Austin P. Cleverley, Nicholas A. Contino, Joseph John Farago, Alyssa Flavin, Charles Fox, Denise Gabrielle Gayta Cortado, Danielle Siobhan Lyons, Kristofer Andri Olafsson, Amber Leigh Rivera, Joshua A. Silverman
Circleville: Corilee Lewis
Cornwall: Dildora Fayzullaeva, Cassidy Caitlin Hazard, Lesley S. Morgan, Jennifer Ann Sanchez
Cuddebackville: Tristan Iolonardi, Kailey Sue McGuire, Louis Alexander Vasquez
Florida: Nicola Perrelli, Adriana Rose Reyes, Trey Stefan Andre Smith
Goshen: Darius Paul Matthew Bertolino, Kelly Anne Boss, Annmarie Ruth Chiappone, Jaclyn Rose Clark, George L. Cortes, Nandi Maria Epps, Liam Patrick Farrell, Jessica S. Glancey, Carly L. Knight, Abigail Elizabeth Lewis, Vincent Maggiore Jr., Esther Noemi Martinez, Justin Lewis Michaelson, Colby E. Mohr, Amanda Lynn Ortiz, Violet J. Rattray, Michael Anthony Rugnetta
Greenwood Lake: Brittany Ann Dreyhaupt, Caitilin Rafferty
Harriman: Tyler D. Diedolf, Keith N. Karen
Highland Mills: Bridget Boateng, Wai Chui, John Edward McDermott, Preston Scott Parsons, Sarah Nicole Stevens, Catherine G. Volpe
Huguenot: Edward D. Quick, Jennifer Rose Schock
Johnson: Rosalie Barrera, Olivia Nicole Pogozelski, Justin C. Ryshkewitch
Maybrook: Elizabeth Dorothy Bertorelli, Jorge Luis DeJesus, Domonique Figueroa, Joseph Alphonse Fucci III, Sarah Marie Triphahn
Middletown: Brittney L. Aillet-Vizzari, Raymond Mathew Alicea, Lorenzo Ricardo Alverio, Christopher Matthew Baisley, Samantha Baltazar Nava, William R. Bayer, Talia Kristy Bhagwandeen, Daeyla' C. Boyd, Cassidy Lee Broas, Kevin J. Brophy, Marissa A. Brown, Cristal G. Bustamante, Matthew Donald Cardwell, Alicia Nicole Charles, Adrianna Ciccarelli, Teresa M. Costello, Aidan M. Curley, Michelle Eva Damewood, Lisette Anna DeLoatch, Joseph Brian DeRose, Brandon Roland Diaz, Jessica Lynn Downing, Fiona Rose Dunn, Myra Estevez, Carl Daniel Eugene, Jordan D. Evans, Brandon James Fogelman, Jose Angel Folch, Simone B. Francis, Alyssa Diane Frost, Stephanie Anne Giannelli, Deshawn R. Gibson, Sofia Giraldo, Jonathan Gomez, Travis Fisher Grogan, Lizbeth Guevara De La Rosa, Symone Diana Hampton, Yvette K. Harris, Brittany Naomi Hernandez, Elizabeth G. Herrera, Tristan Himalaloan, Christopher Jablonski, Breanna Nichelle Jackson, Timara Malinda Jackson, Fernando Javier, Danielle Jiménez, Jazmyn D. Johnson, Dila Susanna Juncaj, Brianne L. Kelly, Brendan Leo Kennedy, Jack Andrew Kimelman, Brittany Kirk, Daniel A. Knowles, Eleni Rose Kokkosis, Brenda D. Kopp, Jonette Krupinski, Kimberly Karen Leslie, Samuel Aaron Levin, Chloe Wanyi Lin, Nicole Mary Loperfido, Dean MacWilliams, Nicholas Kenneth Mahabir, Iraida Angelica-Rae Maldonado-Nazario, Erika J. Marrero, Rammy Oksanna Marte, Wiley S. Matthews, Christopher Michael Mattinson, Mary Elizabeth Mattinson, Martin David Memmelaar, Brandon Mendoza, Jason Michael MIgliori, Ashley Nicole Murphy, Jason Napoleon, Yessenia Ortiz, Liang Ouyang, Patricia Palacio, Brittany P. Paoli, Shana Denise Patrick, Michael D. Peele, Angela B. Perez, Sarah R. Petrick, Randy Scott Plummer, Nicholas D. Porpora, Meredith Lynn Pospisil, Jeffrey Axel Rivera, Marisa Marie Rivera, Erika C. Rodriguez, Skyla Rodriguez, Alexandra Rosales, Sasha Ariel Rosario, Kimberly A. Rose, Carmine Rosario Rotundo, Thomas James Rubio, Steven Anthony Ruffin, Bianca Marie Sabogal, Mariano Santiago III, Laura Camila Sarmiento, John Joseph Schneider Jr., Britney Nicole Schumacher, Anibal G. Scuadroni Jr., Peri Alyssa Segal, Chelsie M. Segarra, Abigail Jane Siegel, Arashdeep Singh, Brenda L. Smith, Cassidy Smith, Sherrie Lynne Soto, Andrew James Squitieri, Ronane O. St. Thomas, Marie Lynn Utter, Jessica Vicente Castillo, Kathy Villanueva, Kaylee Beree Weinberg, Christa White, Katy A. Williams, Warren Jordan Williams, Shelly-Ann Yanique Young-Haggins, Melanny Yessenia Zenteno Columba
Monroe: Ari Tal Barak, Lydia Nandani Bissoondath, Haley Renata Carlisle, Tabatha Marie Castro, Kristen Ann Churcher, Jennifer Rose Cruger, Adriana Dearmas, John A. Drosdowich, Lileny Espinal, Miguel Hernandez Jr., Dyan E. Jones, William E. Jones, Alexander Michael Milone, Tatiana V. Morales, Kristina Marie Nickel, Kayla Abigail Reyes, Alexa Rae Russo, Maria Seneiko, David C. Stora, Oke Ukekwe, Casey L. Waldron
Montgomery: Jason Bailey Becker, Nina Cerdas, Emilee Victoria Coleman, Noel Justine Coonce, John Jorge D'Amato, Alicia J. Gutierrez, Stephanie Nicoletta Lambros, Korynne P. Mansfield, Brittany McGuire, Marlon Adolfo Mota, Angel Luis Nieves, Meghan A. O'Brien, Timothy E. Pedersen, Marcello M. Puzzillo, Pasquale Vincent Satriano, Ashlee Elizabeth Vellenga, Kiersten Amanda Webster
New Hampton: Amy Lee DeStefano, Justin Lin Galarza, Jennifer Marchesa, Briana Marie Reese, Heather Kathleen Reilly, Jessica C. Tortorelli
New Windsor: Jessica Louise Amanatides, Giardely Yazury Baca Arevalo, Michael R. Baca, Jason Nicholas Bailey, Caroline Bashualdo Bocanegra, Matthew Rene Bongiorni, Jessica Elizabeth D'Alo, Zachary Michael DeCarlo, Antonia Rose Del Gatto, Jailene Espinoza, Ileen Florez, Hayley Kate Fusco, Milan B.S. Hanley-Rhone, Jacqueline Zapata Hernandez, Noel Capri Johnson-Carter, Alyssa Lamica, Imani J. Mack, Jamie Alexis Maldarelli, Amanda Carlie Mancini, Keely McTigue, Leeanna O'Rourke, Patricia Ortega, Janelle Lauren Pacheco, Enrique Leo Perez, Daphne Y. Pocorni, Emily Rudy, Tyswayne O. Stewart, Lazaro E. Suarez-Villamil, Lorraine Taylor, Christina L. Tsatsaron, Akosua Wallace, Peter Woods, Kayla Young
Newburgh: Osvaldo N. Alvarado, Agueda Samantha Alvarez, Patsil Andrade, Samantha Rae Ascione, Bernadette Elizabeth Babcock, Norma Elizabeth Brickner, Layla Latoya Calderón, Jasmin Cariño, Yadira Natalie Castaño, Jennifer Castelan, Montana Isabella Cortez, Paige E. Cosgrove, Vanessa Cruz, Pamela Y. Cureton, Margaret Mawawah Darker, Alexander R. DeCara, Ashley N. Grace, Stacey Guerrero, Tayquan Monia Hammond, Monserrat Herrera, Jeanine Jamal, Michelle Jaramillo, Byron F. Lema, DaMaya LaVelle Lewis, Kristina Marie Lucchesi, Craig E. Maitner, Laura Nicole Manzo, Liset Patricia Martinez, Anthony M. Maurice, Joel Raymond Mendez, Janahira Meraz, Amanda Elenia Ortega, Regiane Padilha-Kelley, Cindy Jhoana Paulino, Bailey Peabody, Samantha Olivia Podlas, Jose Alexander Ramirez, Jasmine Rios-Gonzalez, Brigitte Rivera, Nicole A. Ruback, Gloria M. Sanchez, Angela Lorraine Sasko, John Michael Serrano, Andrew Michael Solicito, David A. Soto
Otisville: Steven Jarrett Dooley, Sean Patrick Rajnert
Pine Bush: Alexis M. Barber, Sierra Alexis Barragan, Isabella Valentine Bishop, Krystal Ann Carhart, Christina Carson, Jordan William Cichy, Angela Renee Clark, Susan Jade Drossell, Stephanie Renee Dunn, Victoria Rose Finochiaro, Michael Ryan Gledhill, Milani Deja Hernandez, Jason Edward Iorio, Miranda Linda Levine, Dominic Antonio Mandile, Mackenzie Benjamin Martin, Sarah A. Richardson, Timothy Conrad Slesinski, Julianna Louise Sloat, Victoria Lynn Sozio, Austin West
Pine Island: Jill Maureen Nolan, Holly Anne Rudinski
Port Jervis: Patrina M. Belfiglio, Kaitlynn E. Brown, Catherine Burke, Danika Christine Ferola, Taylor Nicole Forestire, Connor P. Hughes, Roxanne Eileen Kern, Cassandra Lynn Newman, Jillian Christine Rhoades, Catherine T. Schouten, Sherri Soules, Jennifer Robin Strasser, Isaac Brian Viccica-Matos, Alyson C. Wesley, Marceline Williams
Rock Tavern: William Blake, Sara Elizabeth Tyrrell
Salisbury Mills: Anthony Michael Aprile, Brian J. Grogan, Angela Yorke
Slate Hill: Karalyn Bruntfield, Gabriella Grace DePolito, Anthony Long, Katherine Mary O'Keeffe, William Timothy O'Keeffe
Sparrow Bush: Kaylia J. Batzel, Rebecca Rose-Marie Hulse
Walden: Darren M. Blot, Desirae Marie Ciardullo, Tyler Paul Cimorelli, Peyton A. Clemens, Rebecca Rose Cummings, Andrew Pasquale Cutroneo, Chelsea Debidin, Brendan Duffy, Gabrielle Dujmovic, Clint Allen Enright, Brendan Isaac Halpin, Mariah Elizabeth Halpin, Danielle A. Hartmann, Rebecca Iacovitti, Gabriella Zofia Mendelowski, Melissa Marie Pileggi, Jessica C. Pullar, Johannie A. Rodriguez Villa, José Antonio Sepulveda, Connor M. Stewart, Ayanna Tatiana Terry, Adriana Maria Torres, Stanley J. Urbanski, Kaitlyn Marie Vargas, Jake Taylor Vredenburg
Warwick: Anthony M. Abbatine, Eric James Block, Robert Jeffrey Burghardt, Robert Cervone-Richards, Steven Cianci, Amy Lynn Claeys, Elizabeth Armstrong Davidson, Andrew R. Di Martino, Melanie Faith Ferrara, Daniel P. Malloy, Dylan C. Maurer, Anthony John Mirra, Sophie Morgiewicz, Judith Anne O'Neill, Randy T. Santana Hidalgo, Glen E. Sudul, Pattie-Ann Tegan, Brittany Terrill, Daniel M. Vandenbos, Stephanie Ann Carter, Lauren Michelle Whittemore
Washingtonville: Keith E. Badi, Kaitlyn M. Blanchette, Dylan Ganz, Tyler C. Lim, James D. Mariany, Casey Alexandra Martinez, James Jordan McErlean, Jeffrey A. Montero, Nicholas P. Neporanny, David Harold O'Keefe
Westown: Dylan Jacob Czubak, Vince G. Giuga, Evan Matthew Mabee, Samantha Elizabeth Mattera, Sean Patrick O'Brien
BRONX COUNTY
Bronx: Edward Luperon
DUTCHESS COUNTY
Beacon: Marywin Camacho, Carley Dee Lyons, Kayla M. Winters
Fishkill: Allyssia Marie Peña, Stephanie Anne Sannella
Hopewell Junction: John William Manzione, Anthony F. Russo
Poughkeepsie: Melissa Adams, Kristine Lorraine Ferguson
Rhinebeck: Antonio Vincent Velez
Staatsburg: Erica Lynn Resek
Wappingers Falls: Antonio Lewis DeGilio - Moscato, Deborah Marie Griffin, Kimberly D. Pustai, Grace Alexandra Segura
PUTNAM COUNTY
Carmel: Molly M. Hurlbert, Marie Barrenger
ROCKLAND COUNTY
New City: Morgan Elizabeth Lauder
Spring Valley: Marlyne K. Gabriel
SULLIVAN COUNTY
Bloomingburg: Daniel Xavier Gonzalez, Nicole L. Irwin, Diana Kapciova, Marilyn Marie Lopez, Rachel Nichol McFarland, Amanda N. Ortiz, Amanda Rose Silliman, Jarod Joseph Zupetz
Glen Spey: Noah Alexander Clemmons, Maximilian Daniel Negulici
Harris: Frances Rivera
Liberty: Shane Stuart Fitzsimmons
Monticello: Alexander J. Bisland
Rock Hill: Joseph Antonio Balotti, Dominique Bowens
Westbrookville: Jessica M. Botbyl,
Wurtsboro: James Joseph Fattorusso
ULSTER COUNTY
Ellenville: Anthony A. Parrelli, Alyssa M. Volpini, Michael A. Volpini
Marlboro: Matthew William Kreuzburg, Nichole K. Rosen
Modena: Shayna Lynn Rosado
Wallkill: Julianne J. DeCicco, Nestor A. Gallardo, Kelly Ann Gomez, Tyrell Lamb-Fazio, Calley C. Lowitt, Lucas Alexander Perrego, Vanessa Romero, Giavonna Rose Santarelli
OUT OF STATE
NEW JERSEY
Oak Ridge: Kaily Jessica Ostlund
PENNSYLVANIA
Dingmans Ferry: Dustin Daniel Ramondino
Milford: Christina Michelle Boonyam, Efrain Jesus Guzman Jr., Arnold T. Lindaas
Total Graduates: 481 (earned 526 degrees and certificates)
Are you ready to write your story?