Wellness Fair Planned for Newburgh Campus Sept. 26
September 6, 2019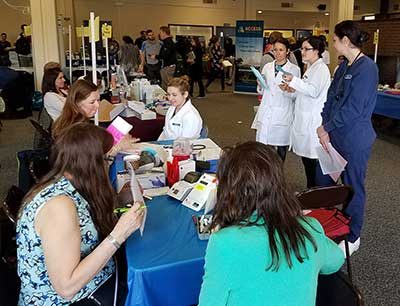 NEWBURGH, N.Y. – Representatives from local health and human services agencies will gather to answer questions and provide information when SUNY Orange hosts its upcoming Newburgh Campus Wellness Fair from 10 a.m. to 2 p.m., Thursday, Sept. 26 in the Great Room of Kaplan Hall on the College's Newburgh campus.
Coordinated by the College's Wellness Center, the Wellness Fair is open to students, faculty, staff and community members and will emphasize wellness for the mind, body and spirit. Throughout the event, attendees may take advantage of an array of free services, which may include blood pressure readings, cholesterol checks, blood glucose monitoring, and HIV Quick Tests.
Flu shots, provided by Rite-Aid, will also be available. To obtain a flu shot, visitors will need to present an insurance card (most insurances accepted) or pay in cash. No debit or credit cards will be accepted.
Information will be presented by the following Orange County health and human services agencies: NAMI (National Alliance on Mental Illness) Orange, Alcohol and Drug Abuse Council of Orange County, Alzheimer's Association, New York Rideshare, New York State of Health, Orange County Rape Crisis Center, Planned Parenthood, and many more.
Admission is free. For more information, contact the SUNY Orange Wellness Center at (845) 341-4870.