Federal Grant Will Help Students With On-Campus Childcare Costs
October 22, 2019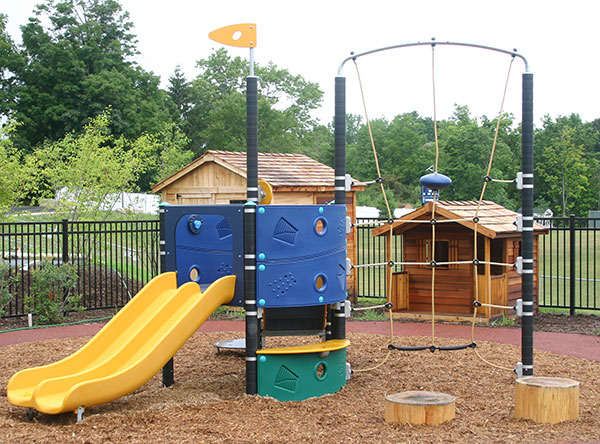 MIDDLETOWN, N.Y. – SUNY Orange has been awarded a $293,021 Child Care Access Means Parents in School (CCAMPIS) Program grant from the United States Department of Education to supplement childcare expenses for low-income students who utilize the College's two on-campus Lab School facilities.
The four-year grant took effect Oct. 1 and provides the College with $73,259 in the first year. Funds will assist eligible parents enrolled at the College by providing supplemental aid that will help lower their out-of-pocket childcare fees at the Morrison Lab School on the Middletown campus and the Newburgh Campus Lab School.
"Trying to earn a degree while balancing parenting responsibilities makes it very difficult for students to complete their program of study. Access to affordable childcare is critical to the success of students with children," says Dr. Kristine Young, SUNY Orange president. "In addition to being affordable, our Lab Schools provide convenient, exceptional, high-quality childcare at both locations."
Access to childcare is an issue statewide, and has been identified by Governor Andrew Cuomo as the leading priority for his regional economic development councils to address. Cuomo intends to expand childcare access as a means of fueling workforce development and enhancing worker productivity. Young, a member of the Mid-Hudson Regional Economic Development Council, says SUNY Orange students face the same issues as workers in the Mid-Hudson.
"The Council and many others in the Mid-Hudson are deeply invested in this issue because it has wide-ranging impacts for so many of our neighbors. Our CCAMPIS grant award dovetails nicely with regional and statewide pushes for expanded childcare options for all parents" Young adds. "The supplemental aid our students will receive because of this grant will create greater access to the Lab Schools and will increase the likelihood that our student-parents are able to successfully complete their education in a more timely manner."
The grant will provide approximately 24 student-parents with extremely reduced childcare rates, however the actual number of students who can benefit will depend on a number of factors: whether students choose full-time or part time care, whether they return from Fall to Spring, if they require summer care, and if they have more than one child. Among the requirements for student-parents is the stipulation that they are eligible for federal PELL grants.
In addition to childcare services, the Lab Schools offer opportunities for SUNY Orange's early childhood education students to observe and assist in the classrooms. Built specifically as Lab Schools, each room has observation rooms where parents and/or students can observe the children and their teachers without disrupting their play and learning opportunities. The College has been providing quality on-campus childcare for children of students, employees and community members since 1983.
For more information, and eligibility requirements, contact the Morrison Lab School at (845) 341-4165 or the Newburgh Campus Lab School at (845) 341-9056.