Eleven Online Course Sections Available in Winter Intersession
November 6, 2019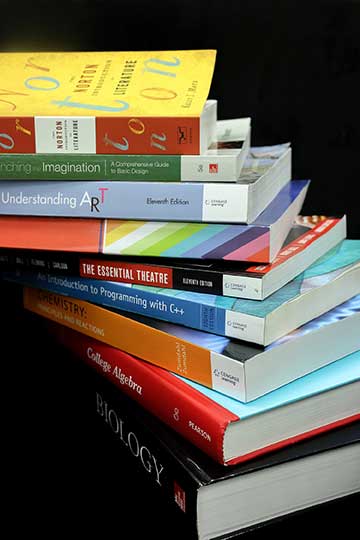 UPDATE: Since this article was written on Nov. 6, the College has added one new course (World Literature) and one additional course section each of Introduction to Sociology and Introduction to Psychology. The newly added sections of Sociology and Psychology will also utlize OERs.
MIDDLETOWN, N.Y. – SUNY Orange students, and those college students living locally who may be home for the holidays, will have twice as many courses to choose from this January during SUNY Orange's 2020 Winter Intersession.
This winter's selection includes eight online general education and introductory courses, a two-fold increase over the four classes the College hosted last winter during its first-ever winter intersession.
Classes for the upcoming 2020 Winter Intersession will run from Jan. 2-18. Current SUNY Orange students, depending on their respective degree, program affiliation and credit situation, began registering for the winter intersession, along with the spring semester and summer sessions, during the week of Nov. 4. New and visiting students can register beginning on Nov. 18.
Courses being offered include: Biology for Today, Contemporary Short Story, Criminal Justice, Medieval & Renaissance Europe, Introduction to Psychology, Introduction to Sociology, Elementary Spanish, and Computer Literacy, Each is a three-credit course. The cost-per-credit is $216 for New York State residents and $432 per credit for out-of-state students.
The sociology and psychology courses will utilize Open Educational Resources (OERs) rather than a traditional textbook. Open Educational Resources are teaching, learning, and research resources that reside in the public domain or have been released under an intellectual property license that permits their free use and repurposing by others. OERs are traditionally free or very low-cost options that results in textbook cost savings for students.
Current SUNY Orange students can gather more information by contacting the Registrar's Office at (845) 341-4140. New and visiting students should call the Admissions Office at (845) 341-4030.
Course descriptions:
Biology for Today: The biological aspects of contemporary problems and issues will be explored. Selected topics will be chosen from the areas of Medicine and the Environment. Students will participate in discussions and activities that will assess decision-making criteria relative to the issues being presented.
Contemporary Short Story: Careful reading, analysis, and interpretation of short stories, emphasizing varied approaches, characteristics and styles, with some attention to development of the form in the 19th century. Some research required.
Criminal Justice: This course focuses on the development of the criminal justice system in a democratic society. Subject matter includes a comprehensive overview of the police, courts, and correctional components of this system. The historical and theoretical development of the criminal justice system and the impact of issues such as technology, transnational terrorism and homeland security on this development are explored.
Medieval & Renaissance Europe: An introductory course which deals with the Medieval and Renaissance periods in European history. The course begins with the post-Roman world and ends with the Protestant Reformation. Emphasis is on the political, social, cultural, and economic developments of the period. Topics to be considered are feudalism, manorialism, the life of the peasant, monarchy, the development of the nation-state, the medieval church, the Renaissance, Protestantism.
*Introduction to Psychology: The foundations for a scientific understanding of human behavior are examined. Topics include: scientific methods, statistical analysis, physiological aspects of behavior, growth and development, learning and memory, sensation and perception, motivation and emotion, personality, gender and sexuality, and psychological disorders and treatment.
*Introduction to Sociology: This course explores those forces in our culture and social structure that lie beyond the individual's control or direct awareness, but which shape what we are, how we behave, and what we think. Basic sociological concepts are used to develop insights and understanding. Topics such as culture, social structure, socialization, social control, groups, stratification, research methods and statistical analysis are discussed.
Elementary Spanish: For beginners or those who have no more than one year of high school Spanish. Emphasis is placed on the language as spoken and heard. Grammar study deals mainly with the formation and use of verbs in the present tense. Situational dialogues serve as the basis for learning pronunciation, vocabulary and idioms.
Computer Literacy: This course is designed to give the student an overview of computer technology, concepts, terminology, and the role of computers in society. There will be discussions of the social and ethical issues related to computers and the Internet. It will provide the student with research and critical thinking skills and introduce the student to relevant emerging technologies. The student will use word-processing, spreadsheets, database and presentation software when presenting their findings. Prerequisite: MAT 010 or math placement into MAT 020 or higher.
JUST ADDED ... World Literature: A survey of world masterpieces from the Seventeenth to the Twentieth century, presenting literature as a reflection of time, place and thought. Major works are examined in depth. Some research required.
*utilizing Open Educational Resources in place of textbooks