Recent Grad's Research Published in Regional Honors Journal
November 19, 2019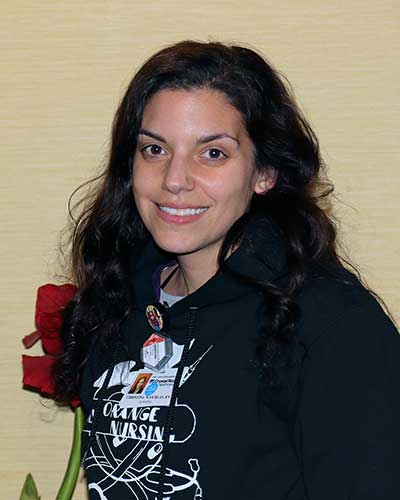 SUNY Orange President Dr. Kristine Young's "Shout-out" to Christina
MIDDLETOWN, N.Y. – SUNY Orange Honors Program alumnae Christina Scourlas, of Central Valley, was recently selected to contribute her article entitled "U.S. Nursing Shortage: Fact or Fiction" to the inaugural issue of Illuminate, the undergraduate journal of the Northeast Regional Honors Council (NRHC).
Scourlas, who graduated magna cum laude from SUNY Orange in May 2019, was one of only 17 student scholars whose work was chosen for publication in the NRHC's new student publication.
Publication of the article in Illuminate marks the third recognition that Scourlas' work has received within the past five months. Her research received a "Most Outstanding Paper" award in June at the 27th annual Beacon Conference, a prestigious research presentation conference for community college students in the Northeast, and was published in the July 2019 edition of "Proceedings" the annual catalog of Beacon Conference winners.
Scourlas' paper examined the differentiation between registered nurses who hold associate degrees and registered nurses who have earned their bachelor's degree; its contribution to the current high patient-to-nurse ratio; and perceived nationwide shortage of registered nurses as a result of healthcare organizations requiring nurses to obtain the higher-level degree.
"As a new nurse, I struggled with the idea of entering the professional world knowing that finding work would be a challenge," said Scourlas. "I didn't want to believe that after all my hard work in nursing school, I didn't meet the minimum requirements to launch my career. I am living proof of my own research."
Studying in the SUNY Orange Honors Program, Scourlas undertook the yearlong research project as part of the program's rigorous capstone research class in which students work closely with faculty mentors on research topics of keen interest to the student. Nursing professor Alan McGlynn and Elaine Torda, English professor and coordinator of the SUNY Orange Honors Program, mentored Scourlas through her project.
"We knew her honors capstone paper was both very strong and a timely, relevant topic. She worked hard on it and the end results reflect that," said Torda. "To be accepted for the first edition of a student journal is a testament to both. We are very proud of Christina and happy to support both her endeavors and the new NRHC student journal."
The article is available online at www.illuminatenrhc.com with hard copy of the journal to be published later this month.
Scourlas is currently working full time as a radiology nurse at Crystal Run Healthcare while pursuing her bachelor of nursing science degree online through SUNY Plattsburgh.