SUNY Orange Food Pantry Open to Students
November 25, 2019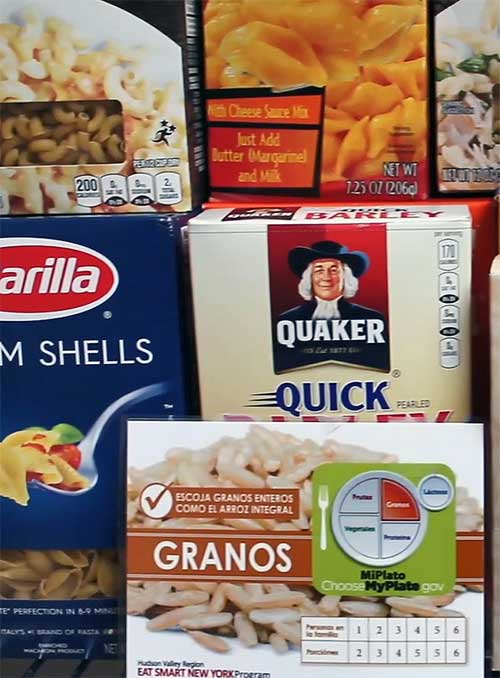 Food Pantry Introductory Video
MIDDLETOWN, N.Y. – According to a recent survey, 41% of students at SUNY Orange in the past year have suffered from food insecurity, the limited or uncertain availability of nutritionally adequate safe foods or the inability to acquire such foods in a socially acceptable manner.
Increasingly, students across the country are enrolling in colleges and many don't know the source of their next meal. In fact, many students are experiencing food insecurity and are afraid. Luckily SUNY Orange, with the help of the Cornell Cooperative Extension Center, has been one of the colleges that recognizes the importance of this issue. SUNY Orange opened its food pantry in February 2019 to address the relevant issue of food insecurity among students.
Madeline Torres-Diaz, associate vice president for student engagement and completion at SUNY Orange, has always had a passion for helping students. One of her roles is to make sure every student is comfortable.
"We kept hearing from faculty and staff and even my own staff that students were saying that they were hungry," she says. Torres-Diaz developed the idea of the food pantry because she recognized the need for it. But it wasn't until Governor Andrew Cuomo passed a law mandating that every SUNY and CUNY institution must have a food pantry that plans came together. Since the law passed, the SUNY Orange food pantry has been slowly growing with donations from local Catholic churches, faculty and staff members, and even some students.
When a student expresses the need for help, Torres-Diaz anonymously lets the student use the food pantry and refers them to the Supplemental Nutrition Assistance Program (SNAP). The SNAP program takes the food pantry one step further by educating students about the program and its benefits. The program gives individuals a debit card to help them buy groceries in order to maintain their life. SUNY Orange's food pantry consists of non-perishable food items, such as peanut butter, pasta, canned goods, and cereal.
The Food Pantry is open to all SUNY Orange students and staff members, regardless of income, who may be experiencing food insecurity. Hours are 11 a.m. to 1 p.m. on Tuesdays and Fridays. Since the food pantry opened, it has helped more than 30 students, including 12 students this Fall. One staff member has used it also. It is still to this day, completely anonymous and confidential.
Students can access the Food Pantry by contacting Madeline Torres-Diaz at 341-4407, Steve Harpst at 341-4320 or Dolores Jones at 341-4000 to open the Food Pantry upon request. For more information contact Torres-Diaz at madeline.torresdiaz@sunyorange.edu.
Article written by SUNY Orange student Alesha Slocum