Alumni Invited to "Return to the Mansion
November 26, 2019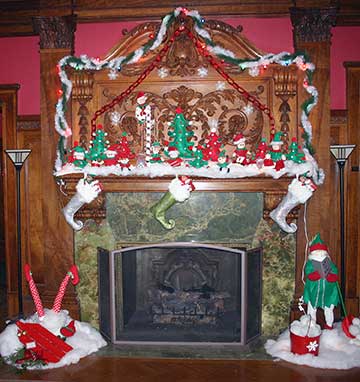 MIDDLETOWN, N.Y. – The SUNY Orange Foundation Alumni Committee invites SUNY Orange alumni to a special Alumni Holiday Celebration on Tuesday, Dec. 10 between 5:30 and 7:30 p.m. at the Morrison Hall mansion on the College's Middletown campus. Alumni family members are welcome as well.
Each year, the Middletown Garden Lovers Club adorns the main floor of Morrison Hall in stunning holiday décor, and this year's decorations will be in full effect for the alumni gathering. This year's theme is, "Holiday Enchantment with Children's Stories." In each first-floor room of the mansion, alumni will be treated to holiday scenes from their favorite children's stories, including: "T'was the Night Before Christmas," "Alice's Adventure in Wonderland," "Harry Potter & the Sorcerer's Stone," "Peter Pan" and "Ten Tiny Gingerbread Men."
This new alumni event provides a great opportunity to visit with classmates and fellow alumni in a beautiful holiday setting. Admission is free, but an RSVP from alumni is appreciated so that the Foundation can plan accordingly. Please RSVP to Jennifer D'Andrea, director of alumni engagement and community relations, at jennifer.dandrea@sunyorange.edu or (845) 341-4179.
The mission of the SUNY Orange Foundation is to generate funds and build resources to enhance learning opportunities for students and the community. The SUNY Orange Foundation is a key partner with SUNY Orange and is committed to working to generate funds and build resources to enhance lifelong learning and engagement opportunities for SUNY Orange students, alumni, and the community at large. A consistent fundraising leader among community college foundations in New York State, the SUNY Orange Foundation focuses on helping ensure a quality college education remains affordable and accessible to all students.