Statics Class Tests Lightweight Bridges
December 10, 2019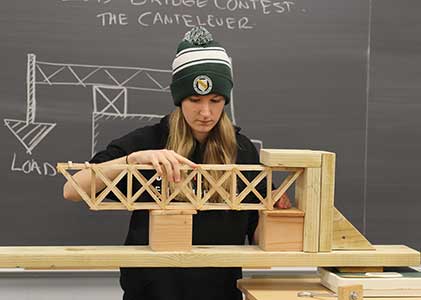 By Steve Hedderton
MIDDLETOWN, N.Y. – Twenty-two SUNY Orange engineering students tested their bridge design concepts as part of the College's 20th annual end-of-semester Bridge Breaking contest on Friday (Dec. 6).
Students from the College's Statics class were challenged to design and construct lightweight bridge structures using Popsicle sticks and glue as a semester-long project. The structures were then put to the ultimate test to determine, based on a weight-to-load ratio, the strength of each individual structure. The bridges were securely placed into a cantilever assembly at one end and weight was added incrementally to the other end of each student's bridge until the structure collapsed. The students then calculated the ratio of the weight of the added load to the original weight of the structure.
The winning entry, built by Mikayla Dieterle of Chester, withstood a load of nearly 300 times its weight before failing. Rounding out the top three in the contest were Cameron Laroche, of Greenwood Lake, and Evan Smith, of Huguenot.
"The annual bridge breaking contest allows students to take what they have learned in the classroom and put it to the test." said John Wolbeck, professor and chair of the engineering program. "It is not enough for an engineer to just copy existing designs. They should improve, beautify, strengthen, or make a design more affordable."
Statics is the branch of mechanics concerned with the analysis of loads acting on physical systems that do not experience an acceleration, but are in static equilibrium with their environment.