Daniel Maughan to Offer Lectures on Opioid Crisis Feb. 4 and 11
January 22, 2020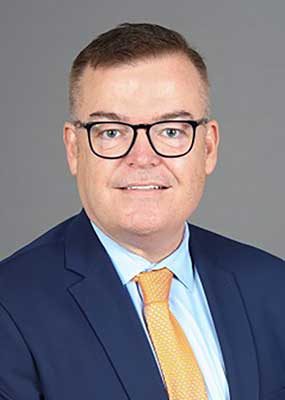 MIDDLETOWN, N.Y. -- The SUNY Orange Wellness Center will host Daniel Maughan, senior vice president and chief operating officer at Montefiore St. Luke's Cornwall (MSLC), for a pair of guest lectures on "The Opioid Crisis in Orange County" on Feb. 4 and 11.
Maughan will discuss the incidence of opioid abuse, addiction, and fatalities in Orange County; medication-assisted treatment; reducing the stigma of addiction; opioid trends; and the work that remains to be done on legislation and policy. Admission is free and the lectures are open to the general public. Students in the health professions, behavioral health, credentialed alcoholism and substance abuse, and human services will find the lectures most informative.
His initial presentation will take place from Noon to 1:30 p.m., Tuesday, Feb. 4 in the Gilman Center for International Education, located in the Library on the College's Middletown campus. One week later on Feb. 11, he will speak from Noon to 1:30 p.m. in the Orange Bank and Trust Great Room inside Kaplan Hall on the Newburgh campus of SUNY Orange.
Maughan has more than 30 years of clinical and leadership experience. Beginning his career as a nursing assistant, Maughan attained his associate's degree in nursing from Capitol Community Technical College in Hartford, Conn., along with bachelor's and master's degrees in nursing, and a master's degree in business administration, from Mount Saint Mary College.
He is nationally certified as a Family Nurse Practitioner through the American Academy of Nurse Practitioners. As MLSC's senior vice president and COO, Maughan has oversight of emergency services, trauma, marketing, community and public relations, network integration, system transformation, ambulatory services, and all areas of hospital operations.
For more information on the two lectures, contact the SUNY Orange Wellness Center at (845) 341-4870.