District Reps for Schumer, Gillibrand, Maloney Tour Newburgh
January 30, 2020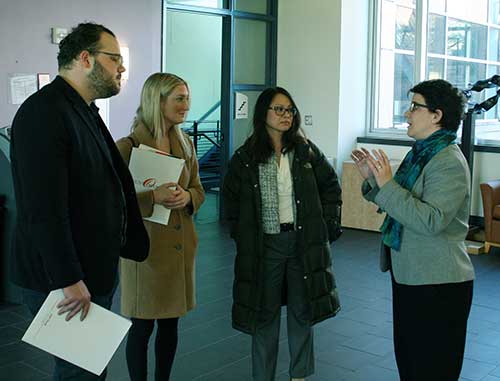 NEWBURGH, N.Y. – SUNY Orange President Dr. Kristine Young is cultivating broad support and excitement for the College's strategic workforce development and entrepreneurial initiatives in Newburgh, having recently hosted district directors for Senators Chuck Schumer, Senator Kirsten Gillibrand, and Congressman Sean Patrick Maloney at the Newburgh campus.
On Wednesday (Jan. 29), Young escorted Megan Glander (Schumer), Lisa Hofflich (Gillibrand) and Ernest Klepeis (Maloney) on a 90-minute tour of the Newburgh campus while outlining the vision and potential of the College's newly minted "Workforce Innovation SUNY Orange (WISO)" agenda. Earlier in the day, Young escorted City of Newburgh Manager Joe Donat on a similar tour as the College has pledged to help spark downtown revitalization in Newburgh and remains committed to growing a skilled talent pipeline for local employers.
Workforce Innovation SUNY Orange is the first phase of a reimagined entrepreneurial action agenda in which the College will initially target the food, beverage and entertainment sectors. The College has plans to follow up with programming to support the healthcare/wellness and small business/entrepreneurial sectors in Newburgh and throughout Orange County.
"When I was in Washington, D.C., in November, I was able to visit Capitol Hill and share our workforce ideas with the staffs of Senator Schumer, Senator Gillibrand and Congressman Maloney," said Young, who is on the Board of Directors of the American Association of Community Colleges and was in the area for an AACC conference. "I appreciated that they were very generous with their time. They were intrigued by our vision and excited by its potential, and agreed to continue discussions.
"Since then, the staffs of both Senators have been incredibly responsive and supportive in connecting my team with the appropriate leadership at the U.S. Economic Development Agency and the Rural Development office at the U.S. Department of Agriculture to advance our search for federal funding to support our efforts," Young added. "We continue to build momentum and I know Wednesday's tour was beneficial, from a local perspective, so that Megan, Lisa and Ernest can visualize how our existing, but underutilized, space on the Newburgh campus can be used to jumpstart our WISO initiatives."
SUNY Orange has a sizeable kitchen and a modest cafeteria space in its Newburgh campus Tower Building that can be tailored to support commercial baking and cooking needs. It already has cooking and baking equipment, walk-in freezer storage, additional food prep and cleanup spaces, and suitable storage for tenants.
Presently, Young and Dr. Erika Hackman, vice president for academic affairs, are coordinating an investigative process to determine how best to marry the needs of the local food and hospitality sectors with the space available on the Newburgh campus, and to establish the costs to do so.
Ultimately, Young envisions a vibrant space that blends the College's academic curriculum with small business supports, a private-sector talent pipeline, workforce development training and entrepreneurial innovation within a 24/7 shared work, event and meeting space that will support the growing food, beverage and entertainment sectors in and around Newburgh.