Nursing Students Work With State-of-the-Art Simulator
February 7, 2020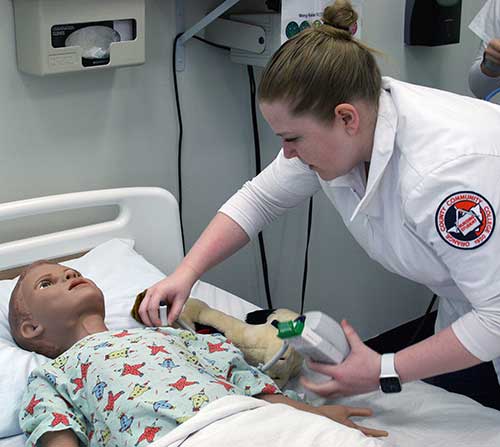 MIDDLETOWN, N.Y. – Nursing students at SUNY Orange have recently begun training on the most advanced, lifelike pediatric simulator available, thanks to a partnership between the College and the SUNY Orange Foundation.
"Pediatric Hal" is a robotic manikin, designed to imitate a 5-year-old boy, capable of simulating lifelike emotions through dynamic facial expressions, movement and speech. "Hal" is intended to help healthcare providers and first responders at all levels to develop the skills necessary to effectively communicate with, diagnose and treat young patients in nearly all clinical situations.
SUNY Orange is one of just two locations in the New York metropolitan area where this new, state-of-the-art simulator is in use. Due to reductions in the availability of pediatric clinical sites in the area, there is a need to provide alternative pediatric clinical experiences for students, according to Pat Cal, chairperson of the Nursing Department, who also explains that the Foundation's support in helping the Nursing Department acquire "Hal" is vital to the continued success of the SUNY Orange nursing program.
"Simulation has become a vital and integral part of our program," Cal adds. "Students are able to experience clinical situations that they may never come across during their training. They have the opportunity to practice their skills and develop critical thinking in a safe environment, without the risk of making an error on a real patient. This increases their confidence and their ability to make important clinical decisions. Having the new advanced 'Hal' manikin makes the simulation experience more lifelike and real for students."
"From its inception as the first two-year nursing degree program in the nation, the College's nursing department has built a reputation for excellence for nearly 70 years. Our SUNY Orange nursing alumni are expertly caring for patients at hospitals, care facilities, physician's offices and other providers throughout the Hudson Valley and beyond," explains Dawn Ansbro, executive director of the SUNY Orange Foundation. "This partnership demonstrates the impact that is possible through the generosity of our friends and donors within the community who contribute to the SUNY Orange Foundation and allows our Foundation Board of Directors to target financial resources to vital projects like this one. Bringing Pediatric Hal to the Nursing Department ensures our students retain access to cutting edge training technology."
According to Jean Halpern, a professor of nursing and coordinator of the department's simulation programming, Hal joins the rest of the College's simulation "family," including a pair of SimMan 3G's (advanced patient simulators), Sim Baby (9-month-old pediatric simulator), and Noelle (advanced childbirth simulator accompanied by Baby Hal).
"Pediatric Hal" possesses a wide array of neurological, airway, breathing, cardiac, circulatory and vascular features, including: nearly a dozen lifelike facial expressions; a variety of common emotional states; automatic object tracking with his eyes; speech functionality; and high-fidelity heart, lung and bowel sounds. The manikin can also be connected to a broad range of real patient monitors and sensors, and features surgical sites that allow for the use of real instruments, needles, tubes, respirators and other standard healthcare apparatuses.
Read the Times Herald-Record story about Hal and his impact on the nursing program that appeared in the Feb. 7, 2020, edition and was written by Rachel Ettlinger.