Cross Country Runners Named Scholar All-Americans
February 11, 2020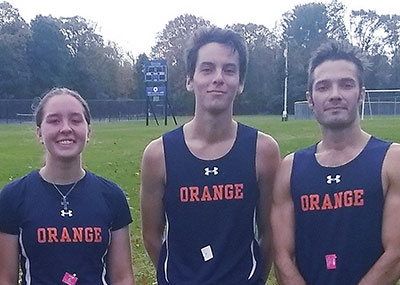 MIDDLETOWN, N.Y. – SUNY Orange cross country runners David Soto, Adam St. Germain and Florence Ruckdeschel were recently named National Junior College Athletic Association Division III "Scholar All-Americans" by the NJCAA Cross Country Coaches Association.
Ruckdeschel, of Middletown, was one of 38 women named to the Division III team but, more importantly, was among only 14 Division III women's competitors nationally to achieve a perfect 4.0 grade point average (GPA) in the Fall. To be eligible for consideration, athletes were required to have attained at least a 3.4 GPA and be nominated by their head coach. During the season, Ruckdeschel finished 91st at the national championships and was second (behind teammate Michaela Frisbee) in the Mid-Hudson Conference title race.
Soto, of Warwick, posted a 3.73 grade point average last semester while St. Germain's GPA was 3.41. Soto earned All-American status in the Fall by virtue of finishing 10th among more than 200 runners at the national championships. He was second in the Region XV race to earn all-region honors and also won the Mid-Hudson championship. St. Germain, of Wallkill, placed a respectable 86th at the national meet. In addition, he was fourth in the Mid-Hudson meet and ninth in the Region XV race.
The Colts are coached by Todd Derkacz.