Dr. Young Presents 2020 President's Awards
April 3, 2020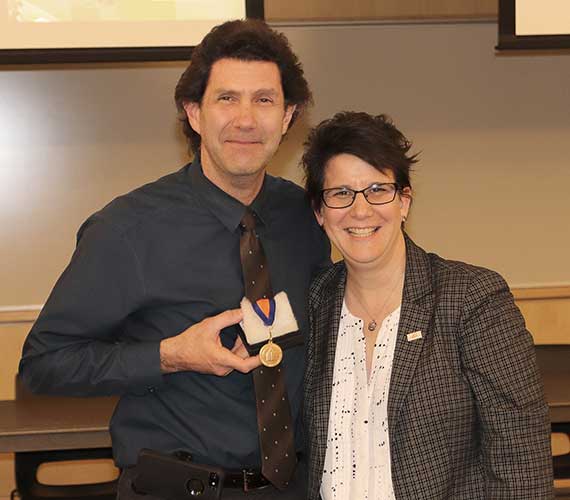 MIDDLETOWN, N.Y. – Dr. Kristine Young, SUNY Orange president, recently announced the selection of professors Dr. Thomas Giorgianni and Michele Farrell as recipients of the 2020 SUNY Orange President's Award for Excellence. The awards were presented at a College-wide academic division meeting in March.
Both Giorgianni and Farrell were recognized for teaching excellence following a selective process conducted by the College's Professional Recognition and Awards Committee.
"It is always my honor to recognize excellence throughout our ranks at SUNY Orange," Young said. "Tom and Michele have seamlessly blended their professional expertise in their respective fields with contemporary classroom instructional styles. They have developed teaching and learning environments that fully engage our students and enhance their mastery of the academic content."
Giorgianni has been associated with SUNY Orange in some form or fashion since his days as a student from 1985 to 1987. He's traveled the path from student and graduate (Class of 1987) to full professor. He joined the College staff as a technical assistant in 1989, became an adjunct instructor in the Computer Information Systems Department in 1992 and joined the faculty tenure track ranks in 1998. He reached the rank of full professor in 2011.
He has served on numerous College committees, was the SUNY Orange representative to the Faculty Council of Community Colleges, and has advised many student clubs and organizations throughout his tenure.
Giorgianni earned his bachelor's degree in technology from SUNY Empire State College and his master's degree in computer science from SUNY New Paltz. He acquired a certificate of advanced study and his doctorate in educational administration from SUNY Albany. He has completed additional trainings in cyber security, forensics and CISCO as well.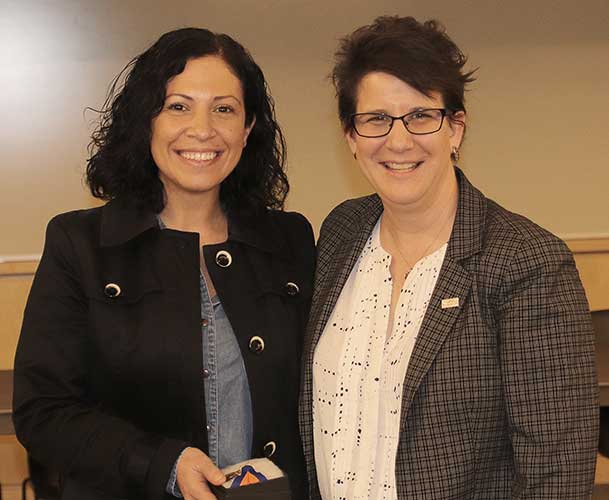 Farrell spent two years, from 2008 to 2010, as an adjunct instructor in the Arts and Communication Department before she was hired on a full-time basis in January 2011. She has attained the rank of associate professor. Her prior experience as a radio (WRRV-FM) and television (Time Warner Cable 6 News) personality in the Hudson Valley over a span of 11 years has shaped both her teaching style and content.
She is both an Honors seminar professor and student mentor, and her implementation of Open Educational Resources (OERs) into her curricula has greatly benefitted her students. She has also served as an advisor to the Debate Club and has been a member of the Academic Technology Committee within Shared Governance.
Farrell earned her bachelor's degree in radio/television production from SUNY New Paltz and her master's degree in organizational leadership from Marist College. She has also completed coursework, under the umbrella of the New York State Union of Teachers College of Professional and Continuing Studies, at Adelphi University.