VP Vinnie Cazzetta Named President of Pope John Paul II High School
June 8, 2020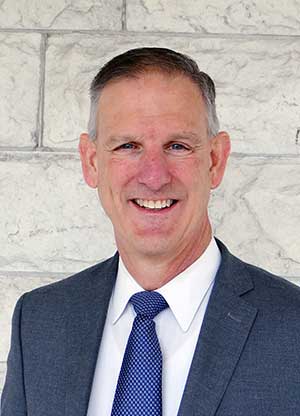 MIDDLETOWN, N.Y. – SUNY Orange Vice President for Institutional Advancement Vinnie Cazzetta has been named President of Pope John Paul II High School, a college preparatory school in Royersford, Pa., and will begin his service to the school on Aug. 10.
When Cazzetta was hired at SUNY Orange by former President Preston Pulliams in 1999, he was the youngest vice president in the SUNY system. In 21 years he has worked alongside three SUNY Orange presidents and his accomplishments in that time are impressive.
"With sadness in my heart, but a genuine spirit of appreciation and gratitude, I wish Vinnie the very best of luck in this new venture," said Dr. Kristine Young, SUNY Orange president. "Vinnie was, quite literally, the first SUNY Orange person I met when I came to interview for this job, and I will miss Vinnie's perspective, wisdom, humor and grace.
"Upon taking the job, I quickly discovered Vinnie to be trustworthy, loyal and reliable, traits that endeared him to me but also characteristics that allowed him to build meaningful relationships internally and externally as he advanced the mission of SUNY Orange."
Irene Horstmann Hannan, chief executive officer, of the Faith in the Future Foundation which oversees Pope John Paul II within the Archdiocese of Philadelphia, said Cazzetta "has proven leadership qualities that will continue to support the vision of Pope John Paul II High School in preparing young men and women in a God-centered environment, to cultivate their intrinsic talents, which prompt each to become a lifelong learner who possesses the spiritual, personal, and intellectual skills necessary to navigate their life's challenges."
As vice president at SUNY Orange, Cazzetta has chiefly directed the marketing, communications, grants, information technology services, and athletics departments in recent years. However, for much of his tenure he served as executive director of the SUNY Orange Foundation and he is currently executive director of the College Association as well as Newburgh campus executive. He also has coordinated the College's government relations programming.
Among his SUNY Orange career highlights, Cazzetta was integral to the development of all three Strategic Plans in SUNY Orange history, including co-chairing the 2016-2020 process. As executive director of the SUNY Orange Foundation, he oversaw the $25.1 million Defining Moments campaign, the single-largest fundraising campaign at a New York community college to that point, and helped elevate the Foundation's net assets from $2,6M to nearly $18.8M over a 10-year span.
When he became executive director of the College Association, the organization was nearing bankruptcy and worked with the Board of Directors to make the Association profitable.