Jacques Stanley is New Student Trustee
September 24, 2020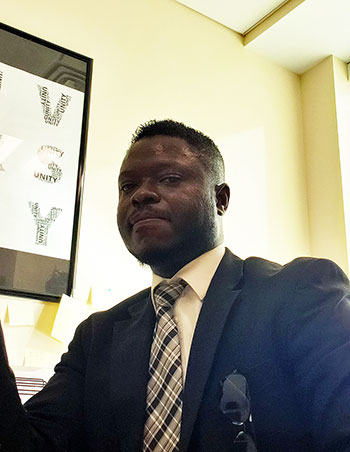 MIDDLETOWN, N.Y. – Jacques Stanley, a liberal arts student focusing on biological sciences and mathematics, was sworn in as the new student representative to the SUNY Orange Board of Trustees during the Board's Sept. 16 meeting.
Stanley, of Newburgh, will hold the role of Student Trustee for the 2020-21 academic year. Stanley had the unusual experience of taking his oath of office virtually as the College's Board is continuing to meet via Zoom due to concerns about the COVID-19 pandemic. He will represent the College's nearly 5,000 students at Board meetings and other selected College events.
A native of Brooklyn and a graduate of North Star Academy in Florida, Stanley was a student senator and served on the College's Athletic Advisory Committee during the 2019-20 academic year. He is an active member of Trinity Temple, where he has contributed to the church's communications, men's ministry and nursing home ministry efforts. He's joined church members on visits to nursing homes, mentored church and community members, supported communications programs and volunteered in the church food pantry. He is also an usher and tells the children's story during worship services. He hopes to become a pediatric surgeon and philanthropist, and to continue serving the public.
His term will conclude at the Board's June 2021 meeting.