College Announces August 2020 Graduates
October 13, 2020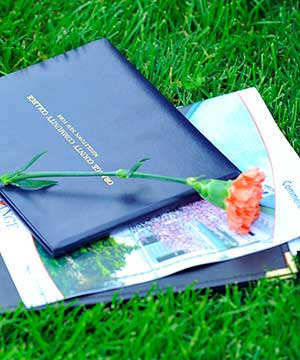 MIDDLETOWN, N.Y. -- Dr. Kristine Young, president of SUNY Orange, has announced that the College awarded associate's degrees and academic certificates to 153 students who completed their courses of study during the recently concluded Summer sessions.
If they choose, the College's newest graduates are eligible to participate in SUNY Orange's 71st Commencement ceremony that is tentatively set for May 20, 2021.
The College's August 2020 graduates hailed from five counties in New York (Orange, Greene, Putnam, Sullivan and Ulster) as well as New Jersey and South Carolina.
SUNY Orange Graduates List (August 2020)
NEW YORK STATE
ORANGE COUNTY
Chester: Caitlin Marie Eldred, Courtney L. Munderville, Fallon Rose O'Neill, Faith St. Arromand
Cornwall: Victoria A. Crozier, Eleni Christiana Eliakostas, Kamryn E. Schindler
Florida: Carly Anne Babcock, Alessandro Lee Evans-Busnelli, Tiphany Faith Figueroa
Goshen: Jessica H. Lowe, Ian Campbell Miller, Justin Michael Penrod
Greenwood Lake: Alayna Michelle Vreeland, Sean Joseph Rooney
Highland Mills : Taylor Ann Hipkins
Maybrook: Stephanie Garcia, Zachary A. Raessler, Christopher Daniel Reilly
Middletown: Meliza Milette Antonio Ocampo, Jager Reece Berkley, Emily Anne Brewer, Emma Lizeth Cabrera Ramos, Jayda M. Cardona, Jessica Anne Dauphinee, Payton Elizabeth Decker, Mary J. Estrella, Joel W. Grant, Olivia Rose Guh, Korie Leigh Hilsmann, Dante Hooks-Arthur, Xavier Kal-el Hunter, Jazmin Imani Jamal, Autumn Grace Kimble, Noah Daniel Levin, Anthony Peter Martini, Arthur R. Mays II, Marcia Mendoza, Brandon R. Muniz, Brenda Potts, Myia Danielle Richardson, Joshua Salcedo, Amanda M. Stewart, Nahomy Tellez
Monroe: Alicia Crespo, Shannon Taylor Earley, John Loulo, Volodymyr Nakonechnyy, Omar Rafael Pagan Jr., Sherley Pita, Jenna R. Razus, Nicole Mary Scancarello, William Joseph Viera
Montgomery: Luke Ronald Harrison, Suyhalia Nadia Karim-Doran
New Hampton: Eric M. Hunter, Alyssa M. O'Dougherty
New Windsor: Haidera T. Ackerman-Hadi, Anthony J. Ariola, Jaden Blake Daniels, Courtney Dickerson, Niki Catrina Gondola, Alana Elise Harris, Taylor D. Mahoney, Cristal Marquez, Brandon Pacheco, Enrique Leo Perez, Christopher A. Ramos, Manuel Rivera, Kristof Andre Shariff, Tariq S. Smith, Liam Tunnell
Newburgh: Daniel Arroyo, Aiyanna Beltran, Kailyn Ennori Bremmer, Tyreik I. Brown, Shaun Susan Cleary, Luke Consani, Ameesah N. Cotten, Jaharra Cruz, Stephen DeSantis, Anderson Erskine, Tyler Shayne Fisher, Jessica Gonzalez, Ryan B. Guidry, George Huaqui, Dairyea Dakota Leach, Nestor Luis, Annie Luna, Cristina Martinez, Manuela Mensah, Orlande Mensah, Genaro William Robert Parra, Minerva Rivera, Saul Rivera, Rosemary Rodriguez, Steven Q. Rodriguez, Reyna Ann-Hazel Ross, Guerric S. Saint-Prix, Qualib S. Smith, Leslie Kasandra Solis, Camryn L. Van Zandt, Kyle Nicholas Villano, Matthew J. Wasson, Mary Estelle Woodruff
Otisville: Alexandria Kathleen Dooley, Adriana Rodriguez
Pine Bush: Andrew J. Bandura, Alyssa Ann Howard
Pine Island: Jeanna Marie Curran
Port Jervis: Jullian Adriano, Zachary Ryan Thomas Drinko, Yaveth Antonio Gonzalez
Rock Tavern: Kaitlyn M. Metichecchia
Slate Hill: Michael Sorrentino, Jesse Dakota Troia
Unionville: Rachael Ann Wright
Walden: Kimberly R. Jollie
Warwick: Jovanny Aviles, Owen Alec Diltz, Samantha Marie Infantino, David Soto
Washingtonville: Michelle L. Thompson
Westtown: Morgan Elizabeth Palenik
GREENE COUNTY
Acra: Christa Rose Freemann
PUTNAM COUNTY
Carmel: Alisha Bassit
Mahopac: Mary Katherine Colabattista
Patterson: Rachel Elizabeth Rossi
SULLIVAN COUNTY
Bloomingburg: Kayla June McCann
Eldred: Tyler J. Starke
Glen Spey: Alyssa Janel Donnelly
Liberty: Ramy F. Abdelrahim
Monticello: Cristal Marie Oritz-Rosario, Keith D. Yennie II
Mountain Dale: Megan Gerow
Parksville: Kirsten Ellen Scott
Rock Hill: Juliana Elissa Dunne, Kyle Ray Ruperd
Westbookville: Shannon L. Hassan
Wurtsboro: Matthew Michael Meade, Wolf Wolbeck
ULSTER COUNTY
Gardiner: Sarah B. Hansen
Greenfield Park: Jarelis Enid Ventura
Kingston: Kasey Marie McCormick
Marlboro: Ricardo Martinez
Wallkill: Mark Anthony Chamorro, Gabriela Cordoba, Brady Andrew Mohart, Jahzbele L. Shearer, Tatianna Betty Williams
OUT OF STATE
NEW JERSEY
Hackettstown: Ashley Marie Ballantine
Montague: Anthony Tuccillo
SOUTH CAROLINA
Myrtle Beach: Kristine M. Ruggeri
Total Graduates: 153