SUNY Orange and Buffalo State to Co-Host Dr. Ibram Kendi Event Feb. 22
January 26, 2021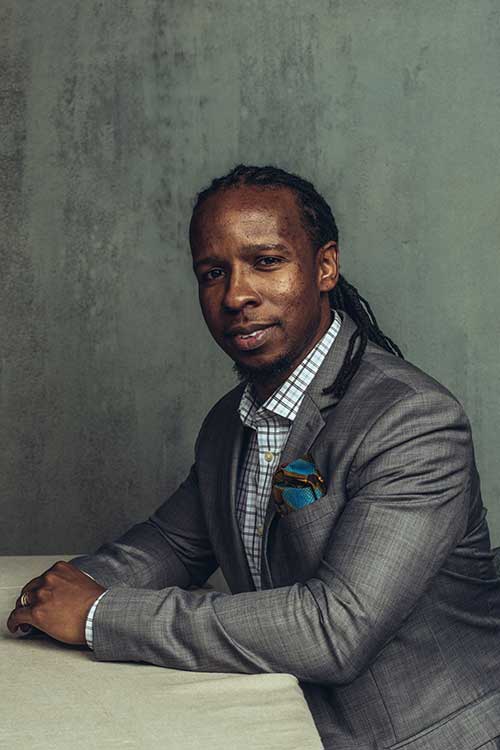 MIDDLETOWN, N.Y. – Orange County Community College (SUNY Orange) and SUNY Buffalo State College announce they will jointly host a free 60-minute virtual lecture on "Confronting Racism in America" by noted anti-racism scholar, professor, author and historian Dr. Ibram X. Kendi on Monday, Feb. 22 at 7 p.m.
The two institutions have arranged Kendi's appearance in conjunction with the State University of New York's yearlong "64 Changes on 64 Campuses" initiative intended to reaffirm SUNY's system-wide commitment to diversity. Kendi's lecture will serve as the keynote event for SUNY Orange's "Global Initiative: Confronting Racism in America" series and is supported by the SUNY Orange Foundation through its Pryluck Distinguished Lecture Series. The event will also headline Buffalo State's "Diversity Speaker Series."
Entitled "How to be an Anti-Racist: In Conversation with Dr. Ibram X. Kendi", the Feb. 22 event will begin promptly at 7 p.m. (attendees will be advised to log at 6:45 p.m.) and feature a 45-mniute moderated interview-style presentation followed by a 15-minute question-and-answer session developed from questions submitted in advance. One moderator from each college will partner to co-host the presentation and oversee the Q&A.
The session will be hosted on SUNY's WebEx platform and attendance is limited to 1,000 registrants. Technical support is being provided by SUNY's Network Infrastructure and Cybersecurity Services division. Reservations for the event can be made onlline.
"Recent national events, coupled with the terrible impacts of the COVID-19 pandemic, have reinforced that racial inequities and social injustice in our nation are far from being resolved," says Dr. Kristine Young, SUNY Orange president. "The opportunity for our SUNY Orange community to engage with Professor Kendi in these necessary discussions about race, inclusion, public policy, civic engagement, education and more, is both timely and impactful. Professor Kendi's research and writings require us to consider difficult and sensitive issues. His time with us will be exceptionally valuable in framing SUNY Orange's ongoing discussions about diversity and inclusion."

"We are thrilled to be co-hosting Dr. Kendi's talk," said Buffalo State President Katherine Conway-Turner. "Hearing from an esteemed scholar who has delved into racist attitudes and their origins comes at an opportune time. Our community, along with the rest of the country, is poised to examine the implicit racism that has seeped into all corners of society and improve upon those attitudes. I'm sure Dr. Kendi will provide valuable information and strategies that will help everyone listening as they move forward."
This event is supported by Buffalo State's Equity and Diversity Office, Buffalo State's Africana Studies program, and the SUNY Orange Foundation.
Kendi is the Andrew W. Mellon Professor in the Humanities at Boston University, and the founding director of the BU Center for Antiracist Research. He is a contributing writer at "The Atlantic" and a CBS News racial justice contributor. Kendi is the 2020-2021 Frances B. Cashin Fellow at the Radcliffe Institute for Advanced Study at Harvard University. He is the author of many books including "Stamped from the Beginning: The Definitive History of Racist Ideas in America", which won the National Book Award for Nonfiction, making him the youngest ever winner of that award.
He also authored three No. 1 New York Times bestsellers, "How to Be an Antiracist"; "Stamped: Racism, Antiracism, and You", co-authored with Jason Reynolds; and "Antiracist Baby," illustrated by Ashley Lukashevsky. His newest books are "Be Antiracist: A Journal for Awareness, Reflection, and Action"; and "Four Hundred Souls: A Community History of African America", co-edited with Keisha Blain, which will be out in February. In 2020,Time magazine named Kendi one of the 100 most influential people in the world.
Kendi earned dual bachelor's degrees in African American Studies and magazine production from Florida A&M University while acquiring his master's and doctoral degrees in African American Studies from Temple University. For more information on Kendi, please visit www.prhspeakers.com.
Reservations for the event can be made online. Details regarding submitting questions to be considered for the Q&A session will be available once they have been finalized. For more information, contact Dr. Willie Williams, chief diversity officer at SUNY Orange, at willie.williams@sunyorange.edu or Crystal J. Rodriguez-Dabney, Buffalo State chief of staff to the president and chief diversity officer at rodrigcj@buffalostate.edu.
This event is supported by the SUNY Orange Foundation, SUNY Orange Cultural Affairs, Buffalo State's Equity and Diversity Office, and Buffalo State's Africana Studies program.
photo credit: Stephen Voss