Nursing Students Distribute Vaccines at Newburgh Campus POD
February 26, 2021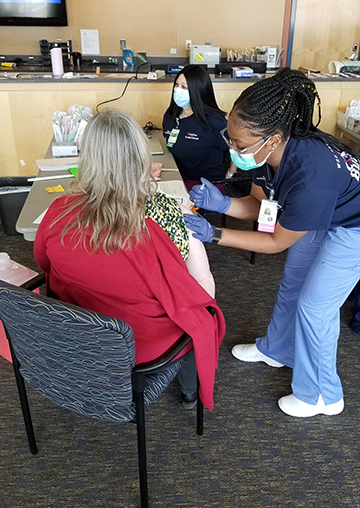 NEWBURGH, N.Y. – SUNY Orange Nursing 2 students have been gaining valuable experience in recent months, volunteering at several area hospitals as the COVID-19 vaccine rollout has begun, and Friday provided yet another opportunity as Orange County teamed with Montefiore St. Luke's Cornwall Hospital to facilitate a vaccine Point of Distribution (POD) at Kaplan Hall on the College's Newburgh campus.
More than 1,100 vaccines were expected to be distributed throughout the day on Friday, and the SUNY Orange students were in the middle of the action as they administered vaccines while working with Montefiore staff to process patient paperwork and keep folks moving through the process.
"I'm so grateful for this opportunity," said Tess MacLaren of Middletown. "It is exciting for us to be building the skills we'll need in the real world, things like talking with patients and making them feel comfortable, patient assessment and the actual process of giving the shots. When I started my nursing degree, I never would have imagined being here today, not even back when we transitioned to remote at Spring Break (last March). We are making the best of the situation we are in, and being part of history is pretty cool."
"It means so much to me to be part of this vaccine rollout," said Shanielle Williams of Hopewell Junction. "This feels like the beginning of the end of this pandemic and I'm fortunate to be part of the process. I had a patient earlier today say, 'You made a scary experience so pleasant for me.' That makes me happy and means I'm doing a good job."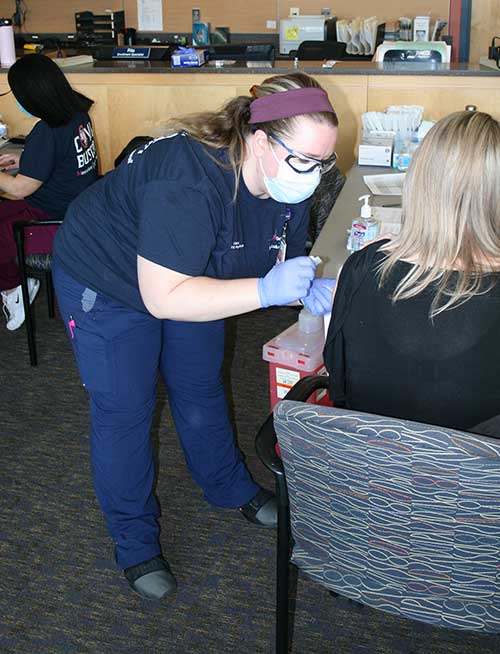 Since vaccines have become available, SUNY Orange Nursing 2 students have been volunteering at Montefiore St. Luke's Cornwall in Newburgh, as well as at the following Westchester Medical Center Health Network sites: Bon Secours in Port Jervis, Good Samaritan in Suffern and St. Anthony's in Warwick.
"The SUNY Orange students have stepped up any time we've needed them. When we've asked, they've been there," said Katherine Dabroski, vice president for marketing, public and community relations for Montefiore. "Our staff speaks glowingly of the students' work. They are here with a smile and bring a sense of energy. They've been wonderful, are always are willing to help both at our hospital and at popup sites."
Taylor Kloczkowski, of Pine Bush, spoke of the "amazing" opportunity that the students have had. "I've given hundreds of injections through these experiences. I'm thankful for the SUNY Orange Nursing Department for giving us the best chances to get experience during the pandemic. Studying nursing during a pandemic has been tough, but the department has been able to balance all of the issues for us and practice like today has been fantastic."