Graduate Justin Michaelson Nabs Sports Emmy
April 27, 2021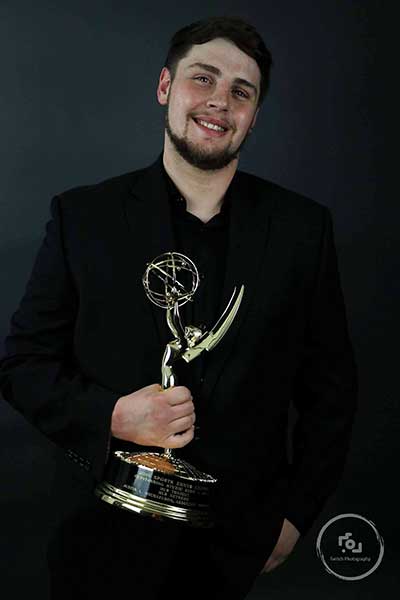 MIDDLETOWN, N.Y. – Hard work, an affordable high-quality education from SUNY Orange, and making the right connections set 2019 graduate Justin Michaelson on the path to winning a 2020 Sports Emmy for "Best Daily Studio Show."
After graduating in 2019 with an associate's degree in new media, Michaelson was able to get an internship at Bronx Pinstripes - A New York Yankees Community for Fans, and it was through the connections he made at this internship that ultimately led to the opportunity of the job of associate producer for MLB Tonight. He was both surprised and proud when he saw he was part of the winning MLB production team.
"When we looked at the credits (when the Emmy winners were released) and I was in there, I was like, 'Oh my God!'" Michaelson said. The award was presented in 2020, but due to the on-going pandemic Michaelson was only recently finally be able to hold the physical award in his hands.
"I received this huge cardboard package. I opened it and there was this big black box with my name on it! As I opened that, I could feel and see every detail. It's also really heavy. You see people holding like eight of these; that must be heavy!"
This award is just the beginning for Michaelson. His time at MLB Network gave him the experience and confidence to begin his own photography and videography business, Twitch Photography based in the Goshen-Middletown area. He is working to expand his client base while negotiating to become Head of Media for a church in the Bronx.
Michaelson always had a passion for being behind the camera, but after spending one year at a four-year university pursuing a double major of sports broadcasting and broadcast journalism, he was still unsure of the exact path he wanted to follow. His mother advised him not to spend money on expensive credits if he was unsure of his next steps, so he came home, started working two jobs, and also enrolled at SUNY Orange.
Ultimately the affordability and flexibility of SUNY Orange classes gave him the time and experience to determine the right choice for his education.
"SUNY Orange allowed me to figure out what I wanted to do, while still actively gaining credits. I always knew I wanted to be in the media field, I always knew I wanted to be around cameras, but being able to take photography classes helped me realize how much I really enjoyed photography," he explains. "The video classes allowed me to learn more about editing, and how to arrange shots. SUNY Orange gave me a really good base to learn, while being at a price that I could afford at that time."
As well as providing opportunities to explore and develop his skills, the professors at SUNY Orange continued to be a valuable resource.
"Professor (Susan) Slater-Tanner gave me guidance of how to successfully select the right opportunities in the field, and Professor (Mark) Carranceja has continued to be a valuable resource for me."
Carranceja also has fond memories of Michaelson, "while in the New Media program, Justin was an outstanding student, an astute learner, and a leader amongst his peers. Prior to graduation, Justin sought advice on what to do after graduation, and I simply suggested he pursue his passion. I am glad to see that his pursuits reaped such a great reward, especially this early in his young career."
For students wanting to follow his footsteps in the same field, Michaelson offered the following advice: "You're going to need to do a lot of hard work, double down on getting internships, and focus on school work. Look for opportunities, even working digitally from home. I tried to do as much work in the field as I could. These experiences are invaluable because they provide you legitimate working experience, something to put on your portfolio website, and the connections you can make are absolutely massive."
And on whether to attend SUNY Orange? "When it comes to education, always go to community college first, it will definitely help you get your vision in order for what you want to do in your career. If you're looking for different career opportunities, or trying to figure out what you want to do, it's perfect for that. I definitely enjoyed my time at SUNY Orange. I took knowledge and skills away from every class, even the ones that weren't my favorite. I was literally at my job sitting there thinking, 'Hey, I learned how to do this in college!'"
For more information on SUNY Orange's New Media Program, please visit: sunyorange.edu/arts_comm/newmedia. To apply to SUNY Orange, please visit: sunyorange.edu/admissions