Virtual Commencement Ceremony Will be Held May 20
May 12, 2021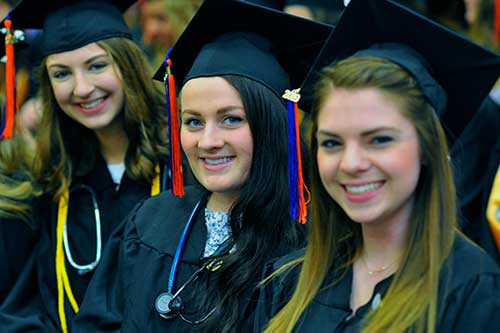 MIDDLETOWN, N.Y. – Orange County Community College (SUNY Orange) will host its 71st Commencement Ceremony virtually beginning at 5 p.m., Thursday, May 20 as it celebrates the 801 members and candidates for the #SOClassof2021.
This year, SUNY Orange has paired with third-party vendor StageClip to craft a virtual ceremony that includes the traditional speeches, the ceremonial tassel turn, the playing of the Alma Mater, and College employees applauding the Class of 2021 in keeping with SUNY Orange's traditional in-person, end-of-Commencement sendoff.
Most notable, however, is the opportunity for each graduate's name to appear on its own slide, with the degree earned. Graduates were also able to personalize their slide by uploading a photo and/or submitting a message of thanks/appreciation, a notable quote or other message.
Graduates who completed their degree requirements last August or December, or are candidates for degree completion this May or August (based upon certain stipulations) are eligible for inclusion in the virtual ceremony.
Featured speakers will be Paul Basinski, chair of the Global Studies Department, who will offer remarks on behalf of the College faculty and staff, and Nicholas Kanan, president of the Student Senate and a member of the graduating class. Kanan is a resident of Middletown. Additional remarks will be offered by Fred Watson, chair of the SUNY Orange Board of Trustees, and Dr. Kristine Young, SUNY Orange president.
Commencement 2021: Where to Watch
The ceremony will begin at 5 p.m. and will be available on several online platforms, including versions viewable on a website, via YouTube and on Facebook, with each platform providing differing levels of engagement.
Facebook
YouTube
StageClip website
How to Engage
Kudoboard
Social Media Wall
Selfie Contest
Congratulatory messages
In addition to speeches during the official ceremony, the College has compiled an array of congratulatory messages from educational and elected leaders, including United States Senator Charles Schumer, New York State Lt. Governor Kathy Hochul, SUNY Chancellor James Malatras, Orange County Executive Steve Neuhaus and SUNY Orange Foundation Board of Directors Chair Frank Peverly These messages will be shared online on May 20 via the College's Facebook and Twitter accounts, on the following schedule: Hochul, 3 p.m.; Schumer, 4 p.m.; Malatras, 4:30 p.m.; Neuhaus 4:50; and Peverly 4:55.