SUNY Orange and SUNY Empire Announce Nursing Transfer Pathway
August 13, 2021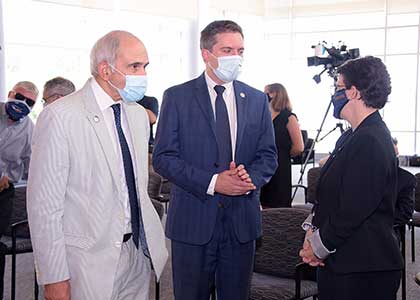 NEWBURGH, N.Y. – On Friday, Aug. 13, SUNY Orange and SUNY Empire State College jointly announced a new RN to BSN transfer program agreement—which fills a critical hole in a region where no previous public BSN options had existed--offering SUNY Orange nursing graduates and senior nursing students with an active RN license a direct pathway to an online bachelor of science in nursing degree at SUNY Empire.
Under the new partnership, interested SUNY Orange nursing graduates will automatically be enrolled in SUNY Empire State College's BSN program and SUNY Empire will waive application fees. The partnership provides scholarship options and allows the transfer of 63 credits earned at SUNY Orange to SUNY Empire in order to reduce the time needed to complete the BSN program, saving students money over the course of their studies.
Collaborations like this are critical to the system's SUNY for All program, which leverages all pieces of the system to provide high-quality, affordable education to all New Yorkers. It also underscores SUNY's commitment to meeting the workforce challenge in the healthcare sector by training future generations of nurses who are greatly in demand throughout the state and nation.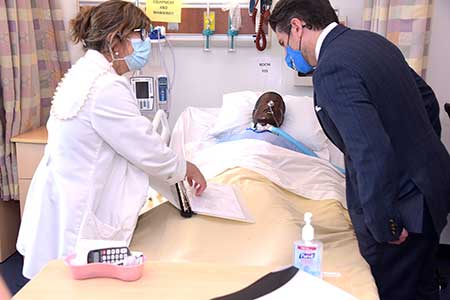 Partnership students must have completed a degree in nursing and possess an active New York state nursing license. To support the collaborative agreement, SUNY Orange will provide SUNY Empire with dedicated office space on the Newburgh campus so that SUNY Empire may better serve the needs of students in the program.
Friday's signing ceremony, co-hosted by SUNY Orange President Dr. Kristine Young and SUNY Empire Officer in Charge Dr. Nathan Gonyea, was held on the Newburgh campus of SUNY Orange and featured remarks from State Senator James Skoufis, Assembly member Aileen Gunther, and SUNY Chancellor Jim Malatras.
Each year, SUNY Orange graduates approximately 100 students from its nursing program, with roughly two-thirds completing their studies in Middletown and the remainder matriculating on the Newburgh campus. The College's nursing grads traditionally outpace in-state and national averages when it comes to first time pass rates on the National Council Licensure Exam (NCLEX). During 2020, in the midst of a pandemic, 97.7 percent of SUNY Orange nursing grads passed the NCLEX on their first attempt.
Across the United States, employment in healthcare occupations is projected to grow 15 percent from 2019 to 2029 (U.S. Bureau of Labor Statistics). Across New York State, employment in healthcare occupations is projected to grow 23 percent from 2018 to 2028 (New York State Department of Labor Long-Term Occupational Employment Projections). Approximately 35% of these positions will require a bachelor's degree (Georgetown University Center on Education and the Workforce).
SUNY Empire's School of Nursing and Allied Health has a robust enrollment and degree/certificate pathways, with a total enrollment of 1,170 current or future healthcare professionals, with 929 students pursuing their bachelor's degree in nursing or science, and 215 pursuing a master's degree.
For more information, contact Chris Rolley, SUNY Empire's senior recruitment and outreach coordinator for the Mid-Hudson Region, at christopher.rolley@esc.edu.
What They are Saying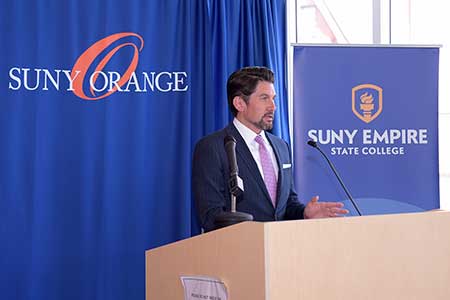 State University of New York Jim Malatras said, "With 11 million more nurses needed to avoid a shortage of critical healthcare professionals in our country, we must figure out how to bring programs together to make sure our nursing students have all the opportunities available to complete their degrees. We led the charge to connect world-class education at SUNY Orange with top-notch nursing education at SUNY Empire State College to leverage the best of SUNY, and today's announcement is a culmination of that work. Now, SUNY Orange students will automatically be enrolled in SUNY Empire's BSN program and can stay right at the SUNY Orange campus to continue their studies. The collaboration between SUNY Empire State College and SUNY Orange will unlock so many opportunities to nursing students in the region. I want to thank President Young and President Gonyea for making this pathway a reality."
State Senator James Skoufis said, "This is a truly great day for prospective students and the nursing field writ large. When Kris Young and I spoke about establishing a four-year nursing degree program at SUNY Orange back in 2020, we got straight to work. The college's new transfer agreement will enable local nursing students to seamlessly achieve advanced nursing degrees, a win for Orange County and a win for healthcare providers all over this region. I thank Kris, SUNY leadership, and the SUNY Empire team for seeing this through and helping to build healthcare capacity right here in the Hudson Valley."
Assemblywoman Aileen Gunther said, "We have all seen how vital the nursing program at SUNY Orange is to our community. I was proud to have fought for funding in this year's state budget to help acquire new equipment to better train students. As a Registered Nurse, I know the dedication and strength it takes to do the job. This new agreement between SUNY Orange and SUNY Empire will help pave the way for more nurses to get into the field to help care for our friends and neighbors."
SUNY Orange President Kristine Young said, "At every turn for nearly 70 years, since our nursing program began as the first two-year associate degree nursing program in the country, Orange County Community College has kept pace with the noble profession of nursing by improving our curriculum and our equipment, as well as our partnerships within and outside of higher education. Year in and year out, SUNY Orange nursing graduates exceed the national two-year and four-year averages for pass rates on the NCLEX and enter our local and regional healthcare facilities to continue our lineage of providing our neighbors with the highest level of compassionate and professional care.
"Now, as our valued local health care systems must increasingly hire BSN-prepared nurses, and all hospital nurses need a BSN within 10 years after their initial hire, SUNY Orange has responded yet again by forming this innovative relationship with SUNY Empire. I thank Dr. Gonyea and his SUNY Empire team for their collaborative spirit and appreciate the support of Chancellor Malatras, Senator Skoufis and so many others who have made this agreement possible. Thanks also to SUNY Orange Vice President for Academic Affairs Dr. Erika Hackman, Nursing Department Chair Pat Cal and the entire nursing faculty for helping get us to this point."
SUNY Empire Officer in Charge Nathan Gonyea said, "This is an exciting day for SUNY Empire State College. Not only are we finalizing an important partnership between our two institutions, but we're also opening the door to opportunity for SUNY Orange nursing students and recent graduates who want to continue their education with a bachelor's degree in nursing. This partnership will help practicing RNs meet the requirements of New York state's 'BSN in 10' law, which requires that nurses earn a BSN within 10 years of initial licensure.
"This partnership is a win for SUNY Orange. It's a win for SUNY Empire. It's a win for students. And it's a win for the healthcare organizations and patients in our communities who will benefit from our nurses' knowledge and expertise. We are thrilled to work in partnership with SUNY Orange to provide an affordable, world-class education to SUNY Orange graduates and students who successfully complete their associate degree in nursing."
About SUNY Orange
Orange County Community College (SUNY Orange) enrolls approximately 5,000 full- and part-time students across 40 degree and certificate programs. With campuses in Middletown and Newburgh, the College has grown to meet the needs of its students, while also addressing the demands of a growing and diverse population in the Hudson Valley. Consistent with its mission to provide high-quality and accessible educational and enrichment opportunities, the College is noted for its commitment to ensuring student success. Since its founding in 1950, the College has earned its reputation as a pioneer and innovator in meeting the needs of its students and contributing to a vibrant and thriving community. Learn more about SUNY Orange at www.sunyorange.edu.
About SUNY Empire State College
SUNY Empire State College educates 17,000 students per year in person, online, and through a blend of both, at locations in every region of New York and at eight international sites worldwide. Together with one of SUNY Empire's 700 faculty mentors, each student designs their own individualized pathway to a college degree that accommodates their schedule and awards credit for prior college-level learning. SUNY Empire awards approximately 3,000 degrees annually and 94 percent of graduates stay in New York state. Today, more than 92,000 SUNY Empire alumni are entrepreneurs, veterans, and active members of the military, professional athletes, teachers, medical professionals, and leaders in their field, as well as in their communities. To learn more, visit www.esc.edu and follow the college on social media @SUNYEmpire.