Leland Hach Jr. Named CIO
August 24, 2021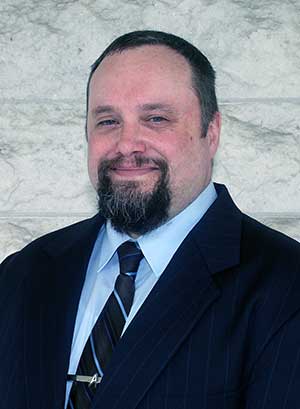 MIDDLETOWN, N.Y. – SUNY Orange President Dr. Kristine Young recently announced the promotion of Leland Hach Jr. to the role of Chief Information Officer, a post he's held on an interim basis for the past 14 months.
As CIO, Hach will serve as a member of the president's Cabinet and have oversight of the day-to-day operations of the College's Information Technology Services department, which includes the areas of information systems, network infrastructure and user support. Hach first joined the SUNY Orange information technology staff in September 2016 as director of infrastructure services.
"Leland has a strong vision for how he wants to reimagine his department's role in overall College operations and, specifically, how ITS can better serve students, faculty and staff," said Paul Martland, vice president for administration and finance. "As interim CIO, he demonstrated a highly collaborative approach as we implemented the technological elements required to support our higher education mission during a pandemic. We had a strong candidate pool for this position but, in the end, it was Leland's knowledge of SUNY Orange and his commitment to building a transformational ITS department that affirmed for us that we had the best candidate in house already."
While serving as interim CIO, Hach guided the College through its sustained response to the COVID-19 pandemic, which included expanding supports for both students and faculty who had quickly pivoted to remove environments in March 2020. He engaged with shared governance committees, typically charged with providing guidance and recommendations regarding information technology issues on the College's two campuses, to implement a broader support structure for ITS as it pursues technological advancements. He worked to streamline on-campus and remote support functions and realign services in a more efficient and economical fashion. Hach also led discussions to test and implement platforms and services that will allow the College to further enhance the teaching and learning environment.
Prior to arriving at SUNY Orange, Hach spent six years as senior support manager and development specialist for TEOCO/Schema in Fairfax, Va. In addition to a four-year period in which he ran his own technology services company, his prior experience also includes having worked as a technology administrator at Harmony Christian School in Middletown, and as an adult education instructor at Orange County BOCES.
Hach earned his bachelor's degree in computer science from Canisius College and his master's degree in computer science from SUNY New Paltz.