August 2021 Graduates Announced
October 13, 2021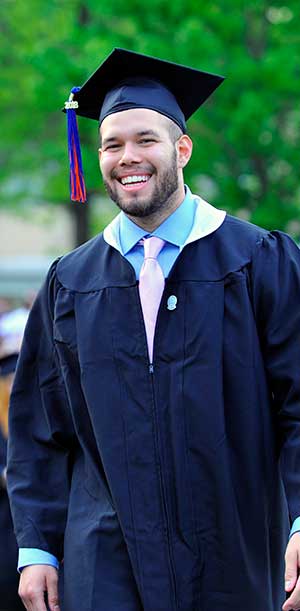 MIDDLETOWN, N.Y. -- Dr. Kristine Young, president of SUNY Orange, has announced that the College awarded associate's degrees and academic certificates to 153 students who completed their courses of study during the recently concluded Summer sessions.
If they choose, the College's newest graduates are eligible to participate in SUNY Orange's 72nd Commencement ceremony that is tentatively set for May 19, 2022.
The College's August 2021 graduates hailed from eight counties in New York (Orange, Dutchess, New York, Putnam, Queens, Rockland, Sullivan and Ulster) as well as New Jersey.
Graduates List (August 2021)
NEW YORK STATE
ORANGE COUNTY
Campbell Hall: Joseph Michael Moscato, Victoria L. O'Connor, Joseph F. Porta
Chester: Antonio M. Quinones, Brenda Vreeland
Circleville: Magdalena K. Bergsten
Cornwall-on-Hudson: Nicole Maria Canausa, Rhiannon Thorn
Florida: Amanda R. Morgiewicz
Goshen : Emily Deserto, Brianna N. Penrod, Hernan Ramirez, Mikayla S. Reed
Greenwood Lake: Brooke Jacqueline Blasone, Olga Gilmutdinova, Jolanta I. Miller
Highland Mills: Curt Thomas Giventer, Juliette Grace Gomez
Maybrook: Kayla Elizabeth Ballard
Middletown: Jorge Luis Acevedo, Mariana Alzate, Sophia Alexandria Andrade, Lorna T. Avila, Candi Balderas, Egypt Belizario, Bryan Andre Carrasquillo, Kristen Margaret Cashman, Angela Vita Coppin, Morgan Sierje De Leeuw, Mia Deserto, Diana M. Dickel, Anastasia Fajardo, Siobhan Grace Galloway, Skyler Angie Gomez, Terrell Phillip Harris, Harris Kumer, Brigitte Marie Lancelot, Jacquan Madden, Ashley N. Majewicz, Renee Marner, Marilyn Eiryn Marte, Ouyang Liang, Alison Lee Pospisil, McKenzie Kaitlin Powell, Amanda Rivera, Jennifer Rivera, Lee'VyaCheyenne Dulce Rivera, Alyssa Marie Sanchez, Antinea Del Pilar Sanchez, Jean Schultz, Stanley Dillon Shuback, Chanpreet Singh, Cameron G. Ten Eyck, Gabrielle Elizabeth Tirado, Jared Trygve Tjornhom, Johnny Fernando Vanegas, Evelyn A. Yunga
Monroe: Robert J. Baeza, Jose M. Flores, Michael Antonio Formale, Egzona Gjonbalaj, Dyan Elizabeth Jones, Ariana Lajqi, Kailey Jenae Palmer, Anthony M. Russell, Amanda Wilson
Montgomery: Samantha Soto
New Hampton: Faith A. Faber
New Windsor: Anshanti Atakora, Michael M. Baca, Garrett Bardin, Jacquelyn Rose Bloomer, Malina Boddie, Cherilyn Tamara Browne, Blair Alzira Brunni, Louis J. Cervone, Angela M. DeMarco, Ariel L. Diaz, Knissa L. Garcia, Mariana A. Lopez, Julian Mercado, Nina Izabella Padilla, Nadine Salim, Aurn Singh, Mya Zylberberg
Newburgh: Agueda Samantha Alvarez, Ariana Zambrano Bonilla, Richard Jaden Caballero, Jonah Ng Cznarty, Destiny Erazo, Monica Angela Esposito, Amaia I. Eyo, Tannia Lililian Fene Fisher, Jahnya R. Fryar, Darren Gonzalez, Anyssa M. Griffin, Iveth Gutierrez, Jaffari Khadejah, Jammeh Fatou, Sandrique Knight, Carolina Y. Leon-Cisneros, Zoila Mercedes Loja Gomez, Melanny Yojhana Lopez, Giovanni B. Lugo, Belisa A. Medina, Kimberly Mejia, Andres Merced, Leonela Luciana Ortega, Angelica Ramirez Hernandez, Britney Rodriguez-Smith, Charles Romaine, Alexia Romero, Hector Sanchez, Charlie O. Vega Jr., Frederick A. Watson II
Pine Bush: Marissa L. Coyne, Zach Millett
Port Jervis: Amy Lynne Bradshaw, Ryan M. Dembeck, Alysa Marie Doherty, Wednesday Odoms, Stephanie L. Pastrana, Lily G. Scelta-Pecorale, Cameron-Alyse Scott, Parker Tidd
Rock Tavern: Emily Elizabeth Wangenstein
Salisbury Mills: Dylan Moran
Slate Hill: Corey Moore
Sparrowbush: Austin R. Gervasi-Leger
Walden: Nicolette Addolorata Dilapi, Ana Laura Gonzalez, Quaci Reid
Warwick: Dara Melissa Bordman, Jacqueline Hamilton, Marisa A. Herrmann, Emily Joan Irish, Jacob S. Kuhn, Jennifer Katheryn Powers
Washingtonville: Julio A. Monterrey Jr., Adriana Alese Salgado, Anthony Christopher Santambrosio, Samantha Marie Stocklmeier
Westtown: Cynthia L. Goydich, Andrew V. Marotto
DUTCHESS COUNTY
Hopewell Junction: Enisa Cota, Jamie L. Lee
Poughkeepsie: Brittany Nesheiwat, Kimberly Ann Roman, Nicole C. Valeri
Wappingers Falls: Maddisen A. Melley, Tamara L. Windheim
NEW YORK COUNTY
New York: Lauren Lillian Crawford
PUTNAM COUNTY
Brewster: Christi A. Ebina
Mahopac: Jessica Grimaldi
QUEENS COUNTY
Queens: Stephanie Hassen
ROCKLAND COUNTY
Airmont: Juliette Emelda Peck
Spring Valley: Ricardo Stanley Mondesir
SULLIVAN COUNTY
Bloomingburg: Allison Marie Demetres
Glen Spey: Jissela Janae Labuda
Monticello: Brooke Sauderson
Neversink: Angelina Ulaj
Rock Hill: Taylor Anne Kargauer
Wurtsboro: Tara Keeney
ULSTER COUNTY
Bloomington: Rose A. Power
Ellenville: Brittany Morgan Fraser
Highland: Katrina J. Alonso
Kerhonkson: Parker Allen Comentino
Marlboro: Teresa E. Ayala
Wallkill: Christopher R. Haight, Stefon Miller
OUT OF STATE
NEW JERSEY:
Wantage: Kassidy Bayne Wagner
Total Graduates: 171