SUNY Orange BRIDGES Student Makes Radio Debut
October 21, 2021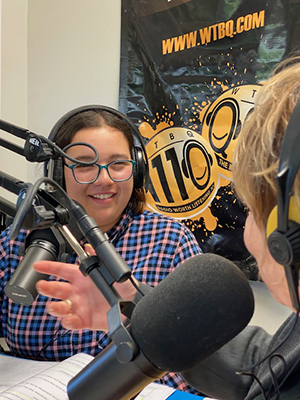 "You're on the air, with the Morning Mayor!"
Natalya Camacho (Florida, N.Y.) and the SUNY Orange BRIDGES program were front and center on WTBQ AM and FM radio on Tuesday, Oct. 12 in celebration of National Disability Employment Awareness Month.
Camacho, a third-year BRIDGES student, has been interning behind the scenes at the station this semester as part of the program's career readiness course; but this event marked her on-air debut. Sitting in with Taylor Sterling, host of the station's weekly "The Non-Profit Notebook" segment, and Michael Kochler, BRIDGES internship coordinator, Camacho provided listeners with a robust overview of the SUNY Orange BRIDGES program -- a comprehensive three-year suite of noncredit workshops for students who fall outside traditional matriculated programming who are in interested learning and improving the basic skills of adulthood.
She followed up by taking calls, and interviewing fellow BRIDGES students Gerald Healey (Otisville, N.Y.), and Will Culmer (Middletown, N.Y.) as they discussed their experiences in the program.
Camacho has been preparing for her internship and radio debut by auditing the College's Digital Radio Production class with Professor Jarett Galeno, himself an on-air personality with WSPK (104.7 FM).
For more information on the BRIDGES program, contact Tarah Miller at tarah.miller@sunyorange.edu or at (845) 341-4443; or Lisa Hayes at lisa.hayes@sunyorange.edu or at (845) 341-4694.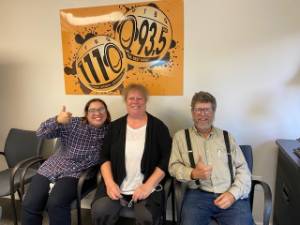 (l-r) SUNY Orange BRIDGES student Natalya Camacho, direct support professional Stacey Orzell, and SUNY Orange BRIDGES internship coordinator Michael Kochler