Theater students "hands-on" with Avenue Q Master Puppeteer
October 22, 2021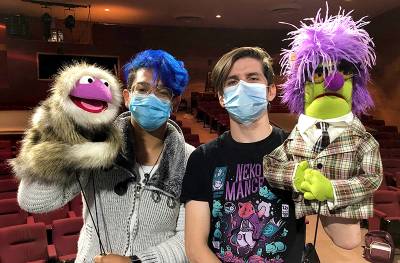 MIDDLETOWN, N.Y. -- The "SUNY Orange Experience" emphasizes the unique and valuable learning opportunities that SUNY Orange students can receive during their time at the College. This Fall, theater students received the "SUNY Orange Experience" with a new curriculum focus: Puppetry!
Under the creative leadership of Professor David Cohen, the Cultural Affairs office arranged for two masterclass workshops with a star of "Avenue Q."
Inside the William and Helen Richards Theatre, Master Puppeteer Jason Jacoby, who starred in the (in)famous Tony-award winning puppet musical "Avenue Q" Off-Broadway for nearly 7 years, brought his boxes and bins of "muppet-puppets" to life.
In 2019, Jacoby wrapped nearly seven years as puppet/dance captain at Avenue Q, playing Nicky/Trekkie/Bear. He has studied puppetry with John Tartaglia, Matt Vogel, Marty Robinson, Peter Linz, Jennifer Barnhart, Kevin Clash, Donna Kimball and Brian Henson.
Both Jacoby and another guest artist, builder-designer Jessica (The Artist) Torres, have been helping the student actors not only develop and build their own puppets, but also how to bring them to life.
Cohen found that students had really "dug into" the new experiences.
"The Arts & Communications department prides itself on giving our students in our theatre courses unique opportunities to explore different types of performance," Cohen said. "Our goal has been to engage theater students with exciting and challenging work."
Cohen explained that the students also had the opportunity to perform virtually to a live audience, promoted through the student theater club "The Apprentice Players", throughout the course of the semester.
"The students' newest work, 'Tragic Yarn: Tales of String and Shadow', is a series of original stories focused on object performance and unique and diverse puppet work. The show will be streamed live on the Apprentice Players' Facebook Page the two weekends before Thanksgiving."
Ultimately though, Cohen explained, it comes down to what the students take away from these experiences. "We're already seeing students utilize these experiences creatively in their own work and how they express themselves and their ideas."
To learn more about theater and other performing arts courses and degrees at SUNY Orange, visit the Arts and Communications Department website. In addition, SUNY Orange offers several performance ensembles for all students interesting in the performing arts, including The Apprentice Players, Choir, Madrigal Singers, Symphonic Band, Orchestra, Jazz Ensemble, and Chamber Ensemble.
SUNY Orange also continues to offer a robust program of exhibits, performances, workshops, and lectures that are open to the public. To learn more, please visit the Cultural Affairs website.
To read other students' stories of the SUNY Orange Experience, and to learn how it can prepare you for a four-year degree; or to enter, or re-enter, the workforce, please visit our Admissions website - or email: apply@sunyorange.edu - or call our Admissions Office at: 845-341-4030