From Pandemic to Pinning, SUNY Orange Faculty, Staff and Students Finish What they Started
October 30, 2021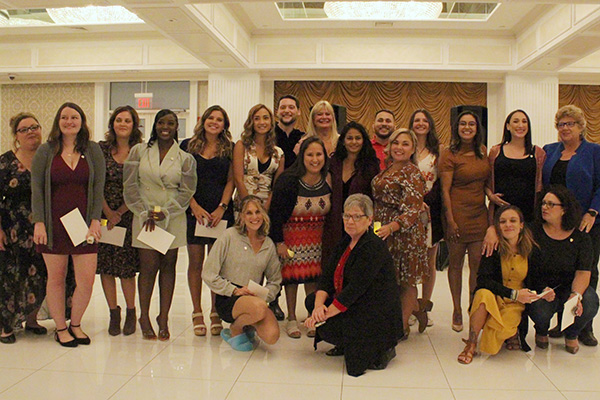 In 2020, the COVID-19 pandemic didn't just force students online to complete their studies, for some SUNY Orange health professions students, the pandemic became an implacable roadblock to graduation.
During their final semester of studies, Health Professions students at SUNY Orange are required to attend a supervised clinical experience or practice in their given field. The Occupational Therapy Assistant Class of 2020 was no different.
Having completed all of their other degree requirements, this cohort of OTA students was beginning its final clinicals in the Spring of 2020 when the COVID-19 pandemic hit the United States, and locked down nearly all healthcare facilities and other clinical sites to essential personnel only.
For most students and colleges, the lockdown meant a rapid switch from in-person to virtual classes, a stressful and time-consuming process in itself, but for these OTA students, no clinical experience meant no degree completion, no graduation, no opportunity to take licensing exams, and ultimately no license to practice.
SUNY Orange OTA Academic Fieldwork Coordinator Mildred Consolo-Melchionne explained just how close her students were to finishing when the lockdown began. "They were pulled in March, they were in their second rotation, expecting to graduate in May, so they had only six weeks to go."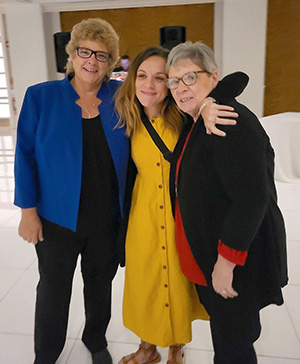 At the time, OTA student Yasmin Rivera found the closures and uncertainty very hard to deal with. "I was there for a week. And that Friday we were told that we couldn't return because of the pandemic. It was really tough. It was really hard. We were so close to being done, we had so many plans for our pinning ceremony and our graduation."
Consolo-Mechionne continued, "Everybody was scrambling to try to find placements for their students, including academic fieldwork coordinators from many different states. It was a nationwide search."
Finally, toward the end of Summer 2020, opportunities for clinicals started to slowly open up. "We had to wait for the administration of our locations, such as nursing homes, and school districts to individually give our students permission to return." Consolo-Mechionne explained, "There were some in-person opportunities working with reduced numbers of patients, and other locations had started to offer tele-health appointments, which were also acceptable as clinical experience. But it wasn't until January of 2021 until all our graduates were finally able to complete their clinicals."
"Students couldn't sit for their licensing exams until their degrees were conferred, so the College also added an additional conferment date of October 2020 to help expedite the process for those students."
"The students did a yeoman's job for sure. They managed it, and they weathered the storm," she added.
OTA student Madeline White praised the efforts of her professors. "I can't say enough about my professors, and Mildred, our academic fieldwork coordinator. During the pandemic she still managed to find us placements and took care of all the legal things and contracts."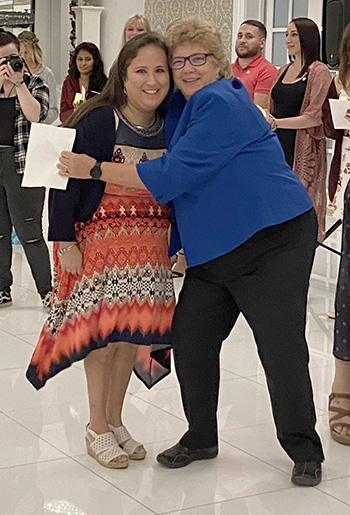 White continued, "I'm on a few online OT groups, and I saw many, many, students in other programs being told: 'You're on your own. You've got to find a facility willing to work with you.' - so we were really blessed to have Mildred working for us!"
However, despite finally getting to complete their degrees, and successfully passing their licensing exams, the students were left without a real sense of closure.
"Our students finished their other classes in December 2019 and went out to do their clinical field placements in January. They saw each other once in February for a field work meeting and that's the last time they saw each other." Consolo-Mechionne explained.
Due to COVID-19 restrictions, SUNY Orange had made the difficult decision to hold its 2021 Commencement Ceremony virtually.
"Commencement ended up being virtual, so you didn't get to see your friends in-person." White added.
But fortunately, the students had one more annual event up their sleeves.
Each year, as well as the College's main Commencement Ceremony, Health Professions students fundraise and organize a separate Pinning Ceremony, just for their own graduates. Despite all the stress and roadblocks of the pandemic, these students were still able to successfully get donations and raise funds through the COTA Club, and also find a safe, spacious location for their event.
"The pinning ceremony is very special, it's a combination of all their hard work and everything they've done. This ceremony was a tear-jerker because we haven't seen each other for so long, we had students that are now pregnant. It was just a wonderful event for the students and their families to come together safely as a cohort and celebrate and do a little ceremony." explained Consolo-Melchionne. "We asked the students to write down a little thank you for whoever they want to thank who got them through this really difficult time. They're then given a special pin, and a little battery-operated candle to hold, and after everybody's been recognized, we say the OT pledge."
"The final ceremony was wonderful. We had a great time and it was really nice seeing each other again." said Rivera.
"For me at least it was kind of like a way of closure and to finally be able to move on to the next chapter of my life: School is now officially over, and now I can be in my career." said White.
Having both successfully graduated, and passed their licensing exams, Rivera and White reflected on their time at SUNY Orange, and what they would say to students considering the OTA program at SUNY Orange.
"Absolutely do it!", said White. "It was definitely a family atmosphere, my classmates became like family, we cried with each other, we would pick each other up. We became friends. And I can't say enough about the professors and the staff. They were also willing to listen and help in any way they could."
And for Rivera, "I am so happy I decided to go back to school, I've had some of the best experiences I ever had in this program, I made great friends, I learned a lot, a lot of hands on. I refer people all the time, if they ask me about OT, I tell them to take the 2-year OTA program at SUNY Orange, it's great!"
To learn more about the Occupational Therapist Assistant program at SUNY Orange, please visit our Occupational Therapist Assistant webpage. To apply to the program, please visit our Health Professions Admissions webpage.
Photos: [Top Photo] OTA Pinning Ceremony - October 2021; [Left Photo] Madeline White (left) with Professor Frazier (right); [Right Photo] Yasmin Rivera (center) with Professor Frazier (left), and Mildred Consolo-Melchionne (right)