SUNY Orange Honors Retirees at Luncheon
January 5, 2022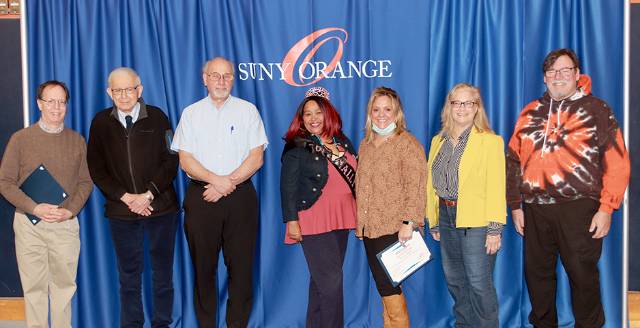 SUNY Orange closed out its Fall semester in celebratory fashion with a Dec. 9 luncheon that recognized 42 College employees who retired during the past two academic years while the College was operating under restrictions brought about by the COVID-19 pandemic. In total, those employees had contributed 960 years of service to the College.
The December luncheon, held in the Physical Education Center on the Middletown campus to allow for safe social distancing, was the first large-scale in-person gathering at the College since the pandemic began in March 2020.
Among the retirees were 14 faculty and staff members, each with more than 30 years of service to the College, including the institution's most senior faculty member, Stephen Winter, professor of business, who retired after more than 58 years of teaching at SUNY Orange.
Joining Winter in the "Over 30 Club" were Eric Brooks and Barbara Fiorello (business department faculty); Lori Charitable (human resources); Peter Cutty (academic advising); Susan Mansueto (student accounts); Kim Paffenroth (accounts payable); Art Ramos (information and technology services); Maria Sarett (business and purchasing); Stacey Smith (student services); Mark Strunsky (arts and communication faculty); and Mike Worden (facilities and maintenance).