December Graduates Announced
February 6, 2022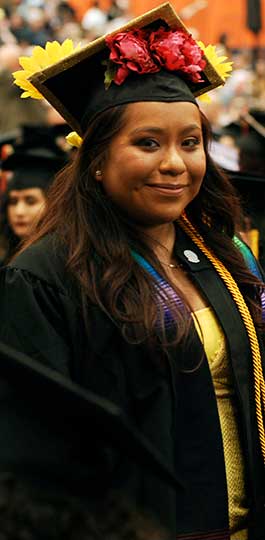 MIDDLETOWN, N.Y. -- Dr. Kristine Young, president of SUNY Orange, has announced that the College awarded associate's degrees and academic certificates to 172 students who completed their courses of study during the recently concluded Fall semester.
If they choose, the College's newest graduates are eligible to participate in SUNY Orange's 72nd Commencement ceremony scheduled for May 19, 2022.
The College's December 2021 graduates hailed from seven counties in New York (Orange, Albany, Bronx, Dutchess, Putnam, Sullivan and Ulster) as well as Florida and Pennsylvania.
SUNY Orange Graduates List
(December 2021)
NEW YORK STATE
ORANGE COUNTY
Campbell Hall: Brynn Mooreen Masker
Chester: Raquel De Aquino-Henning, Megan McEwan, Connor Anthony Sartori, Gillian Elizabeth Seperac, Rebecca S. Welsh, Faith Wilson
Circleville: Isabella Giannoula Skoufis
Florida: Christopher Beattie, Michele Antoinette Coleman, Margaret Mary Misciagna, Alexa Taylor Roach
Goshen: Katerina Mariann Kadas, Georgios C. Pavlidis
Highland Mills: Vincent J Ferrarelli, Steven Edward Schechtel, Taylor Joseph Vazquez Bagnole
Huguenot: Isabelle Solace Henry
Maybrook: Claire G. Beebe, Jocelyn M. Guerra, Paige Marie Magliola, Oluyinka Comfort Yesufu
Middletown: Seylyn Rachel Avila, Dawn Marie Bellew-Herndon, Joseph James Brownstein, Jezebel K Cantres, Deymiss Caraballo-Bobea, Megan Julia Cesca, Celeste Chavez, Bless Haven Clarke, Jason Derrick Darby, Emily Kate Doty, Blaise Littner, Natalia L. Geiger, Brianna Marie Gonzalez, Justin C. Haye, Thomas Hayes Jr., Zebunnissa Hussain, Tara Kemp, Monet J. King, Amanda Lee Kirkland, Lennox Roshawn Antonio Lawrence, Ashley Lewis, Gabrielle Luv Maldonado, Myla Marie Marrero, Morgan Alexandria Melendez, Courtney Taylor Miller, Kaitlen Murillo-Solis, Mikaila Nastenka Ovalle, Francine Marie Parrotta, Tatiana Paulino, Luz Maria Ramirez, Aniya Xavia Rodriguez, Kyle N Senior, Trish-Anne N. Sewell, Raven L. Sledge-Martin, Arlette Michell Tavarez, Alexander Javier Velazquez
Monroe: Stephanie DeNoia, Rodney W. Nichols Jr., Kenneth Ocasio II, Maricarmen Sosa Gil
Montgomery: Hailey Elizabeth Boelens, Marisa Alice Cannatella, Jacob William Darwin, Kiara Elizabeth Di Tullio, Briana Nichole Dixon, Cheyanna Jewel Kimball, Ariana Rose Kirschner, Tyler Andres Fichera, Nicole L. Naclerio, Alex Ryan Rosenfield, Samantha M. Thompson
New Hampton: Nicholas K. Barnes, Jason Patrick Kalfakis, John James Kelly, Nicole Lynn Palmer
New Windsor: Gillian Abigail Brodmerkel, Crystal Coutant, Stephanie Kristine Miranda, Katarina Raye Ramirez, Jonathan Reyes, Jazlynn E Sotelo, Nansalee S. Vasquez, Matthew Gerard White
Newburgh: Justin Beach, Marie S. Bowen, Kyerah I. Devore, William Espinoza, Leslie M. Juarez, Ryane T. Mackay, Arvia Lashawn McCaskill, Ariana Marcela Meza, Mario Pineda, Christy Dafny Renteria Vidal, Sadike Lennox Ricketts, Briar Rose Rightmeyer, Armando Rivera, Kimberly Kathy Rodriguez, John Speckenbach, Jacques A. Stanley
Pine Bush: Patrick F. Blaney, Santo Bucolo, Margaret Mary Healion, Emma E. Olivet, AnJalyna M. Talmadge
Pine Island: David S. Felter
Port Jervis: Matthew J. Conklin, Jessica Mae Degnan, Nikki Foster, Sarah Hoffman, Lindsey Rae McCoy, Allysse Hunter Newhauser
Rock Tavern: Andrew James Tienken
Salisbury Mills: Lyschel Suzanne Faith
Slate Hill: Christopher Diaz, Lindsey Makenna Higbie, Tareek Jai Lewis
Thompson Ridge: Giulianna Rose Rojas
Walden: Sonnymarie Tamara Davoren, Celia-Ann Wagner, Jessica Anne Iorlano, Brianni Sade Johnson, Matthew Mazurowski, Shawn Daniel Sawyer
Warwick: Brian L. Brown, Kayla Isabel Burgoa, Melissa Emily Hebel, Ryan Tyler Korson, Connor John Shea, Owen M. Slevin, Kara Ellen Ver Hage
Washingtonville: Angela Arpa, Jesse Barringer, Maryellen Guyt, Barbara Tiffany Hall, Vanessa T. Lewis, Alfred Eric Mann III, Jeffrey Montero, Victoria Elan Sutton
West Point: Brianna Marie Pfennig
Westbrookville: Eric Tyler Garcia
ALBANY COUNTY
Albany: Tina L. Brown
BRONX COUNTY
Bronx: Joyce Pinonvi
DUTCHESS COUNTY
Hughsonville: Laura Delaney
Poughkeepsie: Meagan A. Clark
Wappingers Falls: Stefania P. Patania, Mariel Yani Hernandez-Abuelsaad
PUTNAM COUNTY
Brewster: John Perko
Carmel: Katherine Dwyer
SULLIVAN COUNTY
Bloomingburg: Eva Imelda Canete, Samuel Joshua Dennison, Kately Noemi Polanco Magana, Sierra Soto, Alisha Leanne Sutherland, Leslie M. Weisberg, Sierra R Yarwood, Gillian Zambrano
Hurleyville: Kylie M Flynn
Jeffersonville: Arieon R. Frazier
Rock Hill: Christopher Vanwarrebey
Wurtsboro: Alexander Nicholas Mansueto
ULSTER COUNTY
Marlboro: Abigail Hannah Stuempert
Neversink: Ashley Marie Gulla
Walkill: Ashley Janeth Carnero, Corey Reischer, Anthony Rocco D'Alessandro, Taina Lee Moreno, Adam James Quinn, Vinh L. Taylor, Christopher Patrick Winters
OUT OF STATE
FLORIDA:
Holly Hill: Madison Mary McGee
PENNSYLVANIA
Matamoras: Robert Nicholas Schafer
Total Graduates: 172