Trustees, President Advocate in DC for Federal Funding
February 17, 2022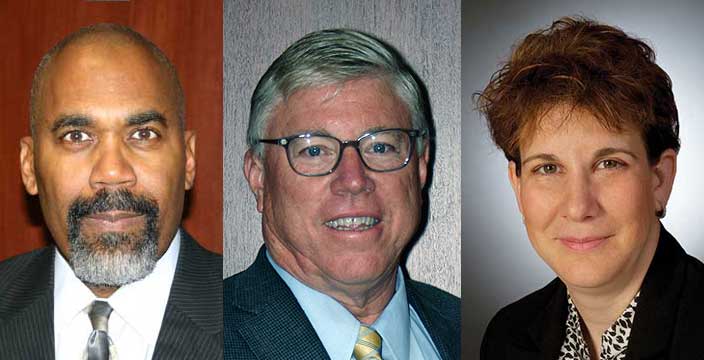 WASHINGTON, D.C. -- Earlier this month (Feb. 6-10), community college trustees, presidents and advocates descended upon Washington, D.C. for the Association of Community College Trustees' annual National Legislative Summit. Held in person for the first time in two years, the timing was ideal as Congress is in the midst of heavy negotiations on upcoming reconciliation bills that many hope will deliver funding to help community colleges rebound from the pandemic in ways that will help both the institutions and the regions they serve.
Such budgetary supports at the federal level could expand programs for job training and workforce development, more fully fund key educational support programs, open PELL grant access to part-time students, invest in community college infrastructure and make community college more universally accessible.
SUNY Orange Trustees Tom Weddell and Fred Watson, along with President Dr. Kristine Young, had "boots on the ground" in DC and spent significant time with fellow educators and trustees. More importantly, they were on hand to hear from, and advocate to, First Lady Jill Biden, Education Secretary Miguel Cardona and Secretary of Labor Martin Walsh. They also enjoyed an in-person lunch and brief one-on-one discussion with N.Y. Senator Kirsten Gillibrand, as well as a Zoom session with Senate Majority Leader Chuck Schumer. Due to COVID restrictions in Washington, many legislative offices were not accepting in person visitors, but SUNY Orange was able to also hold a virtual session with Congressman Sean Patrick Maloney and two members of his legislative policy leadership team.
"The chance to be in the same room with the First Lady and two Secretaries, all of whom are fierce advocates for community colleges, was energizing and informative," Young said. "We always appreciate the chance to meet with Senators Schumer and Gillibrand and Congressman Maloney to connect our work here at SUNY Orange with pending federal legislation so they understand how we can leverage federal dollars to positively impact their constituents in the Hudson Valley.
"While SUNY Orange is fortunate to enjoy great support and appreciation from our elected officials, we also have an engaged Board of Trustees who want the best for the College and Orange County," Young continued. "I thank Trustees Weddell and Watson for joining me in DC. Also, my appreciation extends to our remaining Trustees who supported our efforts in various ways from their home bases in Orange County and who constantly demonstrate, both publicly and privately, a commitment to advancing SUNY Orange's mission."
SUNY Orange is well-represented in community college leadership organizations both nationally and statewide.
The NLS was supported by both the ACCT and the American Association of Community Colleges (AACC). Young is a member of the AACC Board of Directors and presently chairs the AACC Commission on Institutional Infrastructure and Transformation. Weddell, meanwhile, is a member of the ACCT Board's Finance and Audit Committee.
Watson, former chair of the SUNY Orange Board, sits on the New York Community College Trustees' Executive Committee and serves as Treasurer.
Having cemented the College's presence with federal officials, SUNY Orange's advocacy work has quickly shifted to New York State as Governor Hochul has released her executive budget proposal and the SUNY Orange community will spend the remainder of February working with its Albany representatives to advance community college funding and growth efforts.