Spring 2022 Commencement Plans Unveiled
March 1, 2022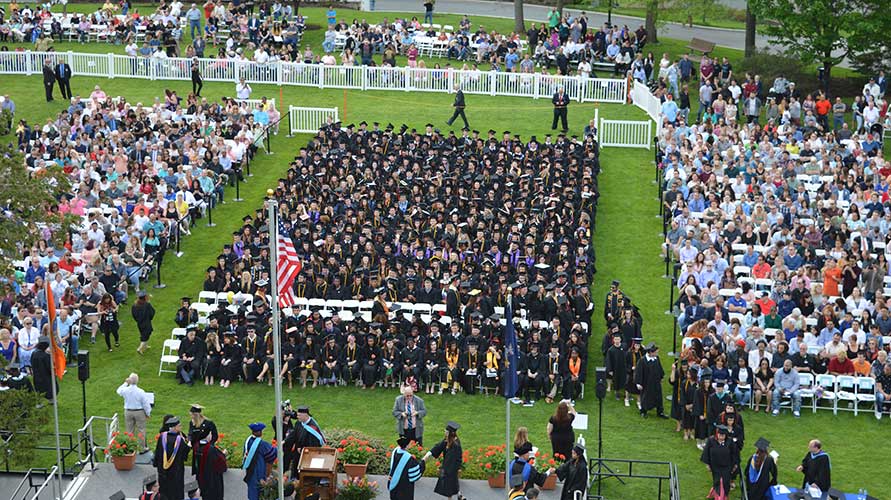 MIDDLETOWN, N.Y. – For the first time since 2019, SUNY Orange will confer degrees in person this May as the College will host a series of three small, outdoor, reduced-capacity Commencement ceremonies planned for the Alumni Green on the Middletown campus on Thursday, May 19.
Graduates from the Health Professions programs will receive their degrees during a 9:30 a.m. ceremony, while graduates from the BMST (Business, Math, Science and Technology) programs will participate in a 2 p.m. event and those graduates from the Liberal Arts programs will be invited to a 5:30 p.m. session.
The three events will be held outdoors, rain or shine, under a large tent on the Alumni Green. Start times are staggered to allow ample transition time between events. Logistics, speaker lists, vaccine and/or masking requirements, and other specifics related to the individual events are still being finalized and will be added to the College's Commencement website as they become available.
Graduates will be expected to attend the ceremony based upon the academic division in which their program resides. Each graduate will be entitled to a maximum of two tickets for guests as seating will be limited. All three ceremonies will be streamed live on the College website (www.sunyorange.edu).
"We are overjoyed to celebrate our graduates in person, and happy to return to our beautiful Alumni Green for ceremonies that bring us closer to the Springtime rituals that we cherish, but have missed over the past two years," said Dr. Kristine Young, SUNY Orange president. "Our track record for operating the College in a safe way throughout the pandemic has been almost unparalleled and the design of Commencement Day, with three ceremonies, will honor both the traditions of ceremonies gone by and the wise decisions of our present in order to focus on our graduates in a safe and celebratory way.
"We still have details to work out, but I want to thank Gerianne Brusati (vice president for student services) and her entire Student Services team for devising and executing a plan that prioritizes the health and safety of our graduates and their loved ones, while also preserving the special characteristics of our Commencement traditions."
For up-to-date details on the ceremonies, visit https://sunyorange.edu/commencement/index.html.