Spring Admissions Events, Campus Tours on Tap
March 7, 2022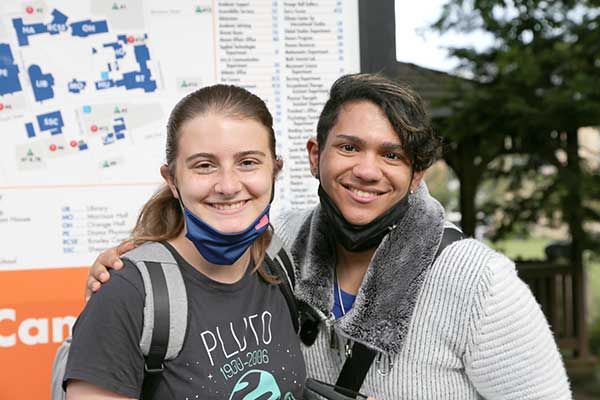 MIDDLETOWN, N.Y. – For area high school students seeking to begin or expand their college search process, SUNY Orange will be hosting campus tours and program information sessions during the week of April 11-15 when most local school districts are closed for Spring Break.
Those looking to get an up-close look at either of SUNY Orange's campuses, and to learn more about the college application process, can register for in-person campus tours planned for 11 a.m. or 1 p.m. daily, as follows: Newburgh campus: Monday (April 11) and Thursday (April 14); and Middletown campus: Tuesday (April 12), Wednesday (April 13) and Friday (April 15).
Meanwhile, the College will also be holding a three-part Academic Information Series on its Newburgh campus that week, hosting sessions where prospective students and their families can learn more about the College's human services, criminal justice and business programs. All sessions will be held from 6 to 8 p.m., with dates and locations as follows: human services, Tuesday (April 12), Kaplan Hall Great Room; criminal justice, Wednesday (April 13), Kaplan Hall Room 201; and business, Thursday (April 14), Kaplan Hall Great Room.
Throughout the Spring, the Admissions staff is available to meet individually with students, by appointment in person or virtually, between 10 a.m. and 2 p.m. Monday through Thursday.
To register for any of the available tours or academic information sessions, visit https://sunyorange.edu/admissions/visit.html. High school students can also speak with their guidance offices to see when SUNY Orange representatives may be making virtual or in-person visits with their school. For more information, contact the Admissions Office at (845) 341-4030, online at www.sunyorange.edu or via email at apply@sunyorange.edu.
For students who apply and are accepted, the College will also be hosting its Incoming Students Day on Saturday, April 30.