SUNY Orange and Pace Sign Transfer Agreement
March 28, 2022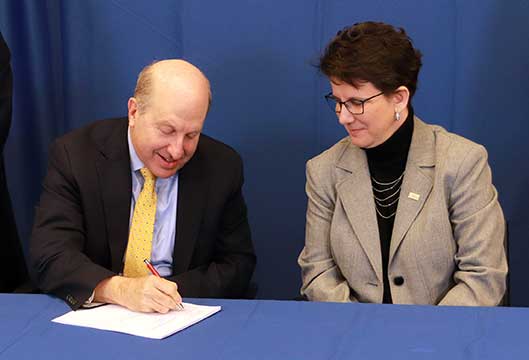 MIDDLETOWN, N.Y. – Orange County Community College (SUNY Orange) and Pace University have jointly approved a transfer agreement that provides a seamless and smooth pathway for SUNY Orange graduates to transfer to Pace and remain on track to earn a bachelor's degree in four years.
For qualifying SUNY Orange graduates who successfully complete their associate's degree prior to enrollment at Pace, the university will provide guaranteed admission with junior standing. For their part, SUNY Orange graduates must have earned at least a 2.5 grade point average while at SUNY Orange and must enroll full-time in one of Pace's 18 bachelor's degree programs included in the articulation agreement.
Pace will apply up to 68 credits earned at SUNY Orange toward the completion of the articulated bachelor's degree programs. Students graduating with an Associate of Arts or Associate of Science degree shall be deemed to have met Pace's basic general education/core requirements, and will not be required to take any additional general education/core courses. Transferring SUNY Orange graduates with an Associate of Applied Science degree may, however, have to complete additional general education or core requirements at Pace.
"We are excited to join with Orange County Community College in this forward-looking agreement," said Pace President Marvin Krislov. "This partnership will allow us to help Orange County students achieve their dreams, and it will deepen the relationship between our two institutions. We are eager and excited to continue providing all our students with opportunities to succeed."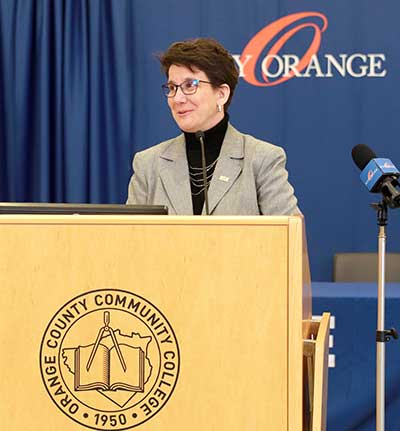 "I am so pleased to have been able to collaborate with Pace on this articulation agreement and am excited about the opportunity this expansive arrangement offers SUNY Orange students and graduates," said Dr. Kristine Young, SUNY Orange president. "Students can begin or reinvigorate their college career here at SUNY Orange, earn an associate's degree with us, transfer to Pace with junior status and continue their studies at a high-quality four-year university close to Orange County. This is just another example of the extraordinary access and affordability we can create in higher education when institutions build partnerships that serve the best interests of students."
"Providing students with opportunities to pursue higher education, reach their potential and achieve their goals are guiding principles at Pace," said Pace Provost Dr. Vanya Quiñones. "This agreement with Orange County Community College will be a transformative experience for students and creates a clear pathway for success. We're eager to be partnering with our neighbors across the Hudson River to make this agreement a reality."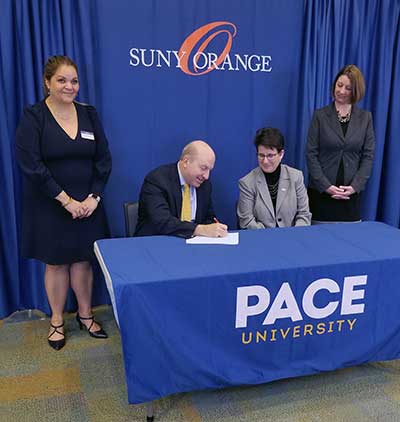 Pace offers a diverse selection of learning and living experiences, including bachelor's, master's, and doctoral programs in more than 150 majors and programs through six schools and colleges—the College of Health Professions, Dyson College of Arts and Sciences, Elisabeth Haub School of Law, Lubin School of Business, School of Education, and Seidenberg School of Computer Science and Information Systems.
Each program at Pace is enhanced by the university's metropolitan New York location. The New York City campus in Lower Manhattan is within walking distance of Wall Street, South Street Seaport and the Brooklyn Bridge, and a subway ride from all that the city has to offer. A bucolic 200-acre Pleasantville campus in Westchester County is home to 14 NCAA Division II teams, and the Elisabeth Haub School of Law is situated in the heart of White Plains' buzzing suburban sprawl.
For more information, contact the SUNY Orange Academic Advising office at advising@sunyorange.edu or call (845) 341-4070. For additional information about transfer to Pace University, contact Nicole Salimbene, university director of transfer enrollment, at (914) 773-3225 or nsalimbene@pace.edu.