SUNY Orange OTA Students Present Home Safety Information to Local Seniors
April 12, 2022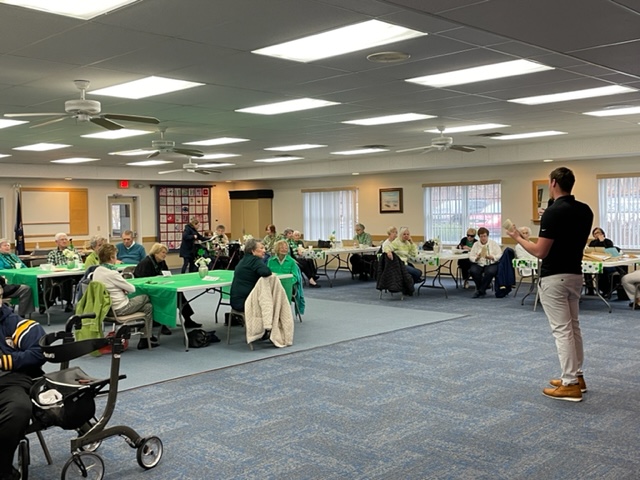 To senior citizens, an accident or fall in the home can lead to serious, even life-threatening injuries. These well-known dangers have led to a variety of safety practices and safety equipment being developed for the home to prevent such accidents.
Unfortunately, many seniors are unaware of these dangers but students in SUNY Orange's Occupational Therapy Assistant degree program, in partnership with Jewish Family Services, recently provided two community presentations at the Mulberry House and the Monroe Senior Center, to better inform the public on what safety solutions are available.
The students designed informational presentations related to home safety and fall prevention, demonstrating adaptive equipment and durable medical equipment. Students also created brochures to offer as a take-home resource to those in attendance.
Faith Moore, a student in the OTA program at the College, explained how this opportunity aided her in her studies and also helped the local seniors.
"I gained knowledge on how to properly interact with this population of people, as well as being given the opportunity to exercise my communication skills. I believe our presence at the Mulberry house afforded the seniors an opportunity to engage in small moments of companionship and interaction with a population of people outside of their own. They also received education on equipment that is beneficial to their overall health and well-being."
Daniel DoBridge, a fellow student also in the OTA program, found the results extremely rewarding.
"We demonstrated how the use of the adaptive equipment contributes to a safe and happy environment and informed residents where the equipment could be bought. After the presentation an audience member came up to me and told me that she didn't think people thought about their safety, and how nice it was to know people cared."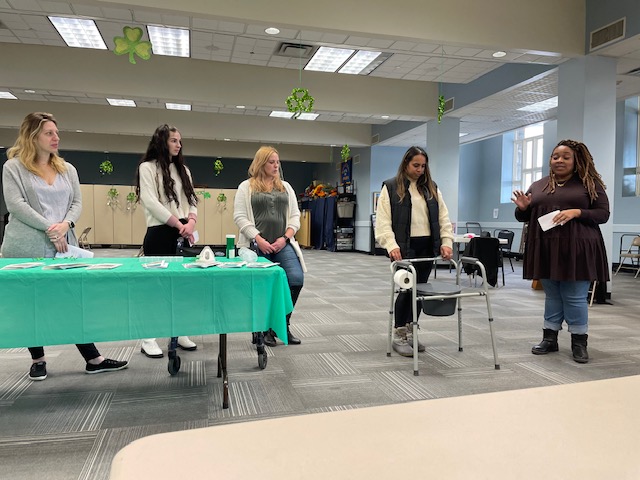 OTA Instructor Tarah Miller also believes the presentation was a useful learning experience for the students.
"Presenting this information to seniors gives the students the ability to combine the concepts they are learning in the classroom with real-world experiences that can connect them to their local community in meaningful ways."
Miller also hopes this will be the first of many presentations in the local area. "Attendees expressed their gratitude to the students for expressing genuine care, compassion and commitment to the well-being of those in their community. Jewish Family Services, and several other local senior centers are highly interested in continuing with this partnership annually, so these presentations can be shared at a variety of sites throughout Orange County."
SUNY Orange's Occupational Therapy Assistant degree is one of eight degrees within the College's Health Sciences and Wellness academic community. For a complete listing of SUNY Orange degrees, please visit the Degrees and Certifications page. To apply to SUNY Orange, please visit the College's Admissions website (sunyorange.edu/admissions), or call 845-341-4030 or email apply@sunyorange.edu
Photos: Top - OTA student Daniel DoBridge presents to local seniors; Right - from left to right: OTA students Melissa Coyle, Raylynn Hicks, Danielle Armesto, Saralisa Mendoca and Faith Moore.