Four Students Earn PTK Statewide Awards
April 14, 2022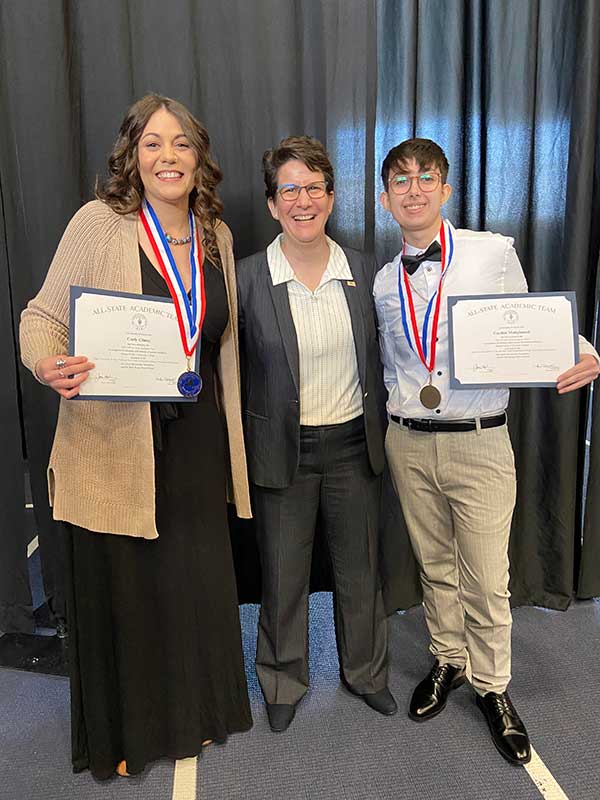 MIDDLETOWN, N.Y. – Four SUNY Orange students—Carly Glassé, Cayden Mangiameli, Glynis Halliday and Alexis Taylor—were among those celebrated yesterday during the USA Today Phi Theta Kappa All-New York Academic Awards in Syracuse, N.Y.
Presented by PTK, the national honor society for students at two-year colleges, the awards highlight the outstanding academic achievements by SUNY and CUNY students from throughout the state. Glassé and Mangiameli were named to the All-New York State first team academic list while Halliday and Taylor were listed on the second team. The awards ceremony was held at Onondaga Community College's SRC Arena and Events Center.
In March, Glassé (at left in photo) was selected as one of just 20 community college students nationally to be named to the All-USA Academic Team, becoming the first SUNY Orange student ever to make that list. She will be recognized during
PTK's Presidents Breakfast, held at the American Association of Community Colleges (AACC) Convention on Monday, May 2 in New York, N.Y. She is also a semi-finalist for the prestigious Jack Kent Cooke Foundation Transfer Student Scholarship.
Glassé, who attended Warwick Valley High School and resides in Goshen, serves as the student representative to the SUNY Orange Foundation Board of Directors and is a member of the Foundation Board's Alumni Committee. She is also vice president of both the College's chapter of PTK as well as the Business Club.
In 2019, Glassé was presented with the Rising Star Award from the Orange County Junior League. The award recognizes men and women, between the ages of 21 and 41, who demonstrate outstanding leadership skills in their community, from the public, private, non-profit and/or volunteer sectors. A year later in 2020, she received the Orange County Mental Health Association Volunteer Service Award.
She has also volunteered for or led a variety of international humanitarian aid efforts, including; Nicaragua Humanitarian Mission Trip - Bridges to Community in both 2015 and 2017; Mexico Humanitarian Mission Trip - Homes for Hope in 2017, and Dominican Republic Humanitarian Mission Trip - Bridges to Community in 2019. From 2017 through 2018 she was a project manager for a mission trip to Trebisht, Albania, to rebuild a fire-ravaged school.
When Mangiameli (above, on right) graduates this May with a business administration degree, he will have completed a somewhat non-traditional educational path by having first attained his High School Equivalency (HSE) at SUNY Orange in 2018 before enrolling full-time in 2019. In March, he was among 50 students nationally to be named as 2022 Coca-Cola Academic Team Gold Scholars.
A resident of Glen Spey, he serves as president of SUNY Orange's local PTK chapter, is president of the Sexuality and Gender Alliance (SAGA) student club and is a member of the Business Club. He has been a volunteer firefighter since he was 16. At the same time, he began working for an area accounting firm and now serves as the office manager.
He is an active advocate for those in need and volunteers for many humanitarian efforts that support a variety of communities. He has been a strong student voice at SUNY Orange on behalf of the LGBTQIA+ community and this year led a discussion on understanding the impact of using and misusing preferred pronouns. He has led a partnership between PTK and Fearless! Hudson Valley to supply people and families of domestic abuse with essential items.
Halliday, a nursing student from Cornwall on Hudson, is a member of the College's Honors Program and will graduate in December. She serves as president of the Newburgh Nursing Club, is a member of the Honors Program Advisory Board and is a recruiter for the Honors Program. She also serves as a peer tutor, lead tutor for the Honors Program and a nursing tutor. She has also tutored students in psychology and biology. In 2019, Halliday was selected to present the results of a research project at the Northeast Regional Honors Council conference.
She is passionate about women's health issues and intends to pursue her Bachelor of Science in Nursing (BSN) degree as well as a dual master's degree in women's health nurse practitioner/midwife.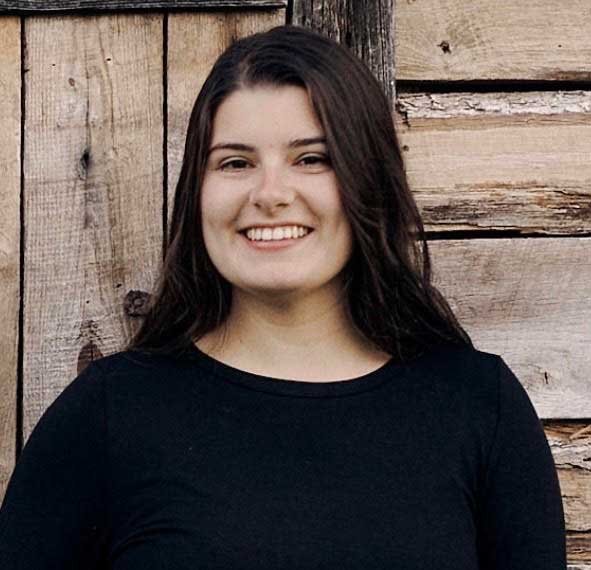 Taylor (left) is about to complete her degree in radiologic technology. The Kerhonkson native, who graduated from Rondout Valley High School, holds membership in SUNY Orange's PTK chapter as well as in the Rad Tech Club. She intends to enter the workforce after graduation and also to pursue training in radiologic specialties such as CT and mammogram. She will simultaneously pursue a bachelor's degree.
About Phi Theta Kappa
Phi Theta Kappa is the premier honor society recognizing the academic achievement of students at associate degree-granting colleges and helping them to grow as scholars and leaders. The Society is made up of more than 3.8 million members and nearly 1,300 chapters in 11 countries, with approximately 240,000 active members in the nation's colleges. Learn more at www.ptk.org.