SUNY Orange Veterans Club Holds Unity Walk
April 20, 2022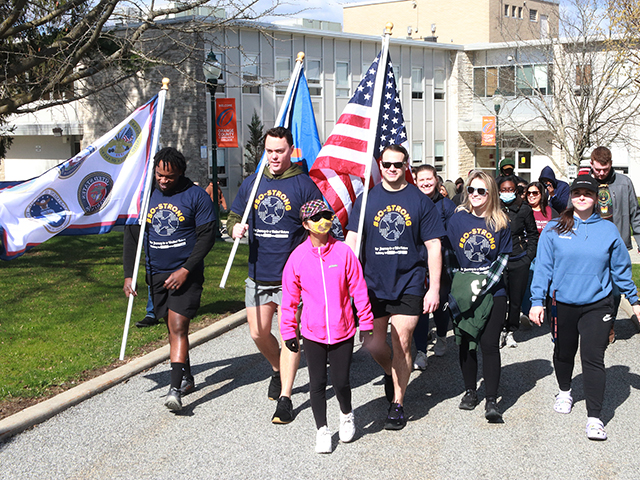 The SUNY Orange Veterans Club hosted a one-mile walk around the College's Middletown campus on Wednesday, April 20 to help the College community celebrate a post-pandemic return to normalcy. Labeled the #SOstrong Unity Walk, the event featured Veterans Club members carrying the American flag, the SUNY Orange flag, as well as a flag representing the various branches of the U.S. armed forces. Members were joined by the College's Board of Activities clubs who carried banners and posters representing their organizations.
"Today's event was to unify the College," said Harold Osmer (Pine Bush, N.Y.), president of the SUNY Orange Veterans Club. "We wanted to gather faculty, staff, and students together as a way of bringing the College community out of the COVID pandemic, and to re-instill a sense of community across the College."
The event, which included more than 50 walkers on a sunny, but brisk and windy, Spring day, circled the main campus before re-entering the College property and ending on the Alumni Green where participants arrived at the annual Spring picnic and related Earth Day events.
Custom-designed #SOstrong t-shirts were distributed to commemorate the walk.