College Celebrates Commencement in Three Ceremonies
May 19, 2022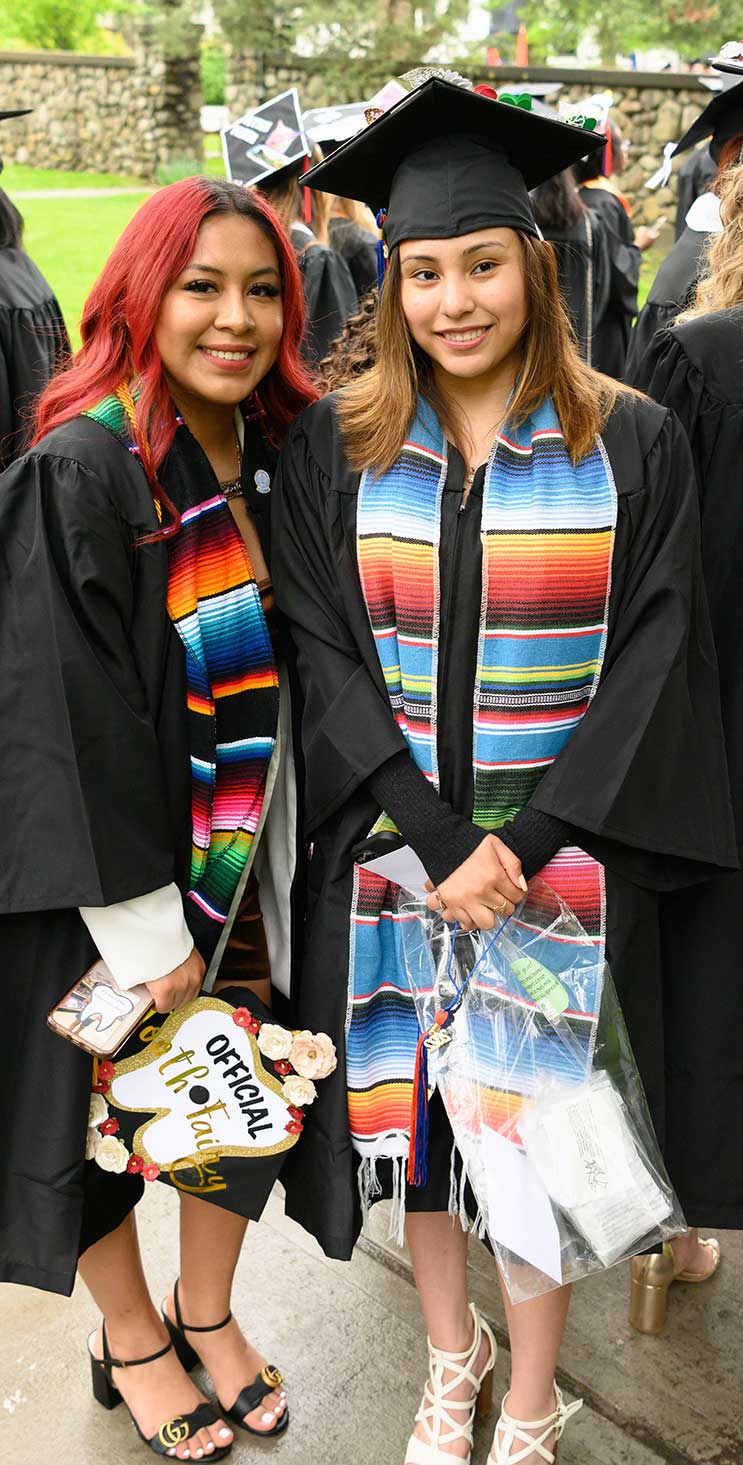 MIDDLETOWN, N.Y. – SUNY Orange's Class of 2022 was implored to recognize and overcome fear, apply the skills that students had acquired and maintain perspective throughout a series of three Commencement ceremonies held in-person on the Alumni Green of the College's Middletown campus today (Thursday, May 19).
Unlike its traditional pre-pandemic Commencement celebrations in which the College held one all-encompassing ceremony, SUNY Orange hosted three smaller ceremonies outdoors under a tent and recognized graduates according to the academic division in which their degree or certificate was housed. Health Professions graduates were feted during a morning ceremony, followed by BMST (Business, Science, Math and Technology) graduates in the afternoon and Liberal Arts graduates in the evening.
In all, 669 students completed their degree and certificate programs over the past academic year, pending final review of transcripts, with approximately 350 electing to participate in one of the three ceremonies on Thursday. Overnight showers subsided in time for Health Professions grads to enjoy a cool rain-free event while the day's weather improved so that the BMST grads enjoyed a comfortable afternoon event. By the evening's Liberal Arts ceremony, the sun had come out and slightly warmer temperatures had arrived.
Student speakers Erika Vellenga (Health Professions), Carly Glassé (BMST) and Jakob Baumgartner (Liberal Arts) were joined by faculty speakers Sheila Stepp, chair of the Movement Sciences Department (Health Professions), Dr. Tom Giorgianni, computer science professor (BMST) and Paul Basinski, chair of the Global Studies Department (Liberal Arts). SUNY Orange President Dr. Kristine Young hosted the ceremonies and graduates also heard from SUNY Orange Board of Trustees Chair Ralph Martucci Jr., Orange County Executive Steve Neuhaus and representatives of the SUNY Orange Foundation.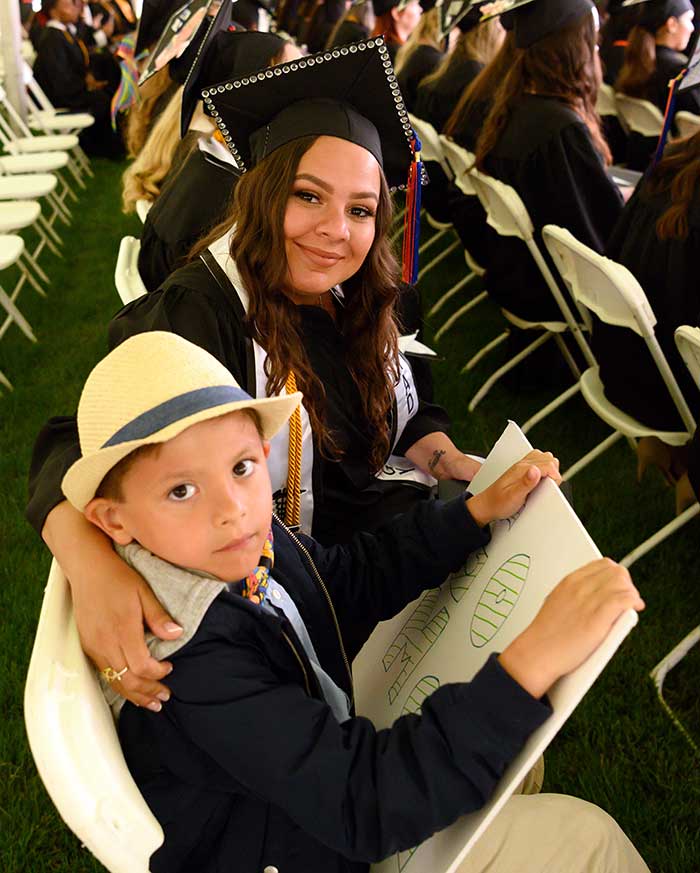 "Your graduation from college, particularly this college, is a treasured public good," Young told the graduates. "You, as a collective, will leave our grounds today and move on to accomplish your next goal. Many of you are statistically very likely to go to work or to continue your education in the state New York, and, of those, many of you are significantly likely to do here in Orange County itself. But wherever you settle, by virtue of being a SUNY Orange graduate, you will bring to the place one of the aims of our College: developed knowledge and skills in critical thinking, information and technology literacy, and communication which will lead to enhanced awareness of civic responsibility and cultural diversity."
"As our tassels move from right to left, we note its symbol that our fruitful journey as a SUNY Orange student comes to a close," Vellenga told her fellow Health Professions grads. "Although this journey has come to an end, another door awaits with opportunities, chances, challenges and pursuits. There comes a time where all the knowledge you gained, all the clinical skills your professors prepared you with, will be applied. And that time is now.
"I would like to thank the faculty again for challenging us and widening our critical thinking skills. You have prepared us well. I leave this program excited, yet sad as I leave what feels like home," Vellenga added, getting emotional as she reflected upon her time at the College while also thanking her parents and fiancé for their support. "I close with what our program director told us since our first day. 'Right foot, left foot, breathe.' We did it."
Glassé, one of just 20 community college students nationally to be named to the All-USA Academic Team by Phi Theta Kappa, spoke to the BMST grads about the impact of fear. "Time moves forward and seasons change, as does the shape of the fear we face. It comes in the form of going to new places, in the form of job changes, moving, relationship complications and starting a new school. The unknowns in life are scary. Fear can serve a purpose in protecting us from danger but sometimes it is just a feeling we can recognize and decide to push through. If you play with fire you get burned, but stray too far from the flame and you'll never feel its warmth.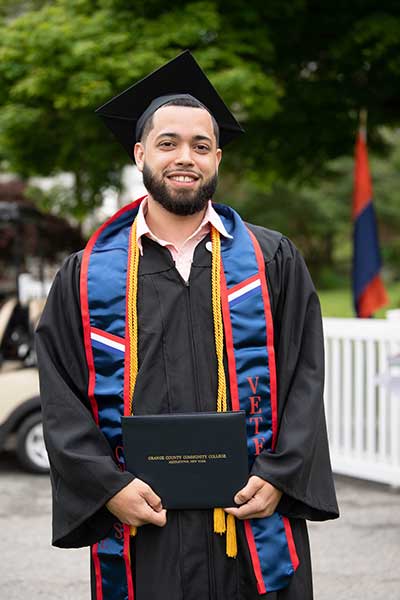 "SUNY Orange fostered the growth that I was ready for. It created a community in which I was able to grow in a way that a larger university would not have. I learned a lot about myself in the past two years, more than I would have imagined," she added. "I opted to take advantage of the strong network available through SUNY Orange, and I am very grateful for it. As we all move onto our next steps, I hope you recognize fear and get to the other side of it. The realized version of you is on the other side of your fears and that is what I wish for each of you."
During the Liberal Arts session, Baumgartner urged his classmates to maintain perspective. "This idea of perspective, seeing things in their relative importance, is kind of interesting to think about. We worry so much about the future sometimes that we forget to stop and take a look at where we are right now, and how much has happened for us to get to this moment. In college, you're supposed to learn new things, develop new skills, become a new version of yourself. Yet it's more than that. It's figuring out the simple fact that not everything is going to work out the way we hoped it would, but if we look back every once in a while, and you look at the family you've made along the way, I don't think you'll be disappointed. I'm definitely not."
Each year, SUNY Orange awards diplomas to students who earn Associate in Arts, Associate in Science and Associate in Applied Science degrees, while presenting graduation certificates to those who complete the College's various certificate programs.
COMMENCEMENT TIDBITS: Seven students graduated with perfect 4.0 grade point averages … 22 graduates were veterans of the armed forces … 21 were members of the Honors Program … 25 were graduates of the Excelsior Academy [the collaborative P-TECH program at Newburgh North High School in partnership by SUNY Orange and IBM] … 46.6 percent graduated with academic honors (summa cum laude, magna cum laude, or cum laude) … seven accepted certificates of completion from the BRIDGES program … the degree breakdown included 319 AAS degrees, 209 AS degrees, 132 AA degrees, two academic certificates and seven BRIDGES certificates … two students earned the SUNY Chancellor's Award for Student Excellence [Jakob Baumgartner, West Point, N.Y., engineering science degree; Carly Glassé, Goshen, business administration degree] … four graduates were presented their award by a family member employed by the College (Faustina Elia, daughter of Angela Elia, IT Support Manager, Anthony Giorginani, son of Dr. Thomas Giorgianni, computer science professor, Aidan Hackman, son of Dr. Erika Hackman, vice president for academic affairs; and Tristan O'Regan, stepson of Renee Arnold, procurement coordinator).
Photo Galleries
Archived Video Streams