Awards Convocation Honors Students
May 24, 2022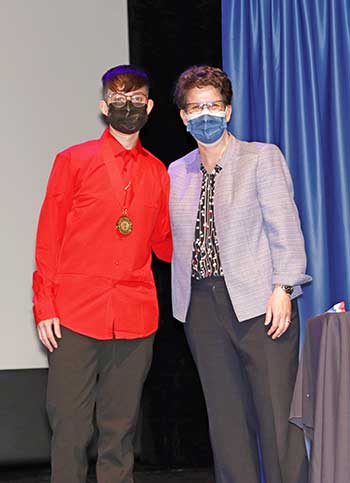 MIDDLETOWN, N.Y. – SUNY Orange celebrated the distribution of its year-end academic achievement awards, scholarships to graduating students, and club and organizational awards during its 63rd annual Awards Convocation ceremony held Tuesday (May 17) at the historic Paramount Theater in Middletown.
In addition to the year-end awards, the College acknowledged two students who earned the SUNY Chancellor's Award for Student Excellence (Jakob Baumgartner of West Point and Carly Glassé of Goshen). In addition, Glassé was celebrated for having been one of 20 students nationally named to the All-USA Academic Team by Phi Theata Kappa, the national honor society for students at two-year colleges. Similarly, Cayden Mangiameli, of Glen Spey, was recognized for having been included as one of 50 students nationally who were named as Coca-Cola GOLD Scholars.
New York State Senator Mike Martucci (see photo below), a 2005 SUNY Orange graduate, concluded the evening's ceremony by presenting Senate proclamations to Glassé and Mangiameli in recognition of their national academic awards.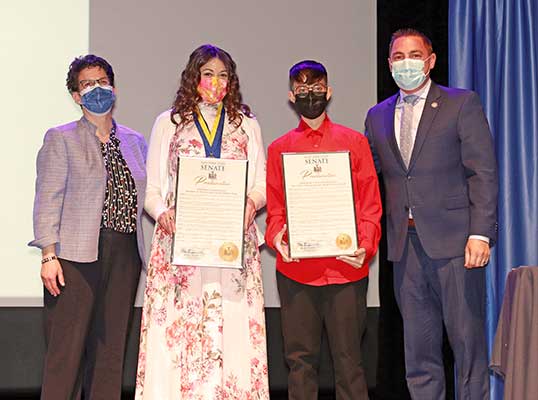 SUNY Chancellor's Award for Student Excellence
Jakob Baumgartner, Carly Glassé
Scholarships
Alford Biology Scholarship: Faustina Elia
Amy Bull Crist Scholarship: Cayden James Mangiameli
Charles J. Reilly Business Education Scholarship: Carly Rose Glassé, Cayden James Mangiameli
Christine M. Morrison Scholarship: Shannon Seymour
Christopher J. Basta Memorial Scholarship: Brittany Siegel
Colonel John T. Westermeier Award: Isabella Leva
David Kotler Memorial Scholarship: Enrique Cardoso-Najera
Dr. Cortland R. Mapes Biology Scholarship: Faustina Elia, Rosemarie Giarraputo, Selina Guendel, Leah Nemec,
Vanessa Perez, Shawn Sanner, Rosa Matamoros Valle
Dr. Hannah Vuolo Memorial Scholarship: Jakob Baumgartner
Elizabeth Parkhurst Memorial Scholarship: Mark Crisci
Evening Nursing Scholarship: Dominique Naudy
Faculty/Staff Graduating Scholarship: Brittany Siegel
George F. Large Scholarship: Helen Nicole Poché
H. Seeley McClure Memorial Scholarship: Carly Rose Glassé
Helen K. and George R. (Bucky) Bartlett Jr. Memorial Scholarship: Vanessa Perez
John B. Parkhurst Creative Writing Award: Isabella Kaloz, Salix L. Corkey
June M. Simpson Memorial Nursing Scholarship: Madriana Candelario
Mary B. Diana Scholarship: AnJalyna Talmadge
Max H. Golub Memorial Scholarship: Helly Shah
NYS Archeological Association, OC Chapter, Memorial Scholarship: Tatum Tinkler
Odell S. Hathaway Scholarship: Nathan Crennan
Orange County Master Gardener Scholarship: Roberto Sanchez
Orange County Society of New York for Collegiate Study Scholarship: Grady Brunelle
Patrick B. Sweeney Annual Scholarship: Melody Carillo-Lockwood
Retiree Council 14 of the NYS United Teachers Scholarship: Veida Ortiz
Trustee Edward P. Dougherty Memorial Scholarship: Alicia Morse
Walter Albrecht Memorial Scholarship: Roberto Sanchez
William O. Bell Sr. Memorial Scholarship: Tyler Miller
Student Club Awards
Architectural Club: Corinne L. Barth, Helen Nicole Poché, Jennie L. Robinson
Board of Activities: Patrick Blaney, Ryan Demarse, Karlie Diaz del Valle, Vanessa A. Perez
Business Club: Carly Rose Glassé, Kira J. Pedicini
COTA Club (Changing Outlooks Through Activities): Kelly Lloyd, Karen McLaughlin
Criminal Justice Club: Sara E. Agrinsoni, Lorretta Light, Danna Ruiz
Engineering Club: Selina Dziewic, Katarina Tomich
Future Teacher's Association: Samantha Frisbee, Veida Ortiz, Mariah K. Rivera
International Club: Jacob R. Connelly, James C. Robinson
Magic the Gathering Club: Benjamin M. McFarland
Nursing Club: Madeline Mendez, Caterina M. Morris, Kyla Schoonmaker, Celia Ann Wagner
Phi Theta Kappa: Carly Rose Glassé, Bella Kaloz, Cayden James Mangiameli
Physical Therapy Assistant Club: Aubrey Flick, Kellie Greenough, Katarina Nikolaj
SADHA (Student American Dental Hygiene Association): Franceli Hernandez, Tamara M. Linton, Jordan Rose Luis
SAGA (Sexuality and Gender Alliance): Bella Kaloz, Cayden James Mangiameli, Alicia F. Morse
Student Senate: Ryan Demarse, Kira J. Pedicini
Student Veterans of America: Rodney Nichols, Harold Osmer
Wrestling Club: Brandon Rodriguez, Daniel Rosendo, Romereo Walker
I Am A Leader: Jessica Baker, Rancelli Marie Burdier, Antoinette Davidson, Ryan Demarse, Karlie Diaz del Valle,
Carly Rose Glassé, Cayden James Mangiameli, Kira J. Pedicini, Christina Weygant
Departmental Awards (Certificate of Merit, Outstanding Scholastic Achievement)
Honors Program: Jakob Baumgartner, Glynis Halliday, Emily Henderson
Arts and Communication Department
Visual Communications / Art: Joshua Beneche, Torin J. Brevoort, Karen M. Telgheder-Fogarty
Behavioral Sciences Department
Anthropology: Salix L. Corkey, Chandler Stanley
Human Services: Jana Medley, Alanna Oligario
Psychology: Emily Henderson, Meaghan Ryan
Sociology: Christine Ford-Huebsch, Scott Splendido
Business Department
Accounting (A.A.S.): Laura Blaney, Michael Slapp, Lynn Vanadio
Accounting (A.S.): Joelvis Alcanterra, Fatima Torres, Haebin Yoo
Business Administration: Carly Rose Glassé, Cayden James Mangiameli, Jasmine Ramirez
Business Management: Christian Domingo, Kayla Vazquez, Rongxia Xia
Marketing: Francesco DeMaio
Medical Office Management: Angelica Colon, Janeris Lucca
Office Technologies: Lauren Sileo
Computer Science & Technology Department
Computer Science: Hannah C. Cerezo, Simcha Klein, Mitchell G. Levy
Computer Information Technology – Networking: Danielle J. Finochiaro, Todd A. Olavarria York
Cyber Security: Timothy D. Mulford, Aiden Skakel, Nathan Teall
Criminal Justice Department
Criminal Justice (A.A.S.): Charles St. Aubin Perrin, Brianne Pontus
Criminal Justice (A.S.): Sara E. Agrinsoni, Viviana Garcia, Danna Ruiz
Dental Hygiene Department
Dental Hygiene: Diana DiChiara, Morgan Knapp, Erika Vellenga
Education Department
Early Childhood Education: Meghan L. Clune, Alexandra B. Rosario
Teaching Careers: Samantha N. Ahern, Samantha M. Frisbee, Kaylee C. Sanchez
English Department
English: Salix L. Corkey, Brandley Delgado, Isabella Leva
Philosophy: Santo Bucolo, Mark Crisci, Patricia Donohue
Mathematics Department
Mathematics: Johnathan R. Eaton, Mitchell G. Levy, Jada E. Sutton
Nursing Department
Nursing: Madriana Candelario, Caitlin Montgomery, Dominique G. Naudy
Occupational Therapy Assistant Department
Occupational Therapy Assistant: Teslie Andrade, Anna Schorno, Joan Tuzzolo
Physical Therapist Assistant Department
Physical Therapist Assistant: Sara Brockhausen, Aubrey Flick, Emily Hoffman
Science, Engineering & Architecture Department
Architectural Technology: Corinne Barth, Helen Nicole Poché
Chemistry: Emily Irene Berean, Eileen Corrales, Lindsey Rae McCoy
Engineering: Enrique Cardoso-Najera, Tyler Miller
Physics: Jakob Baumgartner, Selina Dziewic