OTA Program Receives SUNY High Needs Grant
August 29, 2022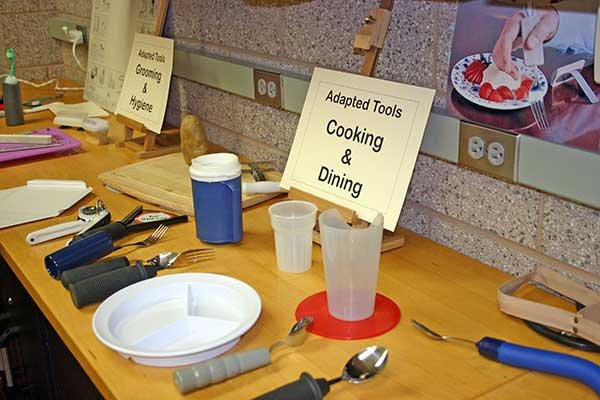 MIDDLETOWN, N.Y. – SUNY Orange will use a recently received SUNY High Needs Localities Fund Allied Health Program grant in the amount of $52,195 to upgrade instructional equipment and technology used by students in the College's Occupational Therapy Assistant program.
Equipment and technology purchased through the one-time SUNY grant will advance students' knowledge, skills, and abilities by providing a classroom experience in the College's OTA Lab that mirrors what they will experience in the field as licensed working professionals.
"The climate for recruitment and enrollment is increasingly competitive and challenging," said Dr. Michael Gawronski, associate academic vice president for the College's health professions division. "This is even more important today as students have been denied access to classrooms, laboratories, and clinical facilities because of the pandemic. We believe upgraded equipment and technology, a software management system and other items will add value to our Occupational Therapy Assistant Program."
Gawronski indicated that in addition to providing students with a high-quality, learning-centered educational environment, the College hopes that the new enhancements will generate additional interest in the OTA program from prospective students and drive an increase in enrollment within the program, which has seen a dip in enrollment since the onset of the COVID pandemic.
The department will be acquiring an array of items, including an electronic adjustable hospital bed, pediatric assessment and evaluation equipment, an electronic documentation system, and a comprehensive software program to manage clinical fieldwork, as well as adult physical disabilities and geriatric assessment and evaluation equipment.
The Occupational Therapy Assistant degree is one of eight programs in the College's Health Sciences and Wellness academic community. For more information, contact OTA Department Chair Donna Frazier at (845) 341-4323 or at donna.frazier@sunyorange.edu. To apply, contact the Admissions Office at (845) 341-4030, email apply@sunyorange.edu or visit www.sunyorange.edu/getstarted.
About SUNY Orange
Orange County Community College (SUNY Orange) enrolls approximately 4,000 full- and part-time students across 40 degree and certificate programs. With campuses in Middletown and Newburgh, the College has grown to meet the needs of its students, while also addressing the demands of a growing and diverse population in the Hudson Valley. Consistent with its mission to provide high-quality and accessible educational and enrichment opportunities, the College is noted for its commitment to ensuring student success. Since its founding in 1950, the College has earned its reputation as a pioneer and innovator in meeting the needs of its students and contributing to a vibrant and thriving community. Learn more about SUNY Orange at www.sunyorange.edu.