College Announces August 2022 Graduates
September 9, 2022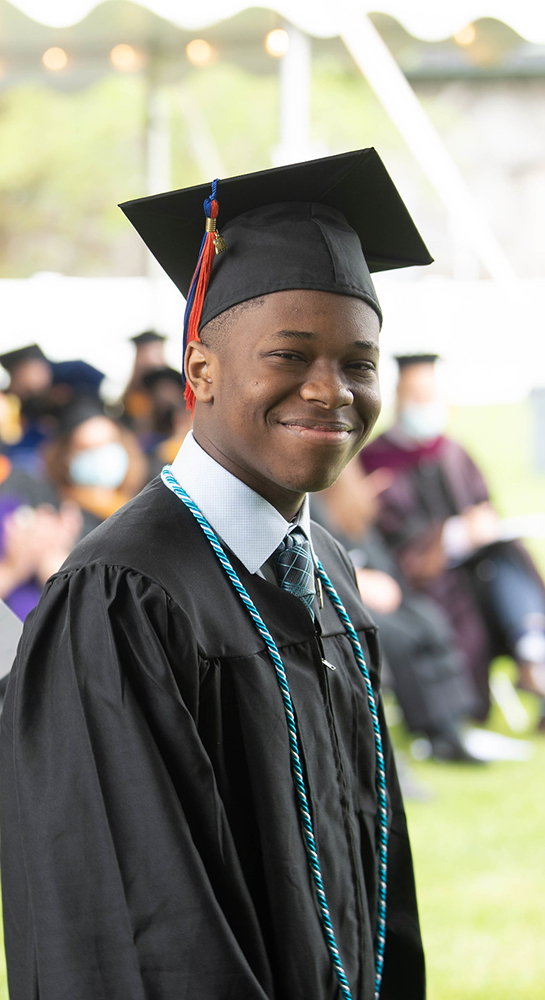 MIDDLETOWN, N.Y. -- Dr. Kristine Young, president of SUNY Orange, has announced that the College awarded associate's degrees and academic certificates to 118 students who completed their courses of study during the recently concluded Summer sessions.
If they choose, the College's newest graduates are eligible to participate in SUNY Orange's 73nd Commencement ceremony that is tentatively set for May 18, 2022.
The College's August 2022 graduates hailed from six counties in New York (Orange, Dutchess, Rockland, Sullivan, Ulster and Westchester) as well as Pennsylvania.
SUNY Orange Graduates List (August 2022)
NEW YORK STATE
ORANGE COUNTY
Central Valley: Tyler D. Miller
Chester: Conor Owen Feeney, Latoya Meade, Timothy Dennis Mulford, Samantha L. Valentine
Cornwall: Isaiah Quattlebaum
Cornwall on Hudson: Joshua Cortland Cicalo
Florida: Diana Caro
Goshen: Emily Anne Catalano, Carly Rose Glassé, Michael Anthony Lam, Leah C. Nemec, Mariola Vecaj
Greenwood Lake: Tristan O'Regan
Harriman: Monika A Goodwin Ghee, Michael Karafiat
Highland Mills: Kellie Marie Greenough, Justin L. Worner
Huguenot: Vyvyan M. Perez, Jillian M. Shearer
Maybrook: Dante Javon Belton
Middletown: Jacob Daniel Benoist, Grady J. Brunelle, Gina Maria Carpino, Elizabeth Rose Cashman, Ciara Alysse Rose Colwell, Melissa Enza DelGrosso, Jocelyn Garcia Munoz, Alexis Sydney Greaves, Karina Elizabeth Gutierrez Hernandez, Alexandra Jimenez Galeno, Brendan Leo Kennedy, Liana Belle Kennedy, Caleb L. Leidlich, Carlie Nicole Meland, C. Maxwell Miller, Tachett Angelee Morrison, Natalie Torres
Monroe: Emma Mary Dempsey, Stefanie N. Hawxhurst, Cecilia Reyes, Oren Wolff
Montgomery: Kayla Henry, Matthew J Mont
New Hampton: Jessica Amelia Crumm
New Windsor: Jerson J. Cano, Noelle Capodieci, Joshua Ariel Cardoso, Alondra Cruz-Delgado, Brandley Delgado, Madeline Negron, Antonio David Galarza, Centhony Lee, Kevin William Leto, Stephanie J. Pacheco, Keandre Steven Rosario, Michael Joseph Sorce
Newburgh: Wyle A. Alattry, Angela M. Brito, Trishanna M. Cohen, Thomas Gibson Coleman, Lela A. Donaldson, Latoya Evans, Anthony Thomas Giorgianni, Zoe Lillian Graves, Brizayna Taina Harvey, Jayden Kai Jackson-Eyo, Ah'Disa Jenkins, Roberto J. Lopez, Daniel A. Mendoza, Leonardo J. Mera, Diego A. Quispe, Roberto Angelo Reade, Jalen M. Ricks, Stephanie Rivera, Aiden M. Skakel, Aizia Rynea Smith, Sandra E. Stewart, Nathan Teall, Ashley Ann Van Houten
Pine Bush: Ryan Cattau
Port Jervis: Yariadna Ruby Mieszkuc
Rock Tavern: Shawn E. Sanner
Unionville: Sarah E. Lukach
Walden: Amanda Nicole Calabrese, Kyla M. Lastowski, Max Robert Neubauer, Vincent Nikollaj
Warwick: Sarah Margaret Brockhausen, Brendan Eder, Jennifer A. Loboccetta, Emily R. Schaffer
Washingtonville: Emily Isabelle Grace Frankenfield, Kaitlin Joanne Laquidara, Ellen Grace Shea
Westtown: Raymond Anthony Razukiewicz
DUTCHESS COUNTY
Fishkill: Ashley Lynn Syslo
Hopewell Junction: Danielle DeFeo, Madeline Kyriacou
Hyde Park: Maeve Minogue Degan
Poughkeepsie: Jessica V. Santiago
ROCKLAND COUNTY
Monsey: Dany Larame
Nanuet: Katarina Nikolaj
SULLIVAN COUNTY
Bloomingburg: Peter J. Demetres, Mala Persaud, Justin Yeadon
Liberty: Mylynda Sahry Ortiz
Rock Hill: Jonathan Daniel Pacheco
Woodridge: Brittany Pennell
ULSTER COUNTY
Napanoch: Monica Smith
Port Ewen: Aubrey R. Flick
Wallkill: Justin Eugene Bush, Raymond Edward Kozireski Jr., Adam Kyle St. Germain, Jessica Lynn Massimilla, Fatima Licet Torres
WESTCHESTER COUNTY
Croton On Hudson: Emily Hoffman
OUT OF STATE
PENNSYLVANIA
Milford: Isabella Rose Tejeda
Total Graduates: 118 (earned a total of 119 degrees and certificates)