Former Trustee Helen Ullrich Receives NYCCT Award
September 26, 2022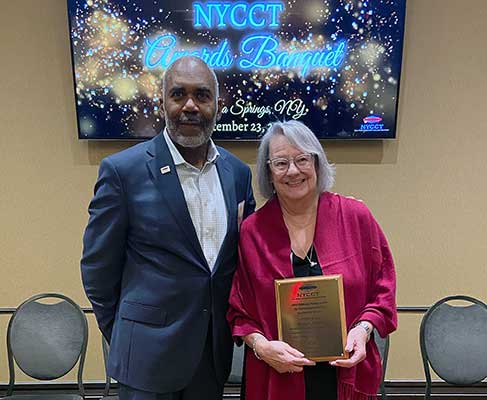 SARATOGA SPRINGS, N.Y. – Former SUNY Orange Trustee Helen G. Ullrich was presented with the Alice Holloway Young Award for Distinguished Trustee Service by the New York Community College Trustees at the organization's annual awards reception and banquet on Friday, Sept. 23 at the Saratoga Casino Hotel.
Ullrich was first appointed to the SUNY Orange Board of Trustees in 2009 and was re-appointed to a second term in 2014. She served until February 2019, completing nearly 10 years of service, which included four years as Board Chair. Among the Board of Trustees' achievements under her leadership were the completion of an in-depth strategic planning process and successful national search in which SUNY Orange hired President Dr. Kristine M. Young in 2015.
Today, she remains a member of the Board of Directors of the SUNY Orange Foundation and is actively involved in other organizations and events throughout Orange County. Her current role on the Foundation Board allows her to help the Foundation raise and distribute funds to assist the College and its students, build a strong alumni network, and foster lasting ties to the community in order to expand opportunities and support the success of SUNY Orange students.
Ullrich is a retired partner of Bergstein & Ullrich, LLP, a small law firm in Chester, N.Y. that represents plaintiffs in civil rights and employment matters. Prior to forming the firm in 2001, Ullrich practiced as a sole practitioner for three years, after spending several years as an associate at the Law Offices of Michael H. Sussman in Goshen, N.Y.
Ullrich is a 1993 graduate of SUNY-ESC and a 1996 magna cum laude graduate of New York Law School where she was Law Review Notes and Comments Editor and Moot Court member. She is a member of the New York State Bar Association, Orange County Bar Association (past member of Board of Directors), Women's Bar Association of the State of New York, and the Women's Bar Association of Orange and Sullivan Counties.
She served as a Councilwoman in the Town of Hamptonburgh from 1990-94 and is a former member of the New York State Democratic Committee for the 97th Assembly District. Ullrich is a member of the Board of Directors of Planned Parenthood Mid-Hudson Valley. She is also a founder and former President of Orange County Democratic Women, Inc.