Holiday Message to the College Community
December 12, 2019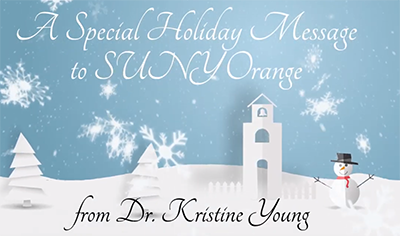 College community,
With final exams coming to a close and our thoughts turning toward a well-deserved holiday break, I take this brief opportunity to express my appreciation for all that you do on behalf of our students and SUNY Orange.
As I've attempted to express whenever possible throughout the Fall semester, there are so many wonderful things happening at SUNY Orange. I hope that during this season of joy, you will have a moment to reflect on the impact this College has upon our students and our community-at-large, as well as your role in helping us achieve our goals.
In this season, we celebrate the many tremendous success stories created by our students, employees and alumni, and we look forward to the many exciting opportunities ahead for us in 2020.
Along with my holiday message to the College community, I offer best wishes for a safe, prosperous and restful holiday season, as well as a happy and healthy New Year.
Kris